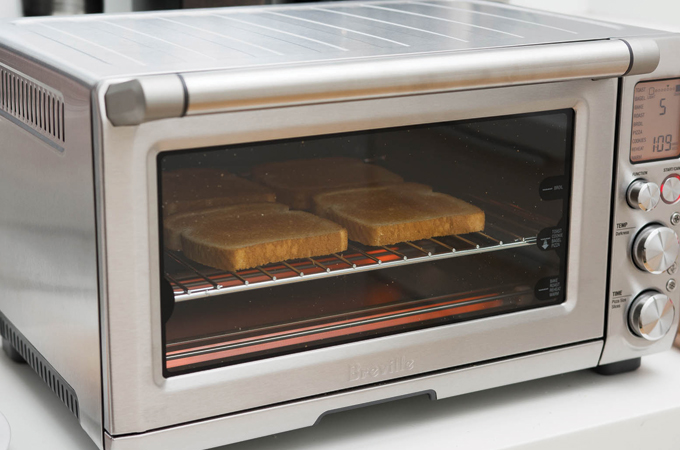 An ideal modern kitchen is not complete without a toaster oven. These small, portable electronics are An ideal modern kitchen is not complete without a toaster oven. These small, portable electronic devices are best for making hot, crispy toast in the morning, for baking, making pizza, and grilling any time of the day. They also do not take up too much space in your kitchen as they are placed on the kitchen table or any other solid surface.
Toaster ovens vary depending upon size and function. Classic toaster ovens are considered multipurpose as they can be used to toast, bake, grill and broil food. They contain several compartments fitted with slide racks that separate them allowing you to make two dishes at the same time. This type also comes with an automatic regulatory system including a timer and heat regulator that work just like a big oven. The average price for a toaster oven can range from $79 to $250, depending on the brand, size and functionality.
Simple toaster ovens are cheaper; they go for less than $50.This is because they can only toast and perhaps make pizza. However they are speedy and make wonderful food. You can even use them as a microwave for warming up food.
Before purchasing a toaster oven, do some research online or ask around; good brands are known. Good and reliable brands will serve you for a lifetime. Also pick a toaster oven catering to your needs. Multipurpose ones will serve you better if you like baking and grilling once in a while. You can even carry them to camping trips and other adventures just as long as you can get power.
The best places to buy toaster ovens are electronic shops at department stores or malls. Make sure you get a warranty, at least a year long. Good brands have long warranties. Then carry your device home and enjoy.

| Top Pick | Photo | Toaster Oven | Wattage | Diameter (Inches) | Warranty (Years) | Dimensions (Inches) |
| --- | --- | --- | --- | --- | --- | --- |
| 1 | | Breville | 1,800 | 13.00 | 1 | 18.50 x 16.20 x 11.20 |
| 2 | | Cuisinart | 1,500 | 12.00 | 3 | 18.50 x 16.90 x 10.00 |
| 3 | | Panasonic | 1,300 | 9.00 | 1 | 13.50 x 14.50 x 13.50 |
#1 – Breville BOV800XL Smart Oven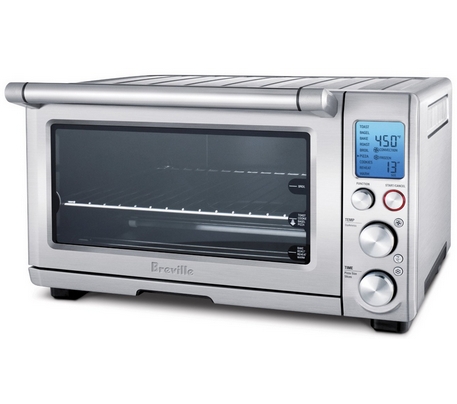 Breville BOV800XL Smart Oven Overview
To begin with, the Breville oven comes with five premium quartz heating, which uses its Element IQ technology to help to channel the power exactly where you need it for evenly cooked food each and every time. It ensures optimal heat conduction and a long appliance life you can count on.
Consumers loved its heating power to perfectly cook all of their favorite foods to absolute perfection. Its pre-set cooking function helps you to make food quickly and perfectly within a snap. Costumers found it very convenient for toast, bagels, baked cookies and pizzas.
Not only does it bake delicious food but it is also very energy efficient and saves a lot on your electricity bills. However, due to its sleek design, stainless steel exterior, power heating and performance, we think it's pretty safe to recommend this Breville Smart Oven.
#2 – Cuisinart TOB-195 Exact Heat Toaster Oven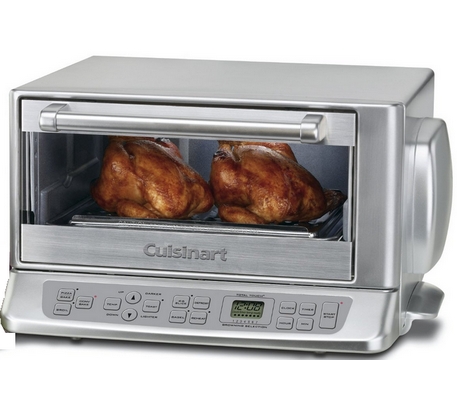 Cuisinart TOB-195 Exact Heat Toaster Oven Overview
Customers loved to use the Cuisinart oven to toast, bake, heat a bagel, and broil their food. It is both reliable and durable and can auto adjust baking time for toasting efficiency. Its sleek appearance, sturdy build and extra-large capacity makes it easy to cook a meal for an entire family.
Customers liked its non-stick coating feature which enhances the heat efficiency and assures you of evenly toasted food anytime of the day. It efficiently combines good toasting and baking capabilities to cook foods like pizza, chicken, and fish very nicely and evenly in a short time. The interior size and the easily removable crumb tray make cleaning hassle-free and very simple.
The touch pad controls and displays are also nicely designed and make your job easier. Cuisinart provides consumers with excellent customer service and warranties if you should have any problems with any of their products. We recommend this oven as it is very affordable, well built, high quality, nice looking and high performance.
#3 – Panasonic NB-G110P Flash Xpress Toaster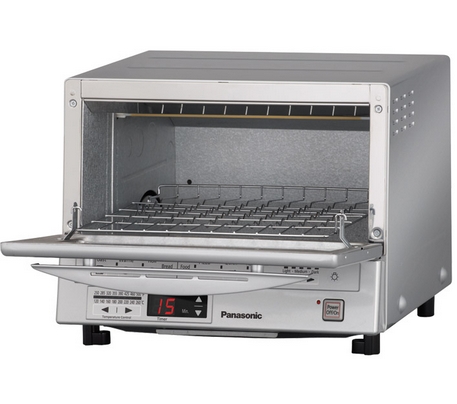 Panasonic NB-G110P Flash Xpress Toaster Overview
Customers found this oven bakes jacket potatoes, cooks fish fingers and oven chips very well. This convection oven grills much faster for chips or fish fingers that are a bit crisper. Consumers liked its vast array of auto cook programs which makes it very easy to cook almost any kind of food.
The controls are reasonably intuitive, although the menu on the buttons is a bit big, which makes them easy to read in poor light. There is an auto touch mode for things like reheating, defrosting, and cooking, eliminating the need to guess the time for cooking. This oven is very straightforward to use, lightweight, has a sturdy build and cooks foods very fast. We recommend this oven due to its excellent performance, no frills, good quality construction and clever features that make it well worth your consideration.
Buyer's Guide
Due to its numerous applications, many homeowners prefer Toaster Ovens. These appliances paved the way for convenient food preparations – from dishes to desserts. It is also highly favored for being less expensive than the full-sized ovens. Here's a guide when choosing one.
Toaster Oven versus Pop-Up Toaster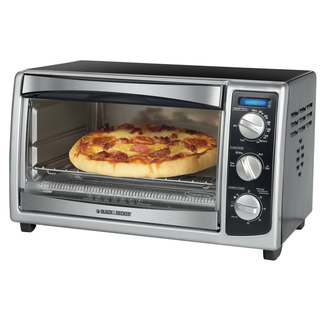 Determine your needs first before you buy a toaster oven. Are you going to use it just for toasting? If yes, then the pop-up toaster is the right one for you. On the other hand, a toaster oven is your choice if you want to bake, broil, or roast chicken in addition to toasting.
Since it has many uses, the toaster oven is more expensive than pop-up toasters. The least expensive prices range from $40-$50. It can cost as much as $250 or more depending on the brand and features.
While both are styles of toaster, the toaster oven came first before the invention of the pop-up toaster. The latter was formulated after almost a decade after the invention of the toaster oven.
Types
Toaster ovens have four types – the standard one, convection, infrared, and rotisserie. The standard toaster oven makes use of an electric coil for toasting. On the other hand, the convection one has a fan that blows hot air. The advantage of the convection type to the standard one is that it heats evenly the food inside the oven. But when it comes to crisping and browning, the infrared toaster oven is the best among the four types. Unlike the other types, it heats the food directly. This means a faster heating process. The faster it is, the less electricity is used. A rotisserie toaster oven is the best choice in terms of flavor.
The four types vary in capacity as well. The maximum for the most basic ones is usually four bread slices. Some models can accommodate up to 32 pounds of turkey.
Aside from the four basic types, some models combine features of the different ovens. In fact, there are brands that have the same heating elements of standard, convection, and infrared in one toaster oven. All you have to do is choose from the settings.
Facts to Consider
Efficiency
If you want to get the most out of your toaster oven, make sure you test it for efficiency. Aside from the heating element, observe the timer, alarm, thermostat, as well as the other features of the toaster oven.
Functions
Ovens are bought for either a business or home use. A toaster oven is just for household use because of its capacity. It can be used to toast bread primarily. However, even the most typical toaster oven can be used for other kinds of food preparation such as baking, broiling, roasting, defrosting, and simple reheating.
It is a good choice for individuals who don't have much time to prepare their breakfast as well as those who are passionate about making meals. Cookies, bagels, pizzas, roasted chicken, and roasted turkey are prepared using Toaster Ovens in addition to the usual morning toast. That also explains the presence of a baking tray in some models. Frozen goods such as vegetables and fruits can also take advantage of the defrosting ability of a toaster oven.
User-friendliness
Some models have either manual or digital settings. Such settings are indications of how user-friendly the toaster oven is. Both have advantages and disadvantages. Digital settings are more accurate than manual settings. However, manual settings give you better control. If you prefer the digital type, make sure you understand how each of the buttons operates.
Your toaster oven should allow you to adjust the temperature. Look for a thermostat.
Durability
Choosing a highly durable toaster oven is a money-saving technique. You don't have to spend a lot for the replacement of damaged parts or the entire appliance itself.
However, no matter how durable the toaster oven is, the manufacturer should provide a warranty. If you have problems, you can simply call the manufacturer. The customer service they provide affects their reputation as well.
For your part, you should read the user's manual and refer to it when you don't know how one of the features functions. Also, the manual will give information regarding the proper usage and maintenance of the toaster oven.
Safety
A toaster oven should have indicators such as warmth level. This is to avoid burnt food as well as possible malfunctions. An LED light is just one feature that can ensure safety. The light inside a toaster oven shows that it is currently in use. This avoids touching the toaster oven; hence, you don't have to suffer from burns. You have to use pot holders when you are about to get the tray out of the toaster oven.
Design
If the design is one of your shopping considerations, take note of your present kitchen interior. Stainless steel kitchen appliances – refrigerator, coffee maker, rice cooker, blender, and so on – all match, so if you shop for a toaster oven, go for the same type. But if you are into the colored designs, then choose a chrome or dual finish.
Aside from the color and material used, you should also consider the size of the toaster oven. If you want to keep it inside a cupboard after using it, the smaller ones should be your choice. Otherwise, you have to leave the toaster oven on your counter. In this case, make sure your counter is wide enough to accommodate such an appliance.
Ease of Cleaning
One reason for the preference of a toaster oven over a full-sized oven is the ease of cleaning. Since it is smaller, you don't have to reach out that much just to clean the corners or the innermost parts of the oven. Also, the crumb tray that catches the burnt food or crumbs from the food lessens your job.
Conclusion
With the help of this guide as well as customer reviews, shopping for a toaster oven does not have to be time-consuming. You can get the best Toaster Ovens by considering the efficiency, durability, safety, ease of cleaning, and other features of the appliance.