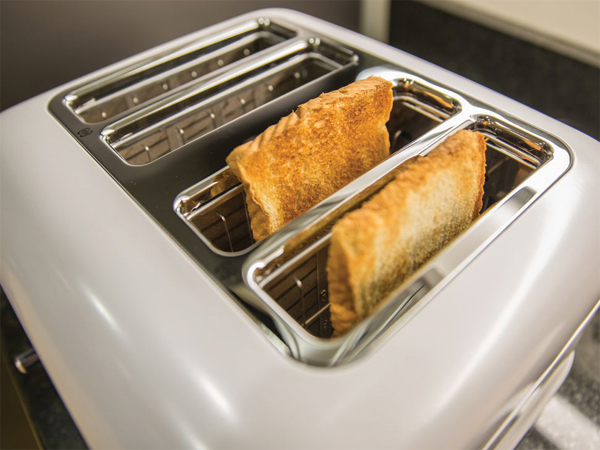 Most of us have an old toaster which rarely think about. Used year after year, and sometimes passed down through generations, we settle with that aging toaster without considering the modern updates and innovations that toasters have today. As essential as stoves, refrigerators,or microwaves, the toaster is a small yet important kitchen device that can be found in almost every home. For more than just slices of toast, toasters are responsible for browning everything from bagels to pastries, and we sometimes take for granted their many uses.
A simple yet streamlined device, the toaster answered the riddle of how to brown bread without burning it. As loyal as we are to them, our old toasters sometimes struggle to meet this need. Outdated coils and slow warming mechanisms make our toasters sluggish and ineffective. Upgraded with digital monitors, lever-less insertion and heat resistant, "cool touch" body designs, contemporary toasters are polished and technologically savvy. With the ability to program-in the ideal temperature and crispiness, today's toasters come fully equipped and fully loaded. The days of overcooked, under-cooked, or just flat out burnt toast and bagels are over.
Imagine how you feel when watching a generous dab of butter and jelly melt into a wickedly delicious combination on a hot, perfectly toasted slice of bread, or taking the first bite of a hot, flaky pastry that has crunch on the outside while the inside remains soft and warm. Those sights, smells and flavors are the reason why we love toasters and all the more reason why having one that combines ease of use with quality outcome is vital. The toasters below all offer great craftsmanship and value, making them ideal additions to your kitchen.
#1 – West Bend TEM4500W Egg and Muffin Toaster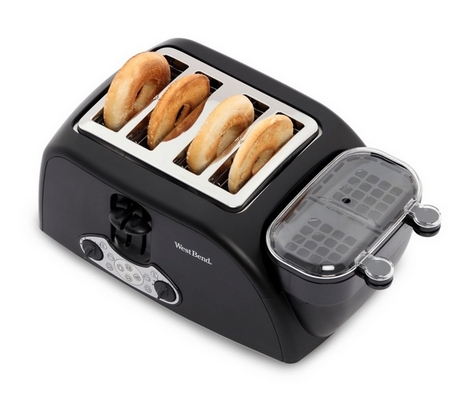 West Bend TEM4500W Egg and Muffin Toaster Overview
The West Bend Toaster is a complete breakfast maker which is neat, stylish and easy to use. When you wake up in the morning, you can easily boil, scramble or poach eggs, croissants, muffins and toast a variety of cooked meats. You will never have to go to work on an empty stomach having such an awesome toaster.
The West Bend Toaster has wide slots so that you can toast extra thick cut bread, croissants, and bagels. Moreover, within a few minutes you can have perfectly cooked scrambled or poached eggs to top on your toast. The toasters meat warming trays will heat any pre-cooked meats, such as bacon or sausage patties. You can even heat up slices of potatoes or tomatoes. The toaster comes with a crumb tray which slides out easily to dispose of crumbs, which also makes it really simple to clean. It has an auto shut off button for convenience and safety. We would recommend this toaster for a ick, fast and perfect breakfast.
#2 – Kenmore 4 Slice Toaster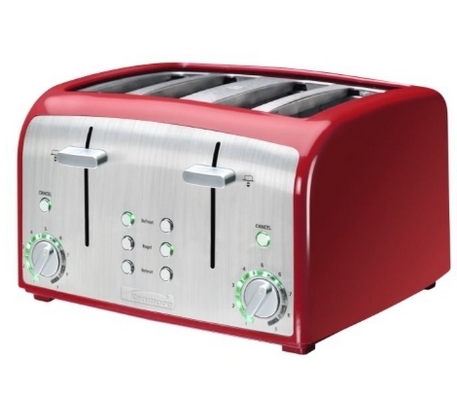 Kenmore 4 Slice Toaster Overview
Kenmore reigns supreme when it comes to kitchen appliances, and this four slice toaster is no exception. Featuring nine different settings, now it's easier then ever to customize the crispiness and brownness of your toast. The device holds four slices of bread at once, and the slots are extra long to accommodate larger pieces of bread. With this amazing appliance you can finally get the perfect piece of toast each and every time.
The shade control dials make it easy to visually choose what shade of brownness you'd prefer for your bread, and the slide-out crumb tray makes it simple to keep the toaster clean. All in all, this is a wonderful device by Kenmore.
#3 – Cuisinart CPT-180 Toaster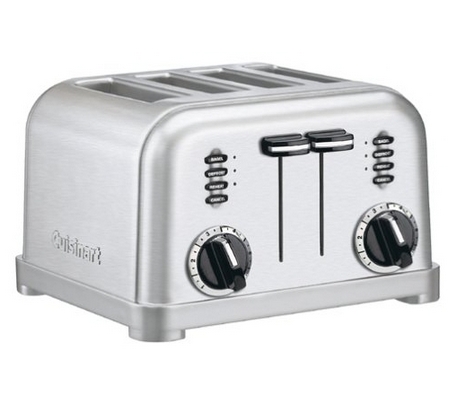 Cuisinart CPT-180 Toaster Overview
The Cuisinart Compact Toaster is not just smaller but better than most other toasters. We found it to be streamlined and designed to face forward on kitchen counters. The toaster LED buttons are easily controllable, nicely positioned and within reach. Customers seem to be perfectly happy with the product and commented on how wide it is to maker larger pieces of bread like bagels. We really liked its backlight LEDs which tell you when it's ready.
The Cuisinart toaster has a stainless steel housing which gives the toaster a sleek look. We would recommend Cuisinart Compact Toaster as it is sleek, well built and a great value for the money.
Buyer's Guide
Nothing beats a delicious breakfast for setting a good mood to start the day. However, some people prefer to settle with toast alone for their breakfast. Toast is probably the easiest meal to prepare as you will only need two things: a slice of bread and a toaster. Different variations of toasters are sold so you can find one that matches your needs. To help you in your shopping journey, below is some basic information about toaster ovens.
The Invention of Toaster
The toaster is not a recently invented kitchen appliance. In fact, some patents pertaining to its invention were registered more than a hundred years ago.
Materials Used
Stainless steel and plastic are the usual materials used in the manufacturing of the toaster. Some are heavily made from stainless steel while others are a lightweight plastic. The advantage of stainless steel is that it is more durable than the plastic version. On the other hand, plastic appliances are great when your primary concern is the design of the appliance and your kitchen interior. To attain both advantages, some brands make use of both materials; the interior is primarily steel while the outside of the appliance is plastic.
Types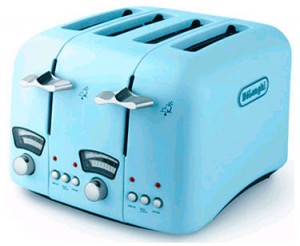 A toaster can be classified into three types: two-slot, four-slot, or toaster ovens. Basically, the difference is the maximum number of bread that can be toasted in a single operation. As the name suggests, two-slot toasters can accommodate two slices of bread while a four-slot toaster can toast four slices. Depending on the model, toaster ovens can be used for six or more pieces of bread and other bread-based products at the same time.
When it comes to choosing, you have to consider the number of people who will make use of your toaster. A two-slot toaster is the best option for those living alone or with their partner. A small household may opt for a two-slot or four-slot. But for a larger family, a four-slot toaster or a toaster oven must be purchased to accommodate everyone.
Facts to Consider
Nowadays, some models are not just for toasting bread. Toaster ovens can be used for numerous food preparation tasks such as baking, roasting, broiling, and defrosting. On the other hand, the two-slot and four-slot have limited functions; they can be used only for toasting bread-based products such as bagels.
Performance
A toaster is a must-have for those who are always rushing in the morning. That is why in shopping for one, choose one that toasts quickly.
In addition to speed, you should consider the efficiency of the toaster. Efficiency can be seen in how even the brownness of the toast is. Be wary of substandard Toasters that toast to the extent that the bread slices are burned.
Settings
In the case where a toaster performs well, but you still don't like the finished product, then you can pick one that allows you to modify the settings. If you prefer a two-slot toaster, make sure it allows you to activate just one of the two slots. The activation of one or two slots is also a good feature of some four-slot models. However, this isolated activation feature has a disadvantage. That is, you need to activate two or four times when you want to make use of all the slots.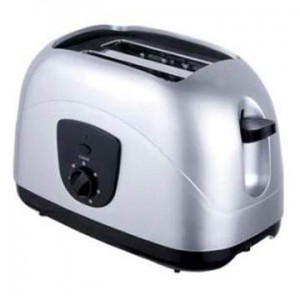 If you want to use the toaster for your bagels, make sure it has bagel settings. These settings mean that one side of your bagel will not be toasted as much as the other side.
Size
Usually, the toaster slot's width is 1 inch. Some models are as wide as 1.25 or 1.5 inch. When it comes to the length, the usual measurement is 4 inches. Others are as long as 5.5 inches. Toaster types that have slots that are wider and longer than the usual ones have bagel settings. They can be used for other bread-based products.
Toaster ovens, on the other hand, have varying sizes. The size depends on the brand, functions, as well as additional features.
Additions
Once the toasting is done, the toast will pop up. If it doesn't, you will need tongs to get the toast. Some models have additional tongs for their customers as freebies. Others make use of a lever. When shopping for a toaster, look for these additional items and features.
Manufacturer and Seller
Whatever the product you are shopping for, the durability of the appliance should be one of your shopping considerations. The high quality products from the top manufacturers are pricier than less popular brands. However, you can be sure about the toaster's durability.
If you already have a trusted seller in mind, then shop from that seller. Online sellers will provide you with more options. Having more options means less expensive appliances. Some offer discounted products as well as additional items.
Safety
Some toaster types can cause burns. It can be from the heating element of the toaster or the finished toast itself. For safety measures, your toaster should have surfaces that are cool to the touch even while it's operating.
To avoid tripping over a long cord, make sure the cord is just short. In some instances though, this limitation can be a problem when there is no electrical outlet near your counter. Short cords may require you to use extensions cords.
Cleaning and Maintenance
Shop for a toaster that is both easy to use and maintain. Ideally, your toaster should have a crumb tray. Without this feature, cleaning it will be harder.
Conclusion
Choosing from the numerous Toasters available on the market can be a bit hard if you don't know where to look. If you want an inexpensive one, shop online and you can find toaster options that costs as cheap as $15. Otherwise, there are high quality products that are as much as $250.