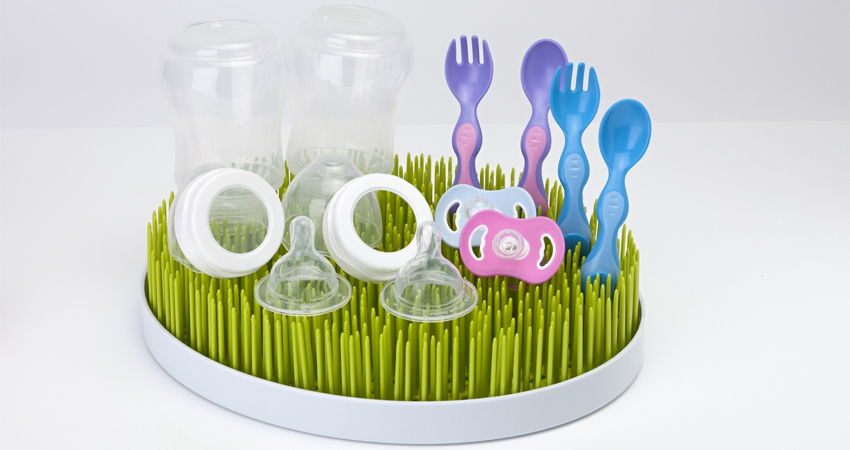 When you have a new baby there are a lot of different things to think about. Your baby will need a large amount of fluid to give them the nutrients they need. You will find yourself cleaning bottles regularly. To help you keep your bottles clean and allow them to dry quickly, you need a drying rack. Many bottles are too fragile to be washed in a dishwasher due to harsh chemicals. With a dryer rack, your bottles can dry faster without leaving water residue in the bottle, which could build up causing unwanted substances.
#1 – Boon Grass Countertop Drying Rack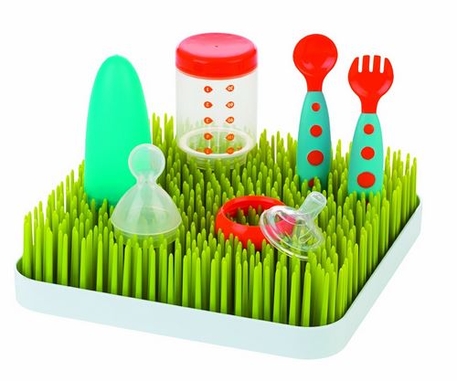 View on Amazon
Boon Grass Countertop Drying Rack Overview
The Boon Grass Countertop Drying Rack is available in both green and white giving you a creative and unique product to place your baby's bottles to dry. Due to the practical design your baby's dishes, bottles, and eating utensils can be dried quickly. With the grass-like design, utensils of different sizes can fit onto the bottle drying rack, while being able to effectively dry the utensils.
The Boon Grass Countertop Drying Rack in Green has two pieces making the product simple to use and easy to empty out any moisture. The bottom piece holds the grass-like material upright, drying the utensils as the moisture and excess water drip into the bottom container. This bottle drying rack is 9.5 by 9.5 inches in size and gives you the perfect sized drying rack without taking up too much space in your kitchen. The Boon Grass Countertop Drying Rack, Green is also free of PVC, Phthalate, and BPA making it safe for your baby.
#2 – The First Years Spinning Drying Rack
The First Years Spinning Drying Rack Overview
The First Years Spinning Drying Rack is offered in two different colors making it so you can choose a drying rack that will complement the other equipment you already have in your kitchen. With this bottle drying rack you will be able to hold more bottles and their lids without using more space. Due to its ability to spin, you will be able to access all of the bottles within seconds whenever you need them.
The First Years Spinning Drying Rack allows you to place the nipple portion of the bottle along with the lids separate from the bottles. By having a separate area to place the bottle tops, you will be able to keep everything more organized. Bottle sizes vary and with this in mind, the bottle drying rack's height can be adjusted in order to accommodate different bottle sizes. You can use this product for bottles and sippy cups making it so you can use the product for a longer period of time. As moisture and excess water builds up, you will want to wash the product and can do so easily in the dishwasher.
#3 – Munchkin Sprout Drying Rack
Munchkin Sprout Drying Rack Overview
The Munchkin Sprout Drying Rack will allow you to dry your baby's bottles in a separate location quickly, at an affordable price. You already have many dishes and with a new baby comes many new products. By having a different location for your baby's eating utensils, you will be able to stay more organized.
The Munchkin Sprout Drying Rack allows you to place the bottle on the stem-like figures; in the middle of the product there is a section to allow your baby's forks and spoons to dry, and on the bottom of the device you can place the bottle's nipples and their lids. In order to access your bottles and their parts, this bottle drying rack can spin. Not only can you use this bottle drying rack to dry your baby's eating accessories, you can also dry breast pump parts. If you want a drying rack that can help you dry products relating to your baby quickly and efficiently, this is the bottle drying rack that is both compact and efficient.
Buyer's Guide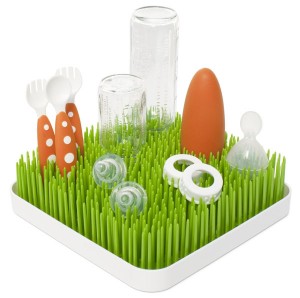 You may not say it all too often, but for that little miracle that's changed your life completely, you need everything to be the absolute best; whether it be the burping cloth you use when you wipe out the gurgle or the bottle drying rack that you need. Having a child can turn your life upside down. You may find that even the most organized person has a tough time staying tidy.
As a result, there are multiple designs and tools meant to help parents out. They are meant so that you may not lose yourself in that mess. A Baby Bottle Drying Rack is meant to serve this purpose. Of course, like almost all products to do with babies and additional accessories, these come in a wide range of sizes and designs. So if you have something very specific in mind, chances are, you are going to find it.
What to look out for
For one thing, when buying such a product, always ensure that it is a safe product. Look at the instructions on the back of the packaging to see if it is dishwater safe and meant for "birth and above".
Look at the company you are buying the product from. See if they are known for such products, especially when it comes to their quality. You don't want to regret it once you buy it.
Size matters. See if the size of the product fits the amount of size you would like to allocate it in your house. Baby Bottle Drying Racks come in a wide range of sizes, with a humongous variety of different designs. Each design has it's perks and downfalls. But if the perks outweigh the pitfalls, then you may have just found your ideal product.
You may like one that comes with two levels to store your baby bottles and other products on neatly because you would otherwise be constrained for space. Or perhaps you would like the one with that single flat layer which comes in such a design as to ease the manner of storage and drying of the baby products.
If you have money constraints, fear not. The price range for such products is as wide and broad as the range of designs to choose from.
Snoop a Little
Try seeing if the product of your dreams has been used by someone else you may know, perhaps. This may give you an idea as to where it scores on the dream-o-meter. After all, many of these products look like absolute must-haves right up until you actually use them. See if the product is durable and safe, ensure that it is all that it markets itself to be, and if not, simply move on to the next one. There are plenty of fish in the sea.
Read up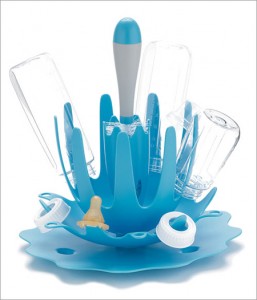 This may seem like an obvious tip, considering we already asked you to snoop around a little, but you would be surprised as to how many people forget about it. Read up the reviews for the product online. But when doing so, visit websites other than the one you are buying it from as well, to see what people have to say there.
If your product truly has four stars on one website yet no review, search for a website that does. This is especially important when shopping online as you cannot hold the actual product in your hand until it arrives. While four to five stars usually means fabulous, it may still let your expectations down a little.
Reading a wide variety of reviews online will not only give you realistic expectations, but it may be the deciding factor in your choice. And lastly, always buy from a trusted website. True that the shady looking website is offering you the product at a highly discounted rate. Perhaps it even seems to have some very good deals, so you may obviously wonder, why not? But look up the reviews on the website to discover if they truly deliver.
If you are going to the store to buy all of your products, online reviews could prove just as helpful. The store attendant will be intent on selling the products, but it is the long-term result that you may be unaware of. Reviews can fill up this little indiscernible crack in your knowledge, giving you a well-rounded awareness of the product you are hoping to buy.
After all, nothing is too good when it comes to your precious little one. So why leave any stone upturned?You are about to add some special items to your baby collection.