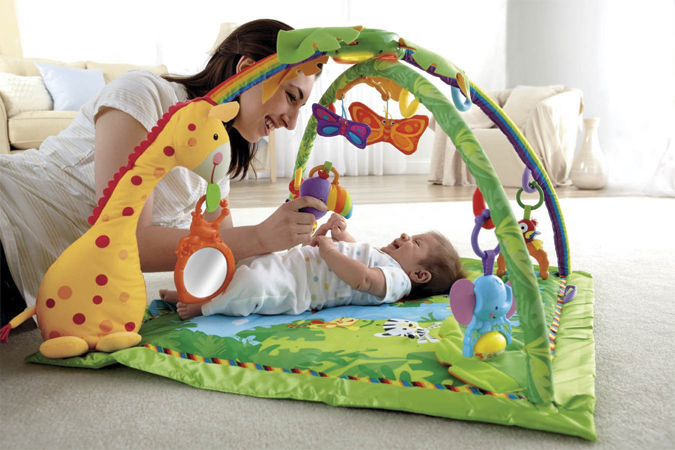 Gone are the days when a baby play mat was simply a mat. Today you can find a number of different mats that are more like full-fledged entertainment centers. With a number of different designs and styles to choose from, you should be able to find a mat that is just right for your baby and their room decor. When choosing the perfect mat, be sure to find something with a number of different fun colors, shapes, and activities that are safe and entertaining for your baby. There are even mats that play music and have fun textures for your baby to play with. It's important that all the features are very soft so that it's safe for your baby to roll onto everything. There should be no parts or pieces that can be removed by your baby, as this can be a potential choking hazard.
| Top Pick | Photo | Play Mat | Weight (Pounds) | Playmat Size (Inches) | Batteries |
| --- | --- | --- | --- | --- | --- |
| 1 | | Baby Einstein | 1.30 | 30 x 36 | 3 AA |
| 2 | | Infantino | 2.20 | 24 x 18 | No |
| 3 | | Tiny Love | 2.70 |  32 x 32  | 3 AA |
#1 – Baby Einstein Caterpillar and Friends Play Gym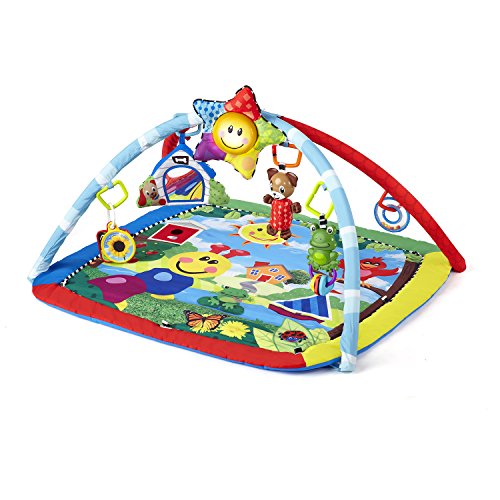 Baby Einstein Caterpillar and Friends Play Gym Overview
Baby Einstein is one of the most trusted names in baby development and entertainment, and this Caterpillar and Friends play gym/mat is no exception. With this mat, you can find a soft and cozy solution to keeping your baby entertained and active for hours on end. This large mat features classical music, dancing lights, and six different activities to keep baby engaged. When your baby is having tummy time, there is delightful real life imagery for them to enjoy on the washable play mat. You can even attach the star-shaped electronic toy to any play gym, carrier, or crib, and it has special features like baby motion activated lights and 8 classical melodies. The other toys that you find on the mat include: plush Dog chime, ring rattle, discovery cards with real images, frog rattle with bead chaser, leaf-shaped water-filled teether, and large baby-safe mirror.
#2 – Infantino Twist and Fold Activity Gym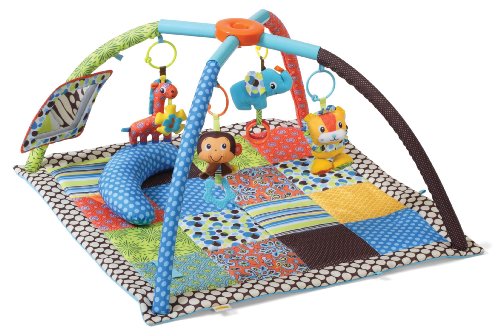 Infantino Twist and Fold Activity Gym Overview
There's nothing more important for your baby than sensory development, and this Infantino Twist and Fold Activity Gym provides everything you need to keep your baby active and engaged. The gym includes various colorful toys, tummy time bolster, and wonderful twist and fold design for super easy storage. The patchwork quilt design is incredibly soft and comes in gender neutral colors that make it appropriate for any baby. This is a wonderful activity center to bring while traveling, since it's easy to fold and carry on the go. All the elements of this gym are safe for infants, so the gym can be used from newborns and up. The gym includes 4 linkable toys that make it easy to mix and match just how your child likes. There's also a plush pop-up pillow that makes tummy time more comfortable and fun than ever. The large peek-a-boo mirror keeps children entertained for hours.
#3 – Tiny Love Super Deluxe Lights and Music Gymini Activity Gym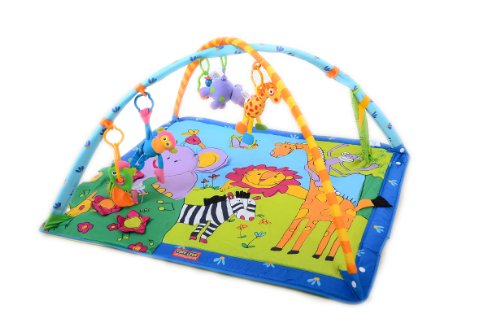 Tiny Love Super Deluxe Lights and Music Gymini Activity Gym Overview
If you want your child's activity gym to reach a whole new level, then just add lights. This charming baby gym from Tiny Love is a wonderful choice for keeping your little one entertained for hours on end. This 32 x 32 inch soft mat is literally swarming with colorful illustrations of jungle flora and fauna that even adults find fascinating. You'll find recognizable figures such as the giraffe, zebra, lion, and elephant that your child will learn to call their friends. Overhead you'll find two padded arches that cross one another, from which dangle other critters that are sure to amuse. There's also a large mirror and plastic bead rattle that come included. There's a music box that plays Mozart, as well as several popular nursery tunes that are soothing and delightful. With something to entertain and develop all of your baby's senses, you'll find that this Gymini will become a new favorite for your infant. This gym will also help to develop your baby's key motor skills such as rolling, twisting, stretching, and reaching.
Buyer's Guide
It is so vital for moms, dads and family to research and choose very carefully when purchasing every item for their precious baby. There are many items which need to be purchased for the new addition to the family and it is crucial that all items chosen are of the highest standards and quality for baby. There are many important factors to consider to ensure the best quality baby play mat at the most reasonable price available. This buyers guide is intended to help you to establish which factors you may wish to consider when finding the type of baby play mat you wish to purchase.
Important features of your fun baby play mat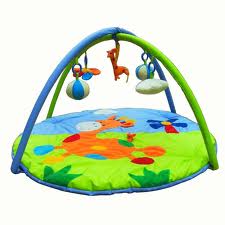 Whilst reading reviews written by parents, grandparents and family there are some key features apparent in the process of choosing their perfect baby play mat. It is most important to them that the play mat is soft and comfortable for baby to lie and move around on but that it is also non-slip so that as baby develops and learns to move around more he or she will not slide about, become unstable and fall on the mat. In many product reviews parents and family report that baby always loves bright, vivid and attractive colors to hold baby's attention and help develop their sense of sight. Musical chimes, rattles, teethers, vibrating toys and various crinkly, smooth, soft or slightly rougher textured materials all help baby to develop his or her auditory visual and tactile senses, always learning whilst playing.
Ensure a strong interactive element to your play mat
Baby will always love a play mat which provides interesting and fun interactive elements. The loops and rings which often have soft toy animals attached to them should be both detachable and adjustable so that they can be altered for baby to be able to reach up and play; baby can become frustrated eventually if the toys cannot be touched and explored.
The toys should be bright and immediately attractive to baby, perhaps having stripes, spots or other interesting shapes for baby to explore. The musical elements of the mat or toys should be enough to stimulate and hold baby's attention for a period whilst not being too loud, repetitive and intrusive as to overstimulate baby and quite possibly do the same to mom, dad and family too! The development of baby's response to sounds and music is so very important as humans can listen and respond to different types of music well before they learn how to speak. Indeed, babies may sing along to songs as part of their speech development process and enjoy doing so too.
It is an excellent idea to be able to detach colorful soft toys and musical chimes and rattles as these can easily be clipped temporarily to baby's car seat or pram to entertain and hold baby's attention whilst on the move, giving mom and dad some time to relax knowing their baby is happily and safely occupied. It is wise when considering your purchase of baby play mat to look at those mats which are 'clever' in their construction, for example, a mat which has a musical piano instrument at the foot of it will encourage baby to use his or her natural ability to kick out with the legs and feet to hit the piano's musical notes. In doing so baby will begin to strengthen muscles and start to discover cause and effect and gain rewards from carrying out certain actions.
Baby play mat – an asset to mom, dad and family too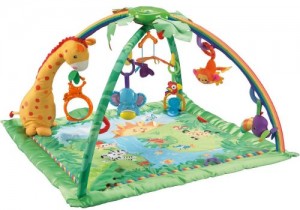 Parents also suggest buying a play mat which is extremely versatile and can be used both inside and outside of the home. This mat should be waterproof or easy to wipe down and the material should not be too thin, preferably padded for baby's comfort. There must be no loose threads or small objects which baby could put into the mouth and possibly choke on. All mirrors and objects must be baby safe also. A larger play mat can be used by an older toddler or child at the same time as baby, always under adult supervision, and baby may happily learn to crawl, roll, play and have lots of fun with his or her brother or sister, developing useful social skills along the way.
A really worthwhile baby play mat should also offer positive attributes for mom and dad! These should include that the mat is easy to clean, durable and preferably can be machine washed on a gentle wash cycle. The play mat should be uncomplicated and quick to assemble and equally easy to fold up, light to carry and store away when required. The mat should be made of excellent quality materials which are durable and do not become damaged or worn easily. It is most important to mention that according to many product reviews parents and family are prepared to pay a little more for a good quality product which will last much longer and provide baby with many hours of happy learning experiences and entertainment.