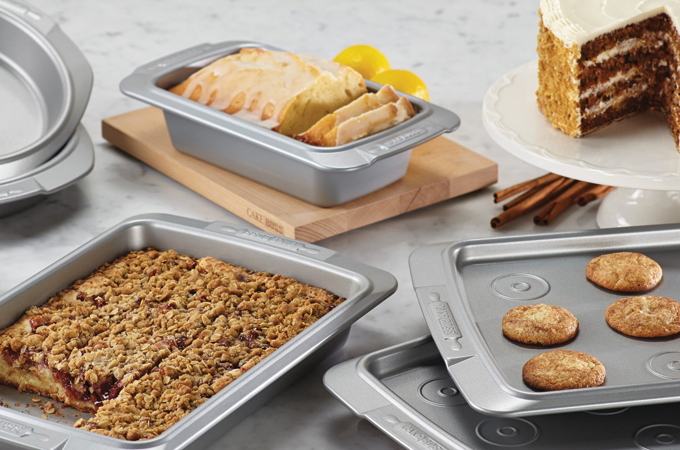 Whether you're baking muffins, cupcakes, cookies or pizza, having the right bakeware set can make the difference between food that comes out perfect and food that is burned to the bottom of the pans. Non-stick bakeware is probably one of the best inventions ever made for bakers who spend a lot of time crafting delicious items for their friends and loved ones.
Gone are the days of having to flour and grease all the baking pans and dishes before you bake anything. The bakeware sets below include everything you need for basic baking and provide you with excellent quality, long lasting use and most importantly, of course, delicious food.
| Top Pick | Photo | Bakeware Set | Material | Sets | Warranty ( Years ) |
| --- | --- | --- | --- | --- | --- |
| 1 | | Calphalon | Steel | 6 | 10 |
| 2 | | Rachael Ray | Carbon Steel | 5 | Limited Lifetime |
| 3 | | Sunbeam | Carbon Steel | 5 | Limited Lifetime |
#1 – Simply Calphalon Nonstick Bakeware Set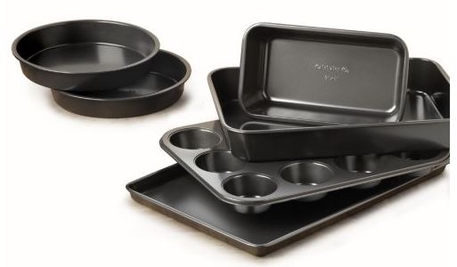 Simply Calphalon Nonstick Bakeware Set Overview
Simply Calphalon does it again with this functional and versatile 6 piece bakeware set that gives you everything you need to bake delicious treats and food for your family. All the pans are nonstick and designed to last years so you don't have to replace them like you do cheaply made aluminum pans that can cause massive amounts of sticking and burning.
All the pans in this set are made from heavy gauge carbon steel so everything browns and cooks evenly. Because the edges of these pans are wire-reinforced and rolled, you won't see warping that can happen with lesser quality items. Included in this set are 2 – 8" round cake pans, 1 – 9" x 13" cake pan, a loaf pan for homemade breads and fruit cakes, a 12 cup muffin pan and a 10" x 15" cookie sheet that is great for cookies OR pizza night.
#2 – Rachael Ray Oven Lovin' Non-Stick Bakeware Set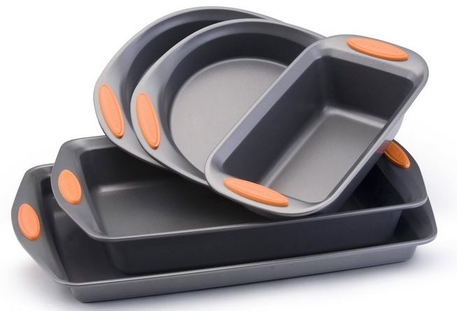 Rachael Ray Oven Lovin' Non-Stick Bakeware Set Overview
Rachel Ray is possibly America's cooking sweetheart and she endears herself even more with this 5 piece Oven Lovin' Non-Stick Bakeware set. The extra wide handles make it easy to get food into and out of the oven. Non-stick both on the interior AND the exterior, these pans safely go in the dishwasher and make cleanup a breeze. The attractive, orange, silicone handles add color to any kitchen. This set includes 2 – 9" round cake pans, 1 – 9×13" rectangular pan, 1 – 9" loaf pan that is 5" deep, and a fantastic 10" x 15" crispy sheet that is perfect for chocolate chips cookies or for trying one of Rachel's delicious recipes.
#3 – Sunbeam Kitchen Bakeware Set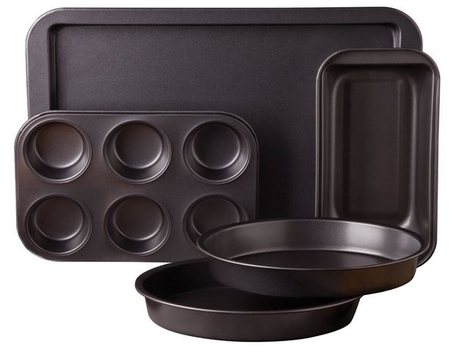 Sunbeam Kitchen Bakeware Set Overview
Another well known name in kitchenware, Sunbeam brings baking lovers this carbon steel 5 piece bakeware set that gives them everything they need for baking. Each piece's interior and exterior is coated with xilan non stick coating the makes the release of cookies, muffins and cupcakes a breeze. The bakeware set is dishwasher safe, but it is recommended by Sunbeam to hand wash. Black in color to go with every kitchen color scheme, this set has a limited warranty. Included in your Sunbeam 5 piece set are: 2 – 8.5" round cake pans, 8.5 x 4.5" loaf pan, a 6 – cup muffin pan, and a large 15" x 10" cookie sheet perfect for cookies or homemade candies.
Buyer's Guide
Buying Bakeware Sets
People that are interested in doing their own baking from home will need to purchase well-equipped baking sets eventually. Anyone that is new to baking may be uncertain about which bakeware sets to buy. Knowing what to look for in a bakeware set is very much a learned skill, and bakers will get a sense of what they need as they delve further into the craft. Bakers may try out several different bakeware sets as they become more accustomed to the process of baking.
Components
Bakeware sets should be complete, so bakers can use them to make a wide range of baked goods. High-quality bakeware sets will include measuring tools, muffin pans, pie dishes, mixing bowls, cake pans, bread pans, and large cookie sheets. In some cases, customers will have the option to purchase each item separately, but many customers will prefer to purchase them all as part of a complete set. It is easier to find pieces of bakeware that match when all of them are purchased at once as part of one set. It also makes for more convenient shopping.
It is possible to supplement even a well-equipped bakeware set, since some people may want to have multiple loaf pans on hand, especially if they plan on doing a lot of baking. Bakeware sets that have five pieces or six pieces are common, although there is plenty of variety among bakeware sets. They will vary somewhat in terms of color, although most of them will be either black, white, or gray. Some people care more about the aesthetics of their bakeware sets than others, but the shapes of most individual pieces of bakeware tend to be standard. Muffin and cupcake pans will all have a standardized appearance in terms of shape, since any variation would make them less able to perform their function.
Qualities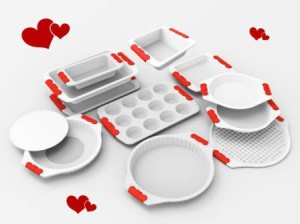 Many modern bakers want their bakeware to have nonstick coatings of some variety. While almost everyone will use a nonstick spray of some kind during baking, using bakeware that is equipped with a nonstick coating can still make the entire process run more smoothly. Baked goods are delicate, and if they stick to the bakeware too much, it is easy to cause them to tear during attempts to remove them from the bakeware. Nonstick coating is an expected characteristic.
Nonstick coatings will also make it easier to clean the individual pieces of bakeware. Pieces of baked goods tend to harden and get stuck on the bakeware, and cleaning them can be time-consuming and difficult. The nonstick coating makes the protocol much easier. Customers will get an easier cleanup time and better baked goods in the process.
Many excellent bakeware sets are made from stainless steel, although the composite materials of bakeware sets will vary. Some of them are made from aluminum, glass, or ceramic materials. While glass bakeware is certainly pretty and easy to clean, it will be significantly more fragile than other types of bakeware. Glass products are also subject to significantly more wear and tear, so people that really want their bakeware to last may need to choose different types of bakeware sets. Aluminum and stainless steel bakeware sets will often produce the best results.
Reviews
Communities form very easily online. People that enjoy baking can get together and talk about all of the tools that they use over the course of their baking time. Members of these communities will recommend certain bakeware sets. Online shopping websites like Amazon seem to attract communities in the form of the Amazon reviewers that congregate and review multiple items.
They will do the same for bakeware sets, and potential customers can get a sense of the best bakeware sets that are currently available. On Amazon and similar websites, potential customers can also look at the bakeware sets that have attracted the highest ratings and the bakeware sets that have sold the best. While online ratings and rankings aren't guarantees of quality, they can at least point potential customers in the right direction, helping them get a sense of what is out there and what they can find. There are plenty of excellent bakeware sets available today.
Conclusion
Baking is one of the great joys in the kitchen, but to do it well, you must have the right tools. These top rated bakeware sets will get you on the right path to baking delicious treats like cookies, muffins, bread, and pizzas. Since most of these are non-stick, you're going to find that cleanup is a breeze and baking in the kitchen is more pleasurable than its ever been.
Like with anything else, it's best to do your homework before you purchase a bakeware set. Be sure that you determine what your budget is, how you're going to be using the bakeware, and how long you'd like it to last. If you spend a little extra, you're going to see that you can get a quality set that will last you for years to come. You can also find bakeware that suits your kitchen decor by choosing from a number of different colors and styles.