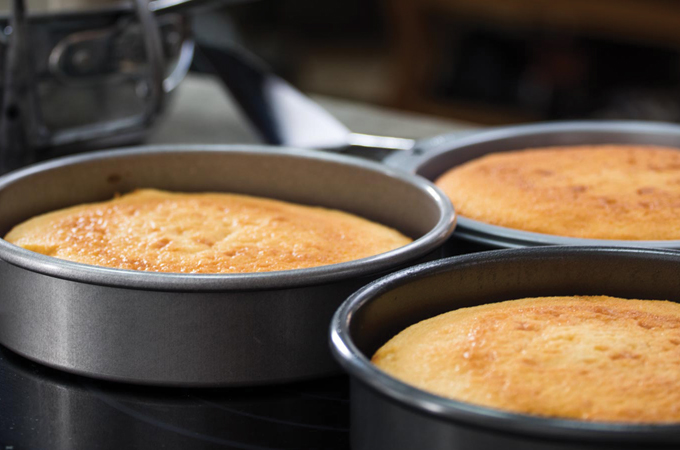 Cake is a favorite food for the majority of people, and baking them has become a very popular activity among professionals and non professionals alike. Having good quality cake pans is a must for anyone who wants to bake cakes even if it is for family only. Nothing is more frustrating than putting together a cake, pouring it in the pan and popping it in the oven, only to come back after the allotted cooking time and find it stuck to the bottom or that it has cooked unevenly and will now be overdone at the edges by the time the middle is done.
Today's cake pans have improved and are much better than those of years ago, so if you haven't bought your bakeware recently, you should consider getting a few new cake pans and updating your baking sets. The first time you use your new cake pans, you will wish you had gotten them a long time ago. The Cake pans below will give you some great choices that will be a great addition to your kitchen.
| Top Pick | Photo | Cake Pan | Material | Package | Dimensions (Inches) |
| --- | --- | --- | --- | --- | --- |
| 1 | | Nordic Ware | Aluminum | 1 | 15.70 x 9.80 x 3.10 |
| 2 | | OvenStuff | Steel | 2 | 9.00 x 1.50 x 9.00 |
| 3 | | Wilton | Polyresin | 1 | 14.00 x 9.80 x 2.00 |
#1 – Nordic Ware Classic Metal Covered Cake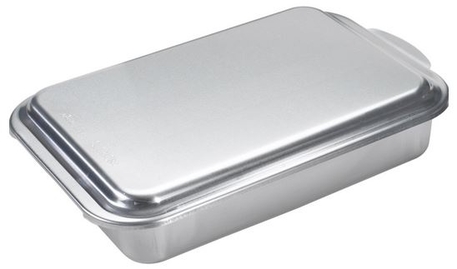 Nordic Ware Classic Metal Covered Cake Overview
Cooks know and trust the Nordic Ware name when they want excellent bakeware. This pan is perfect for making excellent brownies and, to make an excellent pan ever better, it comes with a metal lid that converts it into a storage pan too. With this lid, you can bake your brownies and then store them in the same pan. The dimensions of the Classic Metal Covered Cake Pan are 9" x 13"; made from pure aluminum which will never rust and provides decades of durability. Thanks to the excellent heat conductivity aluminum has, your baked goods will bake evenly. This pan is hand wash only and will not warp like so many pans can over time.
#2 – OvenStuff Non-Stick Round Cake Pan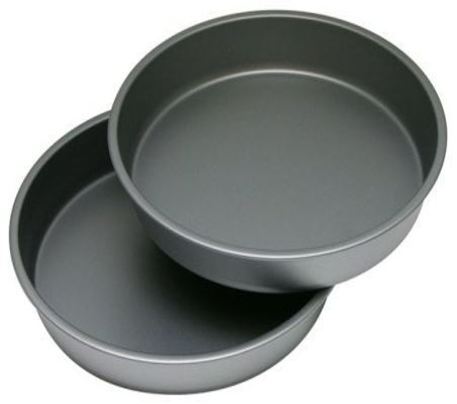 OvenStuff Non-Stick Round Cake Pan Overview
If you're looking for pans that will produce beautiful, evenly cooked cakes again and again, then OvenStuff's Non-Stick 9" round cake pans are what you want. Each cake pan is coated with DuraGlide Plus non-stick inside and outside which means no sticking of your hard earned cakes and baked goods.
This coating makes cleanup a breeze. This two pan set is scratch resistant, dishwasher safe and is made from heavy weight steel. If you love to make layer cakes, this is the set for you to add to your baking supplies. The even baking results are a result of the heavy weight steel construction that provides very even baking across the entire pan.
#3 – Wilton Recipe Oblong Pan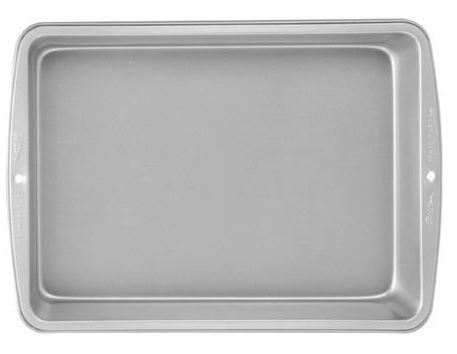 Wilton Recipe Oblong Pan Overview
Wilton, one of the best known names in the cake decorating industry, does it again with this terrific Recipe Right 13" x 9" oblong pan. Recipe Right products are known for their heavy-gauge steel that gives bakers a consistently even heating foundation that yields delicious baked goods that are perfectly browned.
Non stick coating makes the Wilton Recipe Right Oblong Pan easy to clean and food doesn't stick to it during the baking process as well. Oblong pans are perfect for brownies, sheet cakes and cinnamon rolls as well as casseroles and even lasagna. Even though it is a cake pan, many cooks use it for a lot of their cooking and baking needs beyond the sweets and baked goods.
Cake Pan Buyers Guide
When baking a cake, there are a lot of things that need to be taken into account, which includes the flavor of the cake you will be baking, the ingredients you need for your recipe and the frosting it should have. Another essential thing is the cake pan that you will use. How the cake turns out will depend on the type of pan you use. There are different types of pans which come in different shapes, sizes and materials. It is vital for you to select the right pan for the right type of cake.
Materials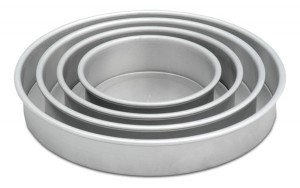 Cake pans are found in three different materials which are silicone, aluminum and stainless steel. Each of these materials have their own benefits and disadvantages and most people choose one over the other based on personal preference. Most people prefer to use stainless steel due to the fact that it is durable, and just as the name suggests, it is resistant to stains. However, stainless steel does not conduct heat as well as aluminum does, which means that cakes do not bake evenly. Aluminum is a good heat conductor. It creates an even heating surface and this means the cake is going to cook uniformly throughout.
Silicone is easy to clean and store. People love this material due to its durability and versatility. Silicone pans can be used in the microwave, freezer, oven and refrigerator. From cold to hot temperatures, silicone is going to hold up without showing any signs of stains or rust.
There are several varieties of cake pans and each have their own uses and types of cakes. Round cake pans are used in making layer cakes. Different sizes of cakes will be baked and then stacked on top of each other to make a variety of cakes for special occasions. Round cake pans can be used to make pieces for sculpted cakes while cutting each shape as needed in order to make a creative design. Rectangular cake pans are used in making sheet cakes. These are easy to transport in comparison to layered ones.
The flat surface will provide a basic canvas on which it is easy to make creative designs. Spring form cake pans have removable sides. These pans are used for delicate items such as cheesecakes which are hard to remove from the pan. They are also ideal for cake toppings like coffee cake.
Size of cake pans
One of the main factors to consider is the size of the pan. Different recipes will demand different sizes of baking pans. This is an essential factor especially for baked goods which are baked in cakes, loaves or as a whole shape. Check the size of your oven to make sure that the pan is going to fit inside. Look at your recipes to know the size of baking pan that is needed. Having a specific size is going to save you time and also save you from having to alter your recipe so that your preparations will fit in the pan.
Reading cake pan reviews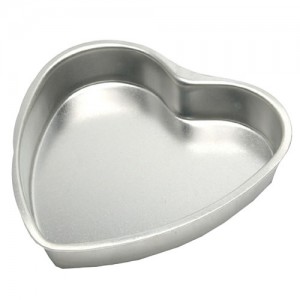 There are a lot of websites where you can get information from other bakers on the type of pans they use for baking cakes. This is the right place for you to do your research. Ask other people on the forums questions that you think will help you determine what the best pan is for you. You are also going to get an insight on the pans that you should avoid based on what other people are saying. This is the right thing for you to do in order to avoid doing a trial and error on the purchase.
When looking for cake pans, you need to think about the baking that you are going to do and how often you will bake. If you do not bake quite frequently, a small assortment cake pan in two or even three shapes and sizes is the most ideal for you. It should come along with doubles of a medium sized round or even a rectangular pan for making layer cakes. For those who bake quite frequently, you will need a wide variety of pans to choose from. With the tips above, you are sure to get the right pan for your needs.
Conclusion
There's nothing better than homemade cake – lets be honest. When it comes to baking the perfect cake, you need the right tools. Owning a high quality cake pan is essential to make the baking experience ideal, and you're sure to be on the right path when you purchase one of the top rated cake pans above. Should one of these not suit your needs, then you should do more research online to find the pan that is right for you.
Once you own the perfect cake pan, you're going to see that it's easier than ever to cook delectable cakes that the whole family can enjoy. Be sure to focus on quality materials, price, and shape, and ask yourself what kind of baking you're going to be doing most of the time.