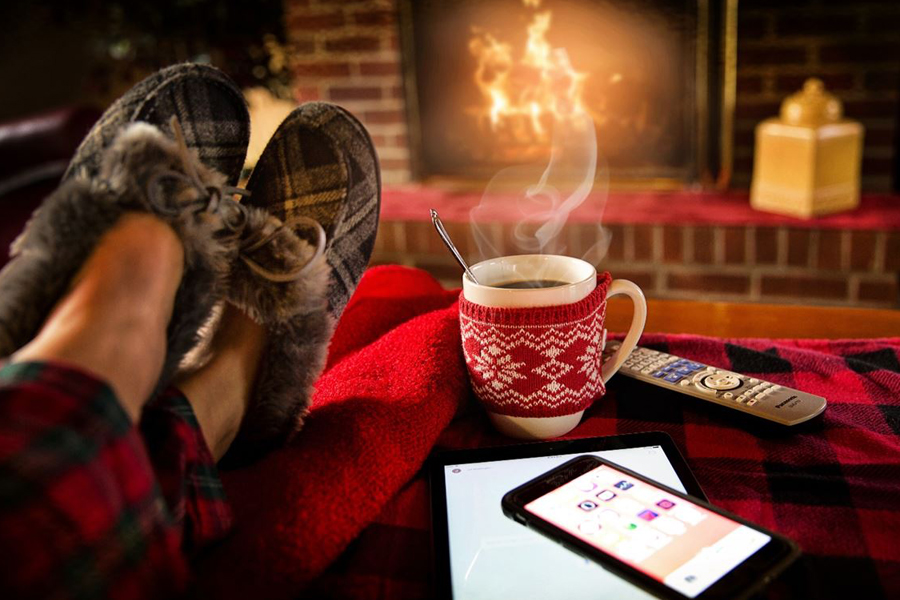 Installing an electric fireplace in your home has a wide array of benefits. Not only is the entire process fairly simple, but it is also less expensive than installing a wood-burning fireplace. In fact, the costs are considerably lower even if you decide to purchase a high-end model. One thing to keep in mind, regardless of your price range, is to always choose remote-controlled products.
Top 5 Remote-Controlled Products
The electric fireplace market offers an extensive collection of devices to suit every person's budget and aesthetic tastes. To help with your decision-making process, we have comprised a list of the five best items you can purchase depending on the look and feel you are trying to achieve.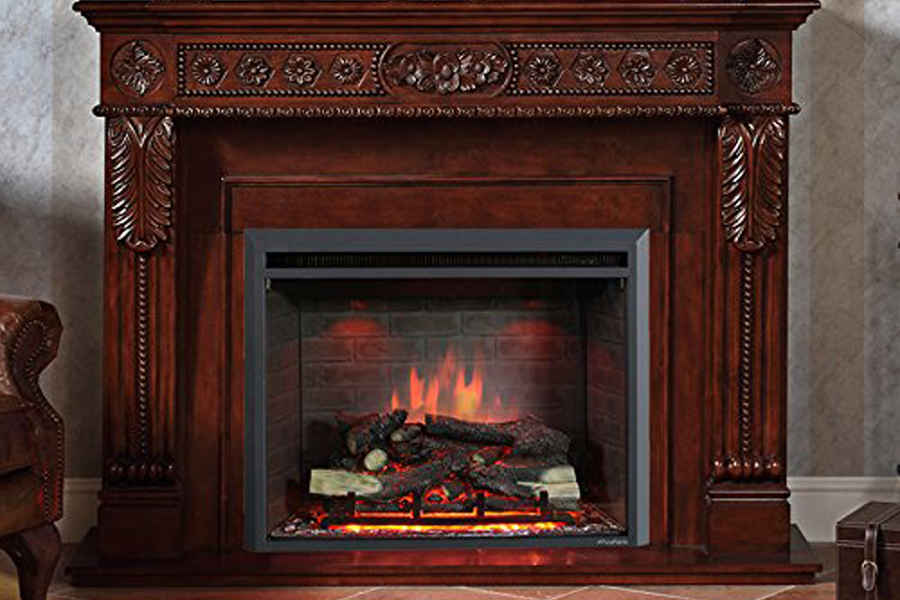 1. PuraFlame Western Electric Fireplace Insert
Known as the PuraFlame Western 33 for short, this Western Electric Fireplace Insert – with an integrated remote-control system – functions with energy-saving LED technology. Therefore, you can consider its $330 price tag an investment for your future. It can heat up spaces as big as 400 square feet, thus being the ideal addition to any room.
The three electric flames have an intensity and brightness setting, and they are displayed on a realistic-looking bed of resin logs and embers. These can be turned on to flicker with or without heat so you will be able to enjoy the cozy ambiance you feel with a real fire. The remote control allows you to easily control the heat settings from a distance, which is a great convenience factor. If you like this fireplace but still need more details, check out this review.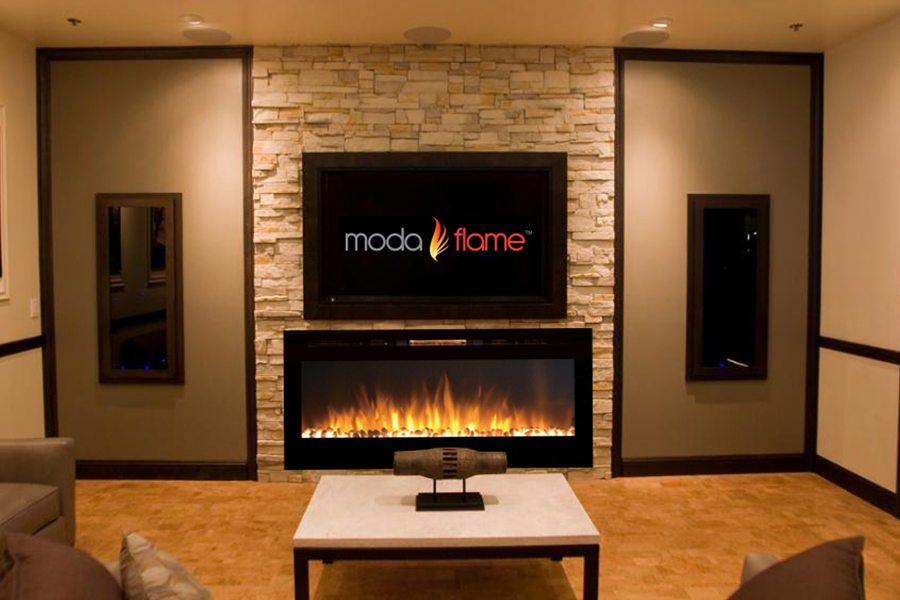 2. Moda Flame Houston Electric Wall Mounted Fireplace
If you want to save space and keep a sleek and minimalistic tone to your home décor, a wall-mounted electric fireplace is a perfect alternative. Because this unit lays flat on the wall, the installation process is rather simple. Also, you won't have to drill or cut any holes to put it up, but it will look amazing nonetheless.
One of the top remote-controlled products of this kind is the Moda Flame Houston 50″ Electric Wall Mounted Fireplace. It is smokeless and ventless, and it can provide thermal comfort to a surface of up to 400 square feet. It also comes with a programmable timer setting so you can plan ahead when you want to come home to a cozy room and save money on the energy bill.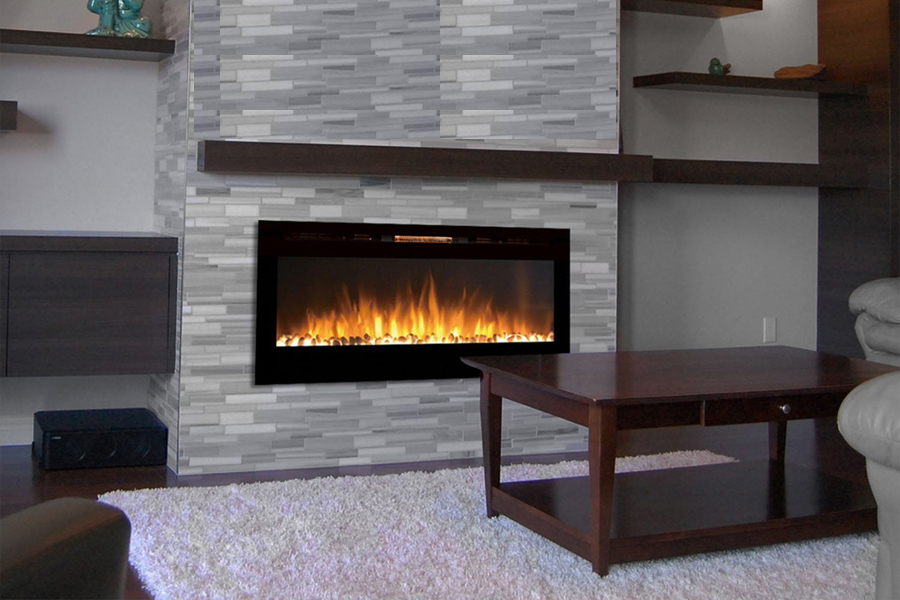 3. Touchstone Sideline Recessed Electric Fireplace
Because the Touchstone Sideline Recessed Electric Fireplace was designed with a front heating vent, it can be easily flush-mounted into any wall in your house. Its slim frame makes it the perfect subtle addition to any space, as it will form an air of relaxation and elegance that is hard to match. And when you throw the realistic LED flames to the mix, you have yourself the perfect heater.
What is more, with the help of the remote control system integrated into the unit's settings, you will be able to easily adjust the blaze to one of the five included setting. Thus, you can complement the mood and lighting of any space and create the perfect ambiance. This will be the ideal enhancement to your special events and regular days alike.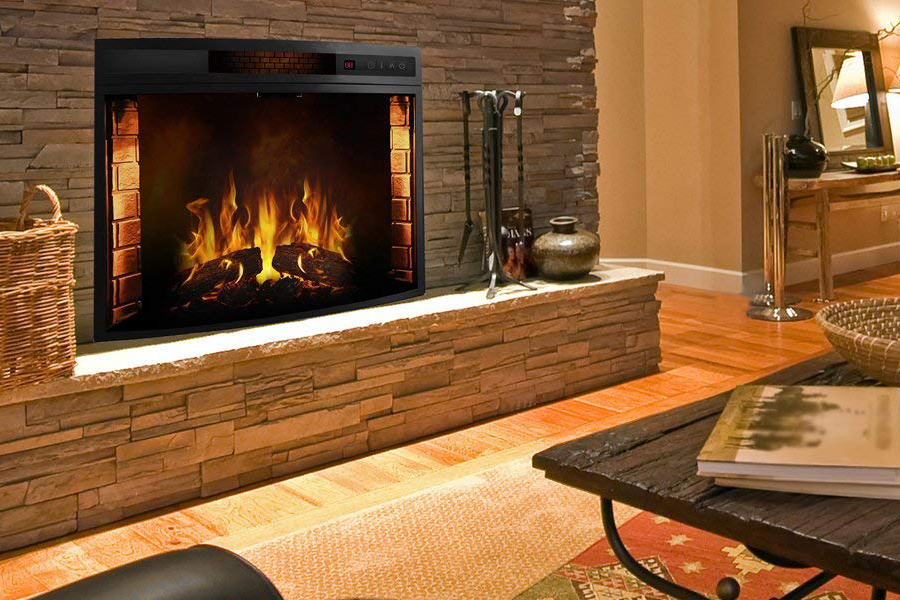 4. AKDY Black Electric Firebox Fireplace Heater Insert
For a more affordable take on the remote-controlled electric fireplace, try the AKDY 28″ Black Electric Firebox Fireplace Heater Insert Curve Glass Panel. It retails for just 80 dollars, and it is easily installed in any place designed specifically for a hearth. It perfectly emulates the look of an authentic wood fire without the smoke, smell, or overall mess that is created in the process.
This is possible because it operates with the help of metal coils. The AKDY insert functions on 22 separate heating levels, which means that you can adjust the settings to obtain the desired result. Just like all the other items on our list, it covers a total area of 400 square feet, which makes it the perfect supplemental source of warmth for your living room or bedroom.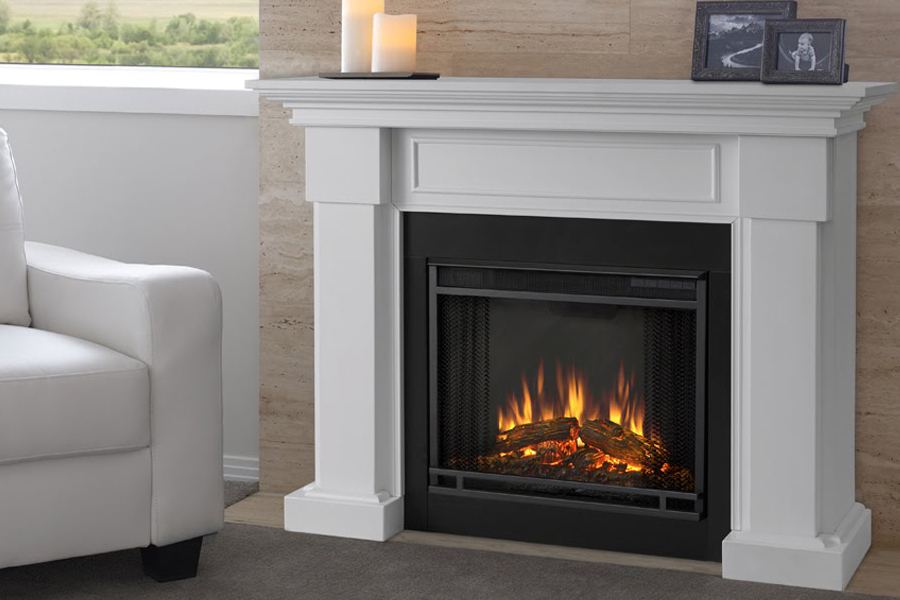 5. Real Flame Kennedy Electric Grand Fireplace
Purchasing a unit that looks and feels just like a genuine fireplace will set you back a couple hundred bucks more than a standard heating unit would. If you are willing to spend some extra cash, the 850-dollar Real Flame Kennedy Electric Grand Fireplace is the way to go.
The beautiful, solid-wood veneered, MDF mantle is available in both black and white, so you can easily match it to your furniture. Its dancing LED flames lay on top of faux wood logs to complete the realistic appearance. The remote-controlled device heats up 400 square feet and does it in the most elegant manner possible.
The Bottom Line
Remote-controlled electric fireplaces come in a variety of designs and price ranges. If you just want something to heat your home without the fuss and untidiness caused by real flames, an affordable item such as the AKDY Black Electric Firebox Fireplace Heater Insert is perfect for you. And if you want to go all out, go for the Real Flame Kennedy. Regardless of what your final choice is, make sure it is one you are happy with.