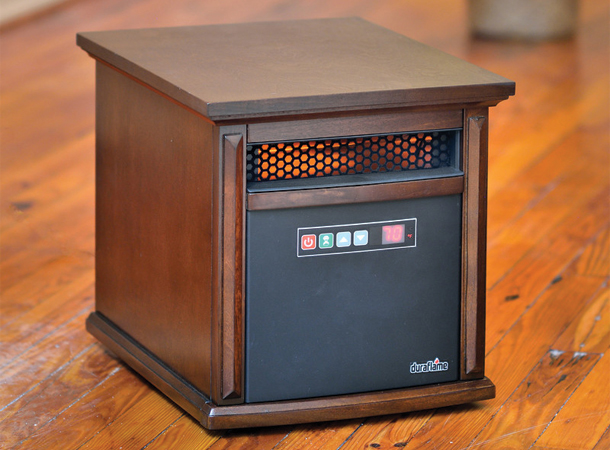 We researched the 20 most popular space heaters on the market and considered their performance, power, size, ease of use, safety features, and extra features. These three space heaters were clearly at the top of the list for all of those categories.
Heating costs can be a real bear each winter and as they continue rising people are looking for better ways to cut some of those costs and heat their homes economically. Running an electric space heater in the rooms that are used most often can help you keep the overall thermostat at a lower temperature. You only have to worry about heating the rooms that are used most often.
Electric space heaters are also a good choice when you don't have central heat or a good furnace system, or if the furnace goes out. There are many different type of space heaters that have various features and controls.  Finding the right electric space heater can be confusing with all these choices.
We researched the 20 most popular space heaters on the market and considered their performance, power, size, ease of use, safety features, and extra features and were left with these three space heater choices at the top of the list for all of those categories.  Any one of them would be a great way to heat spaces in your home or help you lower you heating bills.
#1 – Lasko 755320 Ceramic Tower Heater

Lasko 755320 Ceramic Tower Heater Overview
Warm any room with style with the Lasko Tower Heater.  It features a multi-function remote control that is very easy to use.  The 1500 watts of power prove you with plenty of comfort when it's cold outside.  The top access button controls have a digital display. There are both low and high speed settings.
The Laska Tower space heater has a widespread oscillation that encompasses the entire room it is in.  The programmable thermostat and 8 hour timer are additional features that contribute to its popularity.
The autos shutoff for the heat is determined by external ambient temperatures. There is a convenient carry handle so you can easily move it to any room. It is the perfect answer to heating up specific rooms and helping to lower the heating bills.
#2 – Dr Infrared Heater Portable Space Heater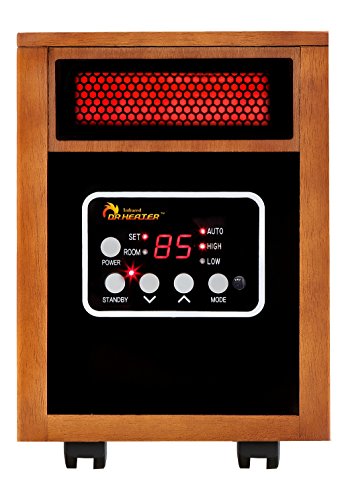 Dr Infrared Heater Portable Space Heater Overview
One of the best alternative and efficient heating sources is Dr. Infrared Heater. The advanced dual heating system combines PTC and Quartz infrared element to keep you warm while helping you save money on your heating bills.
The dual heating system and high velocity low noise blower heats your room to a comfortable temperature by increasing the heat distribution and transfer rate.
This electric space heater is safe to have around children and pets and gets warm to the touch but not hot. There are no exposed heating elements that can cause fires to start.  Save on power even more with the energy saving auto mode that has a high and low setting.
It will switch back and forth between the two to maintain the room temperature you want when the unit it set to auto. There are three power settings to choose from: auto, low (1000w) and high (1500w).
These settings can be manually set to run all the time or cycle on and off as needed, on their own.
The state of the art technology that   ensures that there is moisture in the room so your skin doesn't dry out liked convection heaters can cause. Another benefit to using Dr. Infrared instead of using your regular heating system is that it will save you up to 50% on your next power bill.
It features tip-over protection as well an auto shut off feature, with overheat protection.  The safety features that Dr. Infrared contains, allow you to sleep peacefully with no worries.
This innovative and efficient electric space heater delivers more heat than other 1500 watt heaters and heats the same amount of space that other space heaters heat, but does it much faster. The ultra quiet, 7" blower is so subtle you won't even realize it's on.  This higher pressure fan generates larger air volume movement at lower speeds which contributes to how quiet it is.
#3 – DeLonghi HMP1500 Mica Panel Heater
DeLonghi HMP1500 Mica Panel Heater Overview
The DeLonghi HMP1500 Mica Panel Heater is the perfect electric space heater for smaller spaces.  This unit uses micathermic technology that provides consistent and efficient silent heating.  It is stylish and compact and looks great in any room décor.  The adjustable thermostat and two heat settings are just part of the features that this convenient space heater offers.
Some of these safety features include a thermal cutoff function that prevents overheating; an internal tip-over switch protects the home in the event of an accidental tip-over.
There are easy to see power/caution indicator lights. The convenient carry handle and casters make moving the DeLonghi mica panel heater from room to room, super simple.
The slender, stylish electric space heater can be freestanding or mounted on a wall.  You can choose from 750 watts for the low setting, and 1500 watts for the high setting. There is a mounting kit included if you prefer to have it stationary.
Summary
Electric space heaters have come a long way from the dangerous, hot-t-the-touch varieties from decades ago.  These top ranked space heaters are packed with all kinds of features from multiple speed settings to an array of safety features including tip-over protection and sleek designs that look great in any room, you will enjoy the comfort of warmth along with savings on your power bills too.
Continue reading our detailed buyer's guide to learn even more about how to choose the right electric space heater for your home. We have provided you with information on what to look for when shopping for a space heater as well as outlining features that today's electric space heaters offer.  This information will help buyers make informed decisions about the space heaters they choose and provide their homes with comfort and warmth without the worry.
Buyer's Guide
Factors to Consider When Purchasing an Electric Space Heater
There are several things to consider when purchasing an electric space heater for your home. We have outlined the most important things so you can narrow down the choices from the large selection of electric space heaters that are available on the market.
Heater Types – The very first factor that you need to consider when you are looking to purchase a space heater is the type of heater you want. You want to choose one that is well-suited for your specific needs. There are many different types of heater styles available but really only three types of heating technologies:

Radiant – Delivers spot heating in small spaces
Convective – This type of technology provides whole room heating that is even and consistent.
Micathermic – Offers widespread, fast heating that saves space as well.

Heating Capacity – How much space the heater will cover is very important when it comes to choosing an electric space heater.  Purchasing one that is too small for the room you're trying to heat is counterproductive. On the flip side of that, purchasing one that is much bigger than what you need is also unnecessary.  What determines the right size heater to purchase is the wattage that the space heater has. On average, a space heater will use 10 watts of heating power per square foot of space. It doesn't apply to every model but it is an average in which you can create a starting point.
Energy Efficiency – Lowering heating costs is on every person's "to do" list. Before you choose an electric space heater, be sure to compare efficiency of the different models.  To prevent high power bills, choose the right electric space heater for the room or rooms you are trying to heat. Features that some models have include energy saving modes, adjustable thermostats, programmable timers and more that help conserve energy and minimize power usage.
Safety Features – Portable space heaters were once considered almost guaranteed fire starters but they have come a long way since then. They still need to be monitored properly, but many of the things that contributed to fires starting have been taken care of. With features like cool-to-the-touch surfaces and anti-tip sensors these efficient space heaters are safer than ever. Overheating protection is another big safety feature that most newer models have. The sensor inside will automatically turn off the space heater if it reaches dangerous temperatures.
Noise Level – Just like with any appliance, electric space heaters put off some noise when they are being used. There are some models, however, that have made it a point to deal with this annoyance by using specific technology to reduce the amount of noise it makes.  Things like non-forced fans make for silent operation, making them perfect for the bedroom or office.
Electric Space Heater Designs
There is a large selection of heater styles on the market to choose from. Once you have determined what size space heater you need, you need to choose the style of heater you want. We've outlined the different styles below.
Floor Heater – These space heaters are portable and compact, often featuring a space saving design of some kind, usually vertically so it takes up less floor space. These electric space heaters are placed on the floor and the heat is spread throughout the room with a fan of some kind.
Personal Heater – This small device put out very focused heat to keep you comfortable. They are designed to be placed on a nightstand or table to provide warmth in very small areas.
Wall Heater – A wall heater is installed on an interior wall to provide supplemental heat to bathrooms, basements and other cold spots. They can vary in size and heating capability.
Baseboard Heater – This type of electric space heater heats the air from the floor to the ceiling and is very good at off-setting drafts that are brought in from the cold outdoors, especially if they are placed under your windows. This type of heater is very popular in basements. The installation is low cost and they provide consistent heat and quiet operation as well.
Other Space Heater Features
There are other features that electric space heaters can have as well. We have listed those below so you can decide which ones you are interested in having in the models you consider.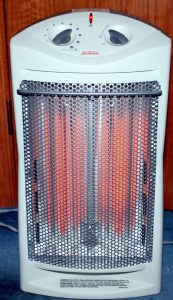 Programmable Timer – This feature allows users to pre-set the heater to cut on and off at designated times. This can save energy since it will only be used when you need it most.  For example, having it off or low during the day and then turning it on right before you get home to ensure that you don't walk into a cold home.
Handles and Wheels – Many of the electric space heaters are so light that they can be carried easily. Handles and wheels for the larger models are also very beneficial for moving the heater from room to room.
Auto Oscillation – Oscillating heaters work like oscillating fans and spread the heat throughout the room as it moves from side to side.
Remote Control – Change the settings on your heater without having to get up and change them. Remotes are very handy for controlling various things from anywhere in the room.
Energy Saving Mode – Save power and energy by choosing a model that will pay attention
Multiple Settings – Most electric space heaters have high and low settings. This is good for controlling the heating of different sized spaces.
Conclusion
There are a large number of electric space heaters on the market due to the fact that they are still popular methods to heat smaller spaces or to try and save money on the monthly power bills. Choosing a heater or heaters to use in your home involves knowing what rooms you want to heat and how big of a heater you need.  The information in this buyer's guide will help you sort through all of the choices and narrow them down to the models that fit your needs and preferences.
Once you have narrowed the field, you will be able to look at the models that have the features you want and the capabilities that you need and make an informed decision that will deliver the results you're looking for.
References
Lasko – http://www.laskoproducts.com/
Dr. Infrared – http://www.drheaterusa.com/
Mr. Heater – http://www.delonghi.com/en-us/