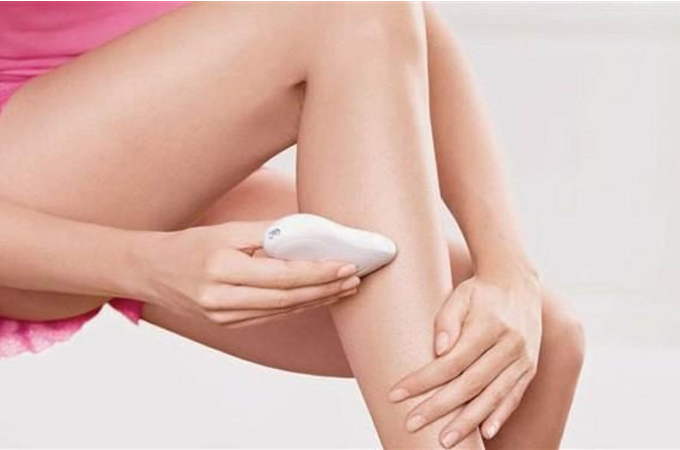 During summer months the prospect of shaving frequently hits an all time high as far as inconvenience. Whether you choose to shave in the shower or use an electric shaver, completing the task every day or several times a week is time consuming and bothersome task. As you consider how to remove unwanted hair on various parts of our body, you have many alternatives to choose from. Waxing is fast but very painful and can leave your skin feeling raw for days. It is also expensive and must be completed frequently. Tweezing is effective for longer term removal but the process is too tedious for larger areas like legs and forearms. As a result, many have consigned themselves to shaving several times a week and wishing there was a better way.
Fortunately, epilators have come a long way in the last few years providing better pricing and more options than there were in the past. Epilators can save you both time and money and reduce the occurrence of shaving to a few times a month, leaving you with silky smooth legs and arms all summer long.
Epilators are hand held devices that remove unwanted hair from anywhere on your body by acting as an electric tweezer which pulls hair from its root, extending the time it takes for hair to grow back. Users find that hair is slow to return and when it does it is often lighter and softer than the previous time. Now instead of shaving daily or several times a week you can shave once or twice a month with excellent results.
Epilators work like electric tweezers. They are able to grab many hairs at a time to speed up the process. They contain a series of spinning discs or springs to capture the hair on the skin level while the rotating motion pull away the hair straight from the roots leaving skin soft, smooth and hair free. Also because this process is completed by rotating discs an Epilator is able to grab more hair and faster than tradition tweezing and far less painful.
#1 – Braun Silk Epilator
The Braun Silk Epilator is the top pick because of its precision operation and ability to eliminate hairs of all lengths. This new technology improves the hair removal process through an innovative micro grip tweezer technology that removes hairs with precision, and can catch even the shortest hairs that waxing would normally miss. This device can grab hairs as short as 0.5 mm. The Braun Silk epilator features a 40% wider epilation head that has the ability to remove even more hair in just one stroke. This reduces the amount of time it takes to shave larger areas like legs, chest, or arms. When using the Braun silk Epilator, you will find that the results can last for up to four weeks, saving you both time and money, by reducing the time you spend shaving and eliminating the need for tweezing or waxing.
The Braun Silk Epilator is cordless and can be used in both a wet or dry application. You can use it in the shower or out and achieve the same great results. This epilator features a pulsating vibration which makes your hair removal experience virtually painless with regular use and an extra gentle sensation. The epilator is designed to remove hairs 4 times shorter than wax will reach, while speeding up the process through the wider head. The head is designed to pivot and adjust to the contours of your body, increasing the effectiveness of hair removal. A light is also included so you can see the area clearly, more a cleaner shave. The Braun Silk Epilator can be used effectively on underarms, face, arms, legs and bikini area, with the various attachments.
#2 – Emjoi AP Dual Tweezer Head Epilator
The Emjoi AP Dual Tweezer Head Epilator is a top pick because it is effective in removing hair without the pain of a traditional epilator. This unit produces effective hair removal through its unique tweezer blades. There are seventy two separate tweezer heads that work together to achieve the most effective and pain free hair removal process. This epilator also features a patented glide technology that makes the motion of shaving smooth and comfortable no matter what area you are removing hair from. It features silver ion technology, which is the first product in the world to use this cutting edge technology. The staggered dual heads lift flat and short hairs more effectively for a cleaner shave.
The Silver Ion Technology features anti-microbial protection that protects your skin from infection for safe hair removal and prevents ingrown hairs. The epilator is able to cover more space and pulls hairs within a 17 millimeter area. This provides a smooth finish and effective hair removal in one pass. Hairs are removed as short as .5 millimeters. The Emjoi epilator also features an exclusive middle lifting finger that lift flat and short hairs so that you may achieve the perfect shave again and again. The handle is ergonomically designed for comfort and it is gentle enough to be used on sensitive areas like you face and bikini line. It features a dual speed and a plug in device that requires no battery replacement.
#3 – Philips Satinelle Epilator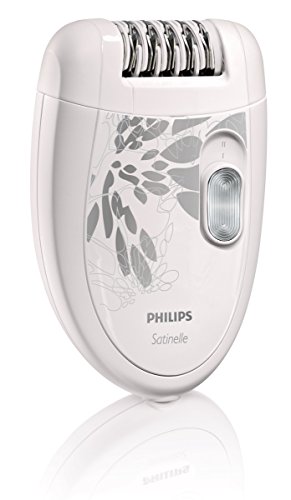 The Philips Satinelle Epilator is a top pick because it effectively removes even the smallest hairs while reducing pain. This Epilator is capable of removing hair from the root and includes an efficiency cap that ensures gentle epilation throughout the hair removal process. This epilator comes with two speed settings which allows you to customize how fast or slow they prefer the discs to move. In sensitive areas you can reduce the speed, while increasing the speed for larger areas like legs that are less sensitive.
The Philips Satinelle epilator features an ergonomic grip for comfortable handling and smooth control. This epilation head is removable and washable which makes it easy to maintain the upmost hygienic standards in your hair removal process. The epilator is cordless making it convenient to use anywhere for a smooth and comfortable finish. This device is easy to use and perfect for the most sensitive area of the body. Hair removal is accomplished for hairs as short as .5 millimeters. There are 21 discs that are all hypoallergenic in design to work on sensitive skin. It also comes with a two year warranty.
Summary
Epilators can be a handy beauty tool that can keep you feeling refreshed and your skin smooth wherever you need it. Epilators can be a virtually painless process if used regularly and they are quick and easy to use, even for beginners. Each of our top picks will grab more hair and remove the hair faster than tweezing and are less painful than waxing. All of our picks can remove hair up to .5 millimeters with the optimal length being 3 to 4 millimeters in length. They can all handle multiple hair lengths for a smooth finish in less time. Each of our top picks will save you time and money proving you with effective hair removal that will last up to four weeks.
Our top picks can all remove unwanted hair from all areas of the body, including the face and bikini line, which many are not able to accommodate. Each includes features and qualities that set themselves apart from the competition. They all make the hair removal experience a comfortable and effective one.
The Braun Silk Epilator is the only one that can be used in both wet and dry application allowing you to use it in or out of the shower. Both the Braun and the Santinelle by Phillips are cordless, where the Emjoi requires a plug, but does not need battery changes.
The Emjoi features the only device with dual blades, and also has an angled design to achieve a close and more precise shave on uneven surfaces like knees and ankles. The Emjoi also features the most blades with 72 in place to safely and reliably remove hairs. The Philips Satinelle features a removable top that allows you to wash and maintain the highest hygienic standards.
Regardless of which one you choose you will find you can have soft beautiful skin without the time, money and pain of alternative shaving methods.
Buyer's Guide
What is a Epilator?
Choosing the right epilator for your needs means reviewing features and usage patterns that will be most in line with how you want to use the product. A few questions to consider include the following: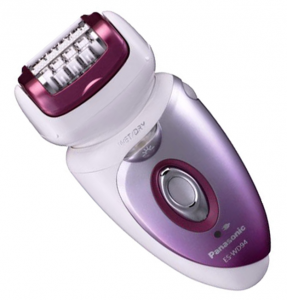 Do You Prefer Wet or Dry Shave? Where you will use the product will make a big difference in the convenience and amount of use it will get. Consider where and how you currently remove hair and find a product that is consistent with your current habits. If you currently shave in the shower it may be hard to change that up and try a cordless model that requires a dry shave.
Cord or cordless models. Epilators are found both with batteries and with a plugged in chord. Your choice is mostly a matter of preference. Those who enjoy a plugged in unit will never have to worry about buying batteries and needing to shave but having dead batteries. On the other hand, you will be required to work in a smaller area that is convenient to a plug. Remember than an epilator will most likely reduce the amount of shaving that you will do, and shaving once a month may be a very different experience than shaving every day. This can impact when and where you end up using this device.
What is your pain tolerance? Epilators are not a pain free experience. However, the devices can include features that reduce the pain from the beginning. One of the most important things to remember with an epilator is that a tweezing experience will pull hairs from your skin and at first this can be very uncomfortable. Over time the hairs will grow softer and come in slower, leaving you with more time between shaves and the pain will rapidly lesson over time.
Do You Normally Have Short Hairs left after shaving or waxing? Only top quality epilators are designed to remove very short hairs more effectively than waxing or shaving. Those with built in discs instead of tweezers or razors are designed to grab more hair at once. Some Epilators are set at an angle or are contain multiple discs designed specifically to grab and pull smaller hairs.
What areas do you want to shave? Shaving in sanative areas requires multiple speeds and features designed to remove hair without pulling the skin (which significantly reduces the pain level). Areas like the upper lip or bikini area have very sensitive skin and should only use an epilator designed for these areas. Which could drive up the costs. If you only want to shave the leg areas, a model with less features might be adequate because the legs are less sensitive.
Angle Blades or Straight edge? If you are looking for a closer shave or have more sensitive skin, there are epilators designed to specifically aid in these situations. An angled head will provide a closer shave. Rotating discs will adapt to body curves better. Those with sensitive skin may prefer the straight edge epilator.
Features to Consider
Angled Blades angled blades provide a close shave and can more easily access shorter or more stubborn hairs. It is better for adapting to the curves of the body.
Straight Blade The straight blade is designed to better grasp larger hair and glide more smoothly along those who need to remove larger hair or large volumes of hair.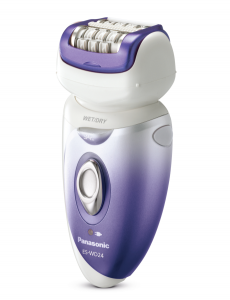 Size of the head will factor into how long it takes to shave and how much surface area is covered at a time. If you have low pain tolerance covering a smaller area is better. If you want it done as quickly as possible then a larger head will result in a faster shave.
Efficiency Cap is located at the top of the epilator as a guard to protect against harsh grinding or rubbing against the skin as you shave. This feature produces a more comfortable experience.
Speed Settings are beneficial when going over sensitive areas, hard to reach places, and for those with sensitive skin. You can use a higher setting in less sensitive areas and a lower setting in higher sensitive areas.
Dual Head offers multiple disc heads that rotate in opposite directions either in a straight line or angled to better reach and remove stubborn or short hairs.
Conclusion
Epilators can reduce normal shaving and tweezing routine in half and grant you all the benefits of a clean down to the roots hair free experience in the privacy and comfort of your own home. Epilators can be virtually painless when used regularly. They save you both time and money with your beauty routine. Epilation is faster and less painful than waxing and tweezing and extend the time between shaves. They are easy to use, handheld, and compact units that are easy to store. They will change the way you look at hair removal.
Resources