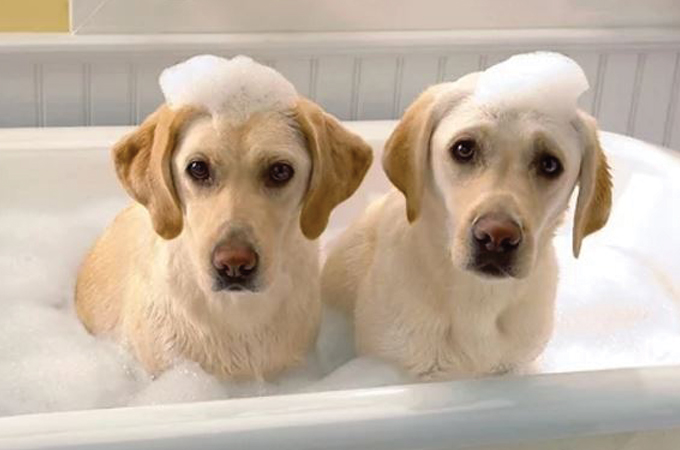 Flea shampoo for dogs is a fur-and-skin-care product that provides a direct solution for the occasional infestation of fleas. Applied directly to the fur and skin of flea-infested dogs as part of the washing experience, this product is infused with pet-friendly but flea-deadly agents that remove fleas, killing them on contact and providing a general cleansing of the dog's fur and skin.
A wide variety of flea shampoo products are available for purchase online and from traditional pet care shops and other stores. These products have differing strengths, cleansing properties and ingredients depending on your exact needs. They can be distinguished in many cases by the inclusion or exclusion of post-washing flea-resistant protection that serves as a preventative measure against further infestation for a limited time.
| Top Pick | Photo | Flea Shampoo | Quantity (fl oz) | Contains |
| --- | --- | --- | --- | --- |
| 1 | | Jackie Doodles | 4 | Lemongrass, Rosemary |
| 2 | | Tropiclean | 20 | Chamomilla Recutita |
| 3 | | Oxgord | 20 | Aloe Vera, Organic Oils |
#1 – Organic Flea Shampoo for Dogs
Organic Flea Shampoo for Dogs Overview
This Filthy Friends product comes in a 12-ounce pump-top style container and combines numerous pet health and flea-removal qualities in a single shampoo. It is effective for both cats and dogs. It provides a certified organic formula treatment for pet skin and fur, removing itchiness and soothing skin conditions healthy and unhealthy alike while conditioning through the presence of natural oils and extracts. There are no animal ingredients in the product and "cruelty free" is noted on the packaging. The shampoo comes with a noted vet recommendation, emphasizing the product's skin hydration-factor. Frequent use of the product is safe for pets that experience continued problems with skin or fur issues, as well as flea infestations.
Online reviews give this product an overall excellent 4.5 of 5 star rating, with reviewers emphasizing how easy the pump-top feature makes the pet shampooing process. Many reviewers also made positive comments about the mild citrus fragrance that lasts beyond the day of washing, as well as the skin-healing elements, the immediate fur/skin-health effectiveness, and the effectiveness of the product's flea-removal. The product is manufactured in the U.S.A. and comes with a "Satisfaction Guarantee".
Buyer's Guide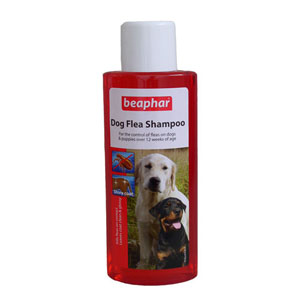 When a dog comes down with an infestation of fleas, flea shampoo can be one of the most important resources for dealing with the problem. What are the most important considerations for buyers to bear in mind when seeking out the best product for their flea-infested dog?
The cost of the product, the size of the bottle that it comes in, and the number of uses it provides are standard factors involved. Also relevant may be the comfort of brand recognition for some consumers, with a more recognizable name brand product being more attractive to some consumers.
Flea shampoos for dogs can also be distinguished by strength and effectiveness factors, with some having a strong lasting effect beyond the day it is applied.
Some flea shampoos for dogs are effective for other common household pets, such as cats. Thus, pet owners with a flea-infested dog, who also have a pet cat, may find the best type of shampoo to purchase is one that can be used for both animals.
Types
Flea shampoos can differ in their flea-stage effectiveness, with some shampoos killing fleas at all stages of their development while others may only be effective at removing fleas at one particular stage. There are some shampoos that are effective for removing and protecting against ticks as well.
Buyers will find that many flea shampoo products come in a range of scents or fragrances, which can make a refreshing contribution to the household after the pet washing duties are completed. Whether scented or not, basic odor elimination elements are often added, leaving your pets smelling fresh and clean at least for several days. Some shampoos contain oils or other natural elements designed to soothe or strengthen the fur and skin, such as oatmeal which is a common ingredient, as well as aloe.
With natural elements in mind, buyers should be aware that there are viable natural, organic, and herbal options available for flea shampoos. These products sometimes offer additional benefits in terms of pet fur and skin health. These types of products may allow for more frequent shampooing in more severe cases of flea-infestation without any negative side-effects. However, they can also lack the immediate effectiveness of many non-natural flea shampoos.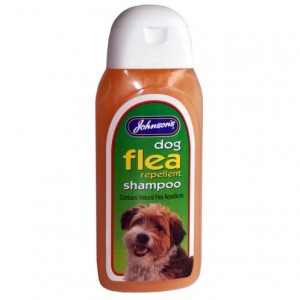 With these many considerations in mind, buyers should not overlook the fact that there is always a possibility that a pet can have an adverse reaction to a certain type of shampoo. This can be due to an ingredient that does not agree with the skin or fur of the pet or even something in the chemicals used to scent the shampoo that does not agree with your pet.
Final Considerations
Shampoo products are just one of numerous pet health care products that, like all health care products, have a direct effect upon the well-being of our pets. As with our own personal health care, consultation with a veterinarian or qualified pet health care specialist is advisable before selecting and using a particular pet health care product.
Consumers may also want to be reminded that individual dogs and even certain breeds can react differently to the same product, with flea shampoo not being any exception to the general rule. In the same way, an effective flea shampoo for adult dogs will not always be suitable for puppies or young dogs.
Finally, dog owners who are looking for the right flea shampoo should keep in mind that a flea infestation might not be cured simply through the use of anti-flea shampoo. Treating possible or actual flea infested areas elsewhere in the home or yard may also be needed in addition to the use of an effective flea shampoo in order to rid your pet of fleas.
References