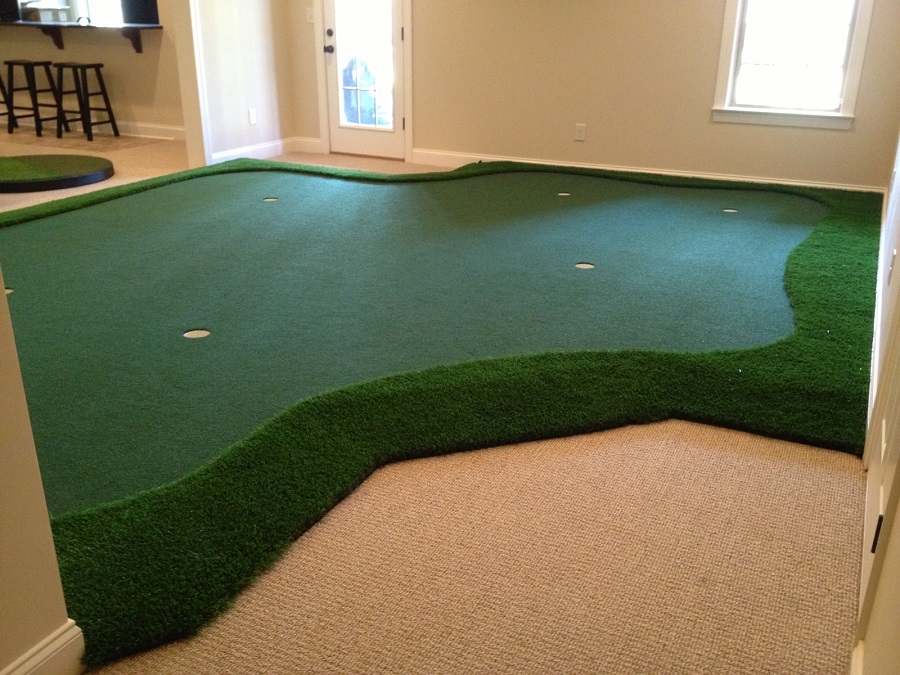 If you need a putting green that is large enough to make 10 ft putts, has a true roll and reads from 8 to 10 on the stimp meter, Big Moss is the best. We have owned a Big Moss for 8 years now and continue to use it every time we need to practice indoors.
#1 – Big Moss Putting Green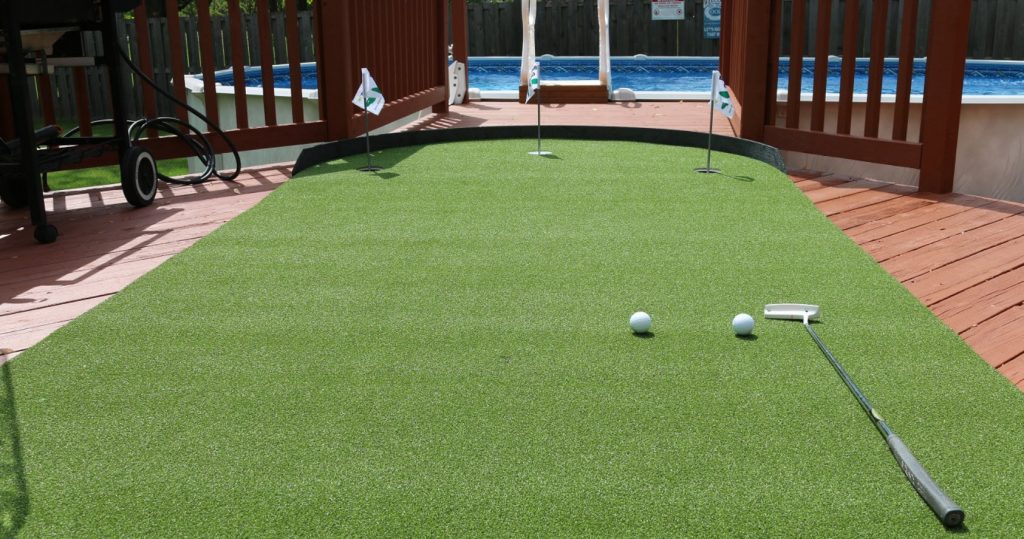 View on Amazon
Big Moss Putting Green Overview
Big Moss Putting Greens are the standard when it comes to indoor putting greens. They are easy to setup, have a true roll, and come in several different sizes. The Big Moss putting greens are extremely durable and can be stored by being rolled up when not in use. They roll about a 10/11 on the stimp meter when you have them on a hard surface, but when you put them on carpet, and you'll notice it slows down a little.
Also, you can vacuum the Big Moss for a faster or slower roll. You can use the foam break snakes in order to put with some undulation. The Big Moss is big enough to stand over 3 ft to 12 ft putts to get realistic practice. We personally own a Big Moss putting green and stand by the product as it has been a blast practicing on and has lowered our handicaps.
#2 – Tour Links Putting Green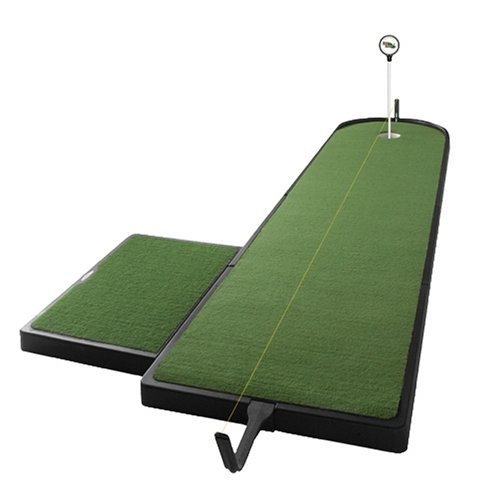 Tour Links Putting Green Overview
Tour Links putting greens are ideal for both indoor and outdoor use. They offer a realistic putting surface that sits a few inches off the ground. The Tour Links putting green comes in panels that you can put together to shape the green. The plastic sub-frame is very durable and customers love it for its quality construction.
#3 – StarPro Putting Greens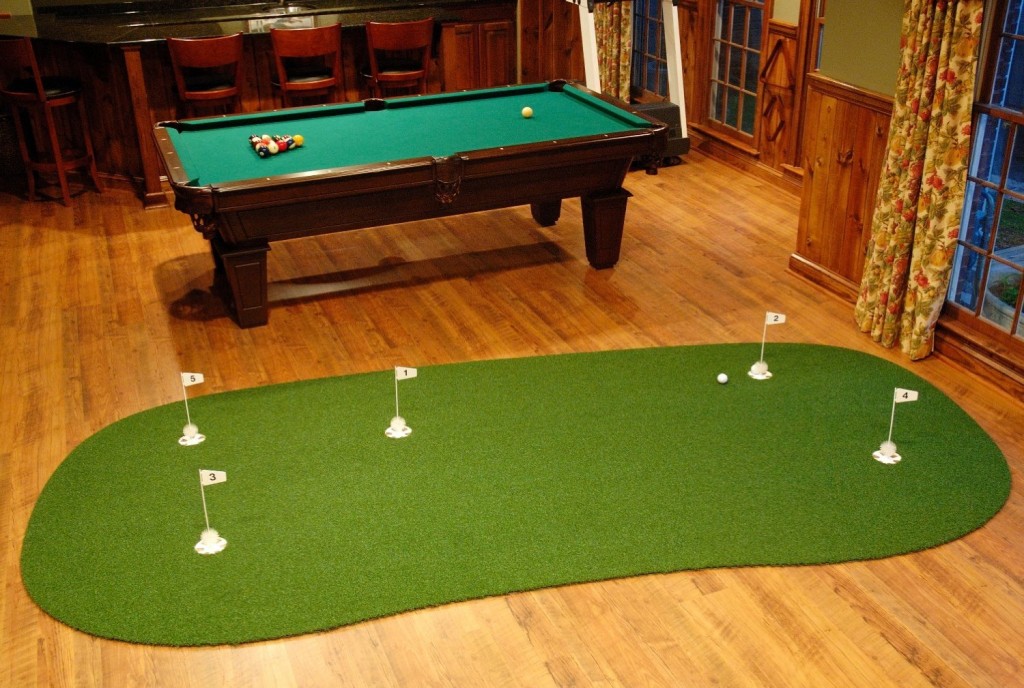 View on Amazon
StarPro Putting Greens Overview
StarPro putting greens have a great and realistic feel. The surface is a foam mat that can easily be rolled for storage. The greens are rated a 10 on the stimp meter and will roll a little bit slower if placed on a softer underlying surface. The StarPro indoor putting greens have a 2mm thick rubber base and multiple layers of backing. Each StarPro putting green carries a lifetime warranty.
What to Look for in an Indoor Putting Green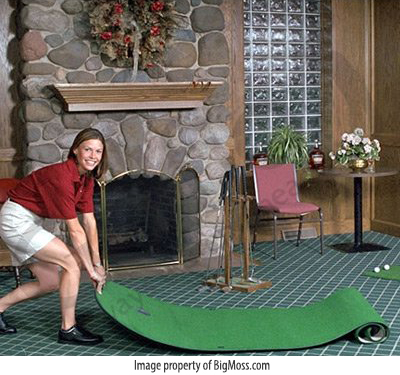 Want to play some golf but not excited about having to actually go out to a golf course? Indoor putting greens or indoor golf might be the solution. But with hundreds of models on the market today, how does a customer choose the best at a decently low cost?
When thinking of indoor putting greens, the first thing that comes to mind for most people is the putting green itself; that is, the artificial turf. Thus, the first factor in looking for a putting green is looking for something that feels natural and realistic enough. Does it almost look and feel like stepping onto an actual golf course? Does the color of the artificial grass look right?
True Roll of an Indoor Putting Green
A good putting green must also have a true roll. True roll means a smooth, straight and undisturbed roll of the golf ball into the hole. This means that the artificial turf should not have any unnatural bumps, grains or breaks. It must also be heavy enough to mask minor imperfectionsof the floor to be able to give a straight, true roll.
Another thing to look for in a putting green is if it has a realistic bounce. That is, when the ball bounces on the putting green, does it check and roll out exactly like it would on a golf course with real bent grass? This is important, especially when practicing chip shots in the comfort of one's home.
Speed is Important on a Practice Putting Green
On a similar note, also make sure that any shot on the putting green will have good speed. That is, when the ball rolls on the turf, it should have exactly the same speed as it will on a real golf course. The ball should not unnaturally slow down (too much friction) or pick up speed (too smooth).
Indoor Putting Green Size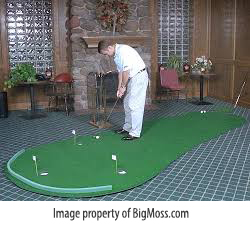 Another factor to consider is the size. While people might think that bigger is better, the savvy golf enthusiast should think first where the indoor putting green will be placed, and if it will fit the space with enough leeway for the enthusiast's golfing stance. If the space is in a corner of the office or bedroom, think of putting green sizes from around 4' by 10' up to around 6' by 14'.
There are even small sized putting greens that are L-shaped rather than just strips. In case the customer has a large space, say a whole room (perhaps a basement, playroom, or even a room exclusively dedicated to golfing), there are putting greens that range from about 6' by 12' to around 8' by 17', and even larger.
Another factor that is closely linked to the size and amount of features is the player's golf level. Beginners and those that play golf only for fun will most likely be happy with the smaller sized putting greens. Meanwhile, more serious players (who will most likely spend more time practicing longer putts, as well as add more details, such as undulations and varying roll speeds) will probably choose the larger, very realistic ones, with additional golfing features.
Durability of a Practice Putting Green for Indoor Use
Durability is also an important thing to look for in an indoor putting green. A savvy customer must make sure that the putting green, after a while, will not curl on the edges and will not crease in the middle. Good putting greens are highly durable and should be able to last from 10 to 15 years. Many give 10- or 15-year warranties, with some manufacturers even giving out lifetime warranties for their product.
Two features to look out for in a putting green are maintenance and cleaning. That is, if it is easy to set up, place in storage, move to a new location, and clean.
Setting Up a Practice Indoor Putting Green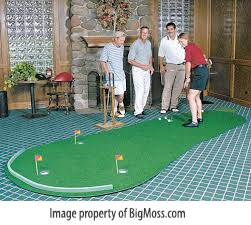 Most putting greens are easy to set up. It usually comes rolled up like a carpet. So to use it, the golfer only has to unroll the turf, and then place the putting cups on the pre-cut holes. However, some models have a base system that the customer has to first set up before the turf. Even though putting greens with a base system are often more expensive, there are certain distinct advantages to them. One is in the case of carpeted floors; a hard base system can hide the softness of the carpet below it. While most putting greens are heavy enough to mask minor floor imperfections, only putting greens with a stable base system can be used over floors with cracks or major flaws.
Another advantage of a putting green with a base system is that they can be used on un-leveled floors; one only has to add shims under the hard panels. The disadvantages of a putting green with a base system (that is, other than its price) are that it is not as portable and easy to store as the one without a base.
Most indoor putting greens are easy to maintain. They only need to be cleaned periodically either by vacuuming or air blowing (more if the putting green is used outdoors). If something is spilled on the turf, try cleaning with warm water first. For stubborn stains, try using light detergent and then rinse with warm water.
Cost of an Indoor Putting Green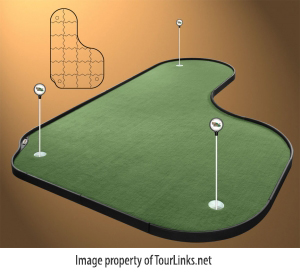 The last but definitely not the least, the customer must consider the budget. The rule of thumb is that the wider and the more features the putting green has, the more expensive it is. Typically, indoor putting green prices range from around $60 to about $720, but it could be more, especially for room-sized ones which cost more than $1200, and even up to around $6000.
So to summarize, here's what to look for and to check when looking for an indoor putting green:
Check if the turf looks almost natural.
See if it has true roll, realistic bounce, and good speed.
Balance the size according to the available space.
Know the golf player's level and drive for the game.
Check its durability, and how long its warranty is.
Determine whether to get a putting green with or without a base system.
If it is easy to put into storage, set up, and maintain.
Finally, the budget.