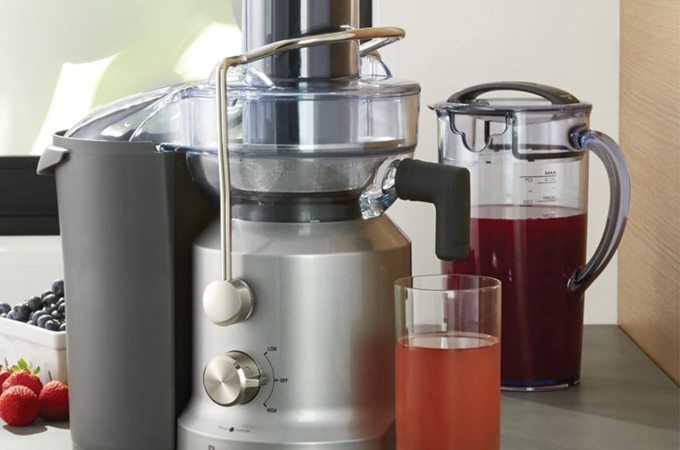 We all know the importance of eating lots of fruit and vegetables to stay healthy. The problem is how we can eat enough to obtain all the vitamins and nutrients we need daily. The solution is to juice some of your quota of fruit and vegetables into a delicious drink, as it is easier to drink juice than to eat whole fruit. If you don't like eating fruit and vegetables, juicing is an easy way to get all the goodness you need.
With the use of a juicer, you can make fresh juice at home to satisfy your sweet cravings, help you lose weight, and increase your general health. Fresh homemade juice will always be better than the commercial varieties, and you can make it in the combinations you prefer.
Even though the concept of juicing fruit and vegetables is considered as being a modern idea, it has been around in various forms since ancient times. The health benefits of mashing pomegranate and fig together is mentioned in the Dead Sea Scrolls. The first modern juicer, the Champion juicer was made in 1954. Juicing became mainstream and popular during the early 1990s, when they became readily available in retail stores. Since then interest in juicing has increased greatly because of the books, videos and websites dedicated to the subject of juicing.
The two main types of juicers are the centrifugal and masticating juicers. The centrifugal juicer uses blades, and has 2 speeds, one for soft and one for hard fruit and vegetables. When using this type, you will need to peel and remove the seeds before juicing. These are usually the cheapest and most widely available.
Masticating juicers are more expensive, but give a higher juice yield with less pulp. As the name suggests, they work by chewing or grating the fruit and then squeezing the juice out. They are more versatile, being able to also make sauces, baby food, and nut butters.
When deciding which type and brand of juicer to buy consider all the features and what you want from your juicer.
Consider the features and benefits against the price of the machine. But remember, the cheapest juicer is not always the best one. It is better in the long run to spend more and buy a higher quality one that will last longer. If you would like to start juicing to improve your health, consider buying one of these excellent juicers.
#1 – Black & Decker JE2200 Juicer
Black & Decker JE2200 Juicer Overview
Customers are able to prepare their favorite juices very easily and quickly using Black and Decker high speed juice extractor. In our opinion this juice extractor is the most inexpensive product in the market today and is priced competitively to cater the needs of each and every customer. Many consumers found the juice extractor very sleek in design and saved their kitchen counter space. It has a large jar which can easily hold a good amount of juice and its blade are made of stainless steel. Its parts are very easy to assemble and clean. Consumers found its pulp collector very large to accommodate many fruits, vegetables and will blend in no time using very little electric power. We highly recommended Black and Decker juice extractor to juice lovers as it is very simple to use, less noisy, looks very elegant in your kitchen and comes with two year warranty, which for a low budget juice extractor is an excellent thing.
#2 – Cuisinart CJE-1000 Juicer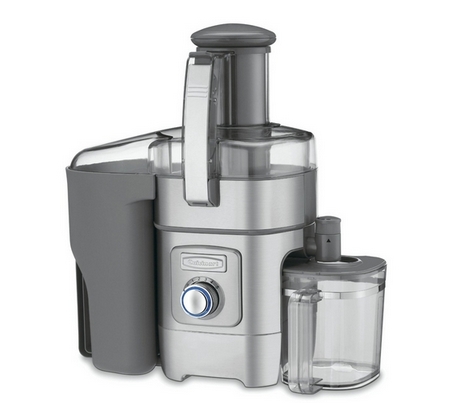 Cuisinart CJE-1000 Juicer Overview
Customers enjoyed fresh and healthy fruits and vegetable juices in no time using their favorite Cuisinart juice extractor. They found its electric motor very powerful and fast enough to extract juices from large sized fruits and vegetables. Consumers liked its anti-drip flow spout and speed dial juice settings. The juicer speed can be easily adjusted to extract softer and harder fruits and vegetables. Consumers found the juice extractor incredibly silent and easy to fit with reduced juice foams. The stainless steel body gives the juice extractor durability and elegant look. You won't have to cut fruits and vegetables as the juice extractor can enclose them if they aren't too big. One of the things which makes Cuisinart juice extractor highly recommendable is its excellent motor power, fantastic foam filter, anti-drip technology and silent performance. A fabulous choice for every day quick and effective juicing.
#3 – Breville JE98XL Juicer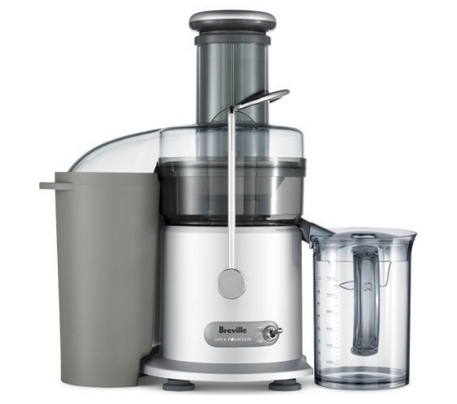 Breville JE98XL Juicer Overview
Customers liked Breville juice extractor for it is very fast and efficient juicer. Its magnificent motor speed can provide you an 8-ounce glass full in five seconds. You can customize the preferences so that the juice extractor can customize according to texture and hardness of fruit. Due to its amazing design, Breville juice extractor can extracts more nutrients and juice nutrients from fruit and vegetables requiring minimum efforts and providing maximum vitality. Customers found it very easy to clean, fast and simple. We highly recommended Breville juice extractor as it is small in stature which can save a lot of your bench space in kitchen and due to its excellent performance which can provide you good quality juice to revitalize your mind and immune system. A must buy for excellent juicing experience.
Buyer's Guide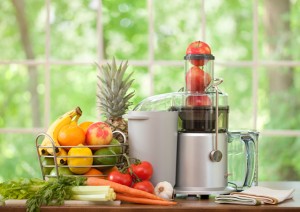 At the present time, being fit and healthy has been very popular amongst people. Since fruits and vegetables are vital in order to possess the valuable vitamins and minerals that a person needs daily, juicing fruits and vegetables has become insanely popular over the past few years. Some parents even use this method for them to be able to make their children consume vegetables without really them knowing. Gone are the days when people were just solely dependent on store-bought fruit and vegetables juices. Drinking and making natural and homemade juices is the in thing now.
Having the number of people who are getting into juicing increasing more and more, this has resulted to juicers being in demand in the market. For those who are just fairly new to the whole juicing craze and are planning to purchase a fruit and vegetable extractor, one might find it difficult at first since there are a lot of options to choose from.
Juicers are not a new invention. In fact, it has been in the market ever since the year 1930. That was the year when the first major juicer development took place, and ever since then, they have been modernized and developed to fit in people's lifestyles today.
Different Types of Juicers
Before acquiring a fruit and vegetable extractor, it is important to be thoroughly acquainted with the different kinds and their respective uses and features.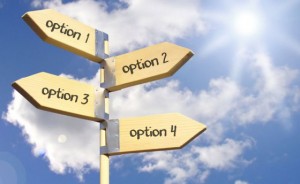 The first one is the Manual juice extractor. This particular kind is specialized to extract citrus juice such as oranges and lemons. Manual juice extractors have two common types, which are the simple hand presses and reamers. They possess a cone-shaped device in the middle in order for the user to place half of the citrus fruit and twist it to produce juice. Manual juice extractors are very easy to use and just require common sense in order to utilize it. They are easy to maintain and they are a lot cheaper than electronic juice extractors. Another positive factor about the Manual extractor is that all the nutrients in the fruit will be successfully transferred to the juice since there will be no heat involved in the juicing process. The only setback of this kind of juice extractor is that it has very limited capacity, and requires more strength in operating.
The second kind is the Centrifugal extractor. This particular kind includes a grater disc, which revolves at different speeds in order to shred fruits and vegetables. There are two types of Centrifugal juice extractors, one is the non-ejection and the second one is the ejection. The difference between these two types is that the non-ejection collects the excess pulp in a strainer container, while the ejection deposits its excess in a separate holder. One advantage that this type of juice extractor has is that it works in an efficient manner while being able to produce a big amount of juice. One drawback of this though is that it cannot process wheat-grass, and it is one of the noisiest kinds of extractors there is.
The third kind is the Masticating extractor. This particular machine effectively chomps fruits and vegetables and successfully breaks down any sort of fiber. It also successfully produces the juice. Masticating juice extractors are better in processing fruits rather than vegetables, and they do not process wheat-grass as well. The Masticating juice extractor is heavier and bulkier in weight and size, although it doesn't make a lot of noise.
The fourth kind is the Single-Auger extractor. This particular kind includes an auger in order to crush and produce the juice. The juice and the excess pulp flow into separate holders. Single-Auger machines are very easy to use and have a lot of uses such as making baby food, frozen desserts, and even shaping pasta. This machine has a low rpm, meaning it doesn't have a loud noise and it has a high nutrient value. It also processes leafy vegetables and wheat-grass very well. Unlike the Masticating extractor, which works well with fruit, the Single-Auger doesn't work that well with fruits.
The fifth and last kind is the Twin-Gear extractor. This particular kind includes two meshed gears with very low rpm, which caused the plant fibers to be shredded completely. This kind of juice extractor works exceptionally with hard vegetables such as beets. It also produces the biggest amount of juice compared to the other extractors. Twin-Gear extractors are the most expensive out of all the options out there, plus they are also harder to clean and maintain.
Facts to Be Considered Before Buying a Juicer
When planning to buy a juice extractor, a potential buyer must keep in mind some factors before making an acquisition.
The first factor to consider is the affordability. The prices of extractors usually depends on what kind they are and the features they possess. The more elaborate and the more features a juice extractor has, the pricier it is.
The second factor to consider is the durability and longevity. It is best to invest in an extractor that will last a very long time. It is also suggested to purchase an extractor with a good warranty terms, just in case the product accidentally breaks or is defective.
The third factor to consider is fiber and sugar content. This particular factor entirely depends on the customer's preference and could be a possible reason as to why an extractor could be more expensive in price. The more fiber and sugar content an extractor has, the more expensive it is.
The fourth factor to consider is the volume a juice extractor makes. This is probably one of the most important factors because most consumers want a product that will produce the biggest amount of juice as possible. If one wants a machine that has a high volume in terms of juice production, then it is best to opt for the higher-end options since they commonly specialize in that area.
Purchasing juicers is easy to accomplish as long as one has the right knowledge about the different types and features they come along with that are sold in the market today. Juice extractors are quite a personal investment, so it is really up to the consumer what kind of extractor he/she will invest in.