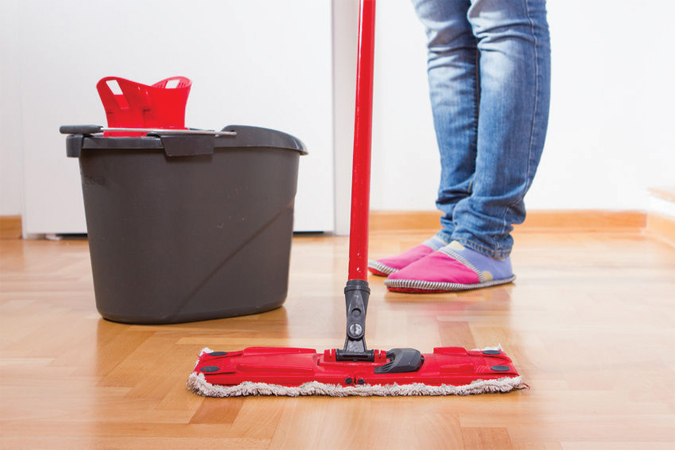 Mops are a traditional and essential house cleaning tool with the primary function of cleaning non-carpeted floors. Cleaning typically occurs through dry rubbing the mop on a surface or by spraying the mop with a cleaning material and then rubbing it over the floor, or through plunging the mop into a liquid cleaning agent and then applying it to the floor surface.
Mop variations and combinations are common because different styles of mops are needed for different cleaners and on different surfaces. Hardwood floors are one especially valuable surface that can be scratched or damaged if cleaned with the wrong type of mop. With a well-chosen mop, they can be easily maintained as a worthy piece of a beautiful home.
#1 – Compact and Durable Mop for Hardwood Floors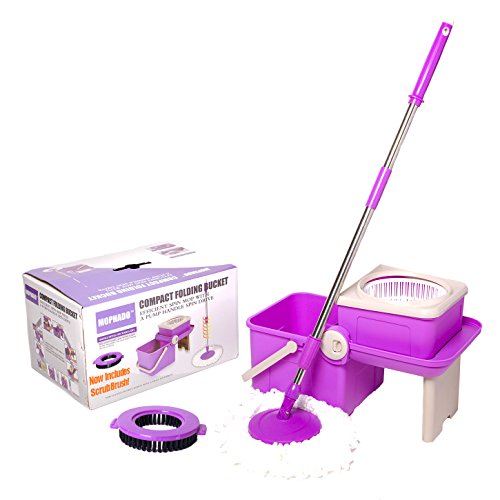 Compact and Durable Mop for Hardwood Floors Overview
This "Mopnado" product is an effective combination of a compact and durable mop designed for effective use on hardwood floors as well as other surfaces, such as laminate, concrete, tile.
Its stainless steel handle is lightweight but strong and equipped with a 15 inch extender. It can reach up to 56 inches in length. The product comes with two machine washable microfiber mop heads that are "swivel head" by design. They rotate for maximum cleaning power and also in order to reach into the traditionally hard to reach spaces under furniture or around cupboards and appliances. The swivel head can also be locked for easier cleaning of windows and other elevated spaces.
The product is really a portable mopping station, with special (in fact, patented) mop plates that enable easier than normal rinsing and a scrub brush attachment is also included. It folds into itself for easy carrying and easy storage, so it is ideal for extra home use for hardwood or other surfaces in vacation homes, apartments or condominiums, or boats and RVs.
Nearly 700 online reviews yield an excellent 4.5 of 5 star rating for this product, with particular reviews noting its easy to wring out functionality, the standalone cleaning power of the microfiber heads, its fold into a cube portability, the light weight combined with its strength, effectiveness for both dry and wet mopping, and the color choices available, among other positives.
Buyer's Guide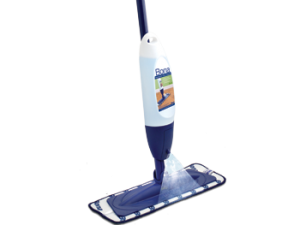 Hardwood floors are an often prized possession in a home, and the precise "how" involved in cleaning them can spell the difference between a merely serviceable hardwood floor and a beautiful one.
Different devices and methods are available for hardwood floor cleaning. All surface mops, specialized cloth, spray and wipe solutions, steaming machines, specially designed machine cleaners, vacuums even rags or diapers or other homespun materials are used. Cleaning agents of diverse sorts are also available and utilized from all-purpose cleaners or common household products to explicitly designed hardwood flooring cleaners and the simple use of warm water. Particular methods whether dry or damp or a combination is also relevant for the best cleaning of hardwood floors.
The flexibility of a mop will make it stand out as an attractive option for cleaning hardwood floors and most can be utilized as part of a wet clean or dry-clean method. A mop also provides the owner of a hardwood floor with the convenience of a long handle, making the cleaning process literally less backbreaking. Its soft surfaced cleaning head is important as well, as hardwood floors are often subject to easy scratching or gouging. Thus, the use of machine-driven cleaning devices is either simply not a good idea or must be undertaken with great caution.
While some special design hardwood floor cleaning machines are available, buyers may note that a mop has the virtue of being more lightweight, portable, and adaptable to the hard to reach corners or irregular layouts of hardwood floor surfaces.
Basic Considerations
Based on simple budget concerns, many consumers will begin and end their selection process of any new product with the basics of cost in mind. As always, balancing low-cost with high durability is another basic consideration that ought to be kept in mind.
For example, the basic composition of a prospective mop can be looked at with close consideration of wringers and adjusting rods, among other elements. Buyers anticipating very frequent, perhaps also rugged, use of their mop will want to look closely at a long last design mop for hardwood floors that is specially reinforced in critical places. Predictably, a higher cost frequently goes along with such mops.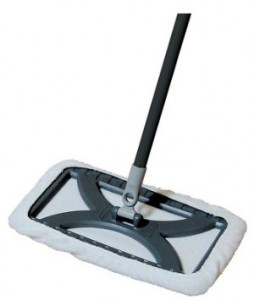 Also important are size and weight. Some buyers may anticipate utilizing their mop for hardwood floors in many different venues, not just at home, but also in a recreational vehicle or a boat, in a vacation home, or elsewhere. Portability (the easy to carry factor) and foldability (for easier storage in small spaces, for instance) may be the most decisive factors for some consumers.
The overall effectiveness of a mop is perhaps the most important consideration, which in the case of mops for hardwood floors cannot be overlooked by the careful consumer. While the effectiveness of a mop may depend most on the "elbow grease" element that a dedicated user will bring to the cleaning process, the quality of the cleaning head, including the reuse factor, and its capacity to be cleaned after a thorough mopping has just finished up are further basic considerations.
Some buyers may be interested in special designed mops that offer a head with extra cleaning effectiveness features. As just one example, there is available for purchase a grab and hold dirt microfiber mop for hardwood floor surfaces that may be extra useful for consumers.
Final Word
While a mop may be an essential cleaning tool for hardwood floors, the cleaning agents that are used to clean hardwood floors with a mop should not be overlooked. The essential questions here for the prudent buyer are these two: What kind of hardwood floor am I cleaning? What kind of finish is on the hardwood floor that I am cleaning?
Of course, answering these questions carefully can lead to still further clarity on which mop is best for cleaning the hardwood floor in one's own home.
References