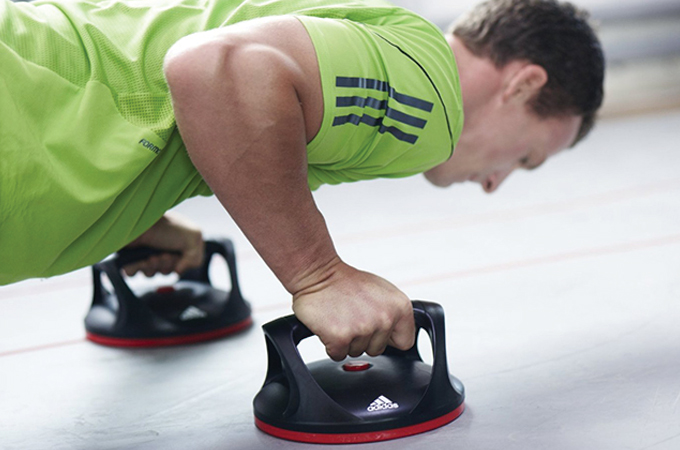 Shopping for the best pushup bar can be quite confusing because there are so many options available. We give you the facts and make your shopping process a lot easier by reviewing dozens of pushup bars and ranking the top three. We rated each pushup bar set on major aspects which include ease of usage, reliability, gripping, and durability.
#1 – Definity HHP-001 Push Up Bars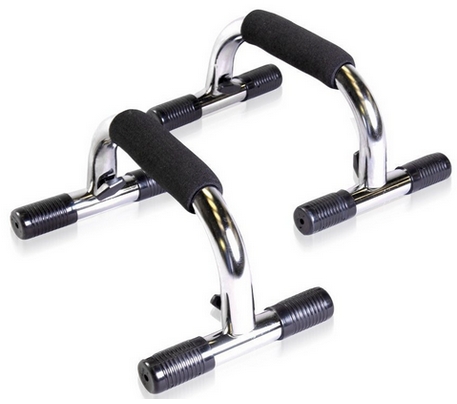 Definity HHP-001 Push Up Bars Overview
The Definity HHP-001 pushup bars showed fantastic results with striking comfort and ease of use. It is a good value for your money and has become a huge hit in the market.The pushup bars are very easy to assemble and dismantle as per your needs and fit neatly in any corner or underneath the bed. The high quality chrome plated finish gives it a polished sleek look.
Owing to its lightweight nature it is not difficult for consumers to carry around and can be transported with much ease and comfort. The slip resistant foam on the handles is of superior quality and customers were very happy with its comfort level while working out and doing their regular pushups. The body design aids in pushup exercises without any difficulty. The base has firm rubber foot pads which will keep the bars stable and do not wobble on any given surface. This pushup bar helps you to achieve a quick and efficient upper body workout even while you are traveling and helps you maintain a certain level of fitness.
#2 – Perfect V2 31001 Pushup Bar
Perfect V2 31001 Pushup Bar Overview
The Perfect V2 Pushup has a sporty design and its unique element is the swiveling base. Consumers who are new to pushup exercises may want to try this equipment out. The different exercise routines can be performed on this unit and that makes it an excellent choice to purchase. The steel ball bearing arrangement embedded within the base assists in flawless motion to enhance the pushup exercises.
Unlike other pushup bars, this equipment has a wide handle with a grooved and textured grip which gives you extra comfort and grip when performing pushups. This equipment is a great addition for fitness lovers to enhance and take pushups to a new level. As the equipment is easier on your budget our recommendation is go for it and it surely won't disappoint you.
#3 – GoFit GF-PUB Pushup Bars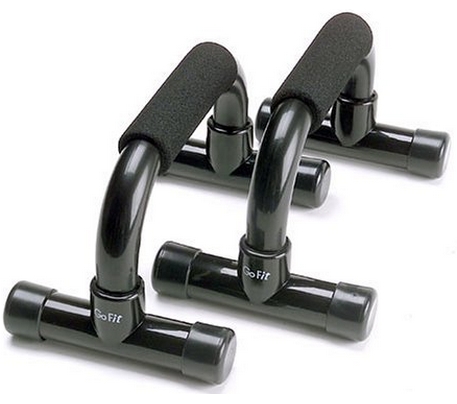 GoFit GF-PUB Pushup Bars Overview
These pushup bars from GoFit are a fine addition to any home gym. Their solid construction and sturdy base makes these bars perfect for all kinds of pushup exercises, and the solid black finish fits with any gym decor. Customers loved the comfortable handle grips that feel soft and secure to the touch.
Customers also loved how affordable these bars are. They are incredibly lightweight and easy to take on the go so you can work out at your own convenience. There's a highly likely chance that if you purchase these push up bars that you are going to be completely satisfied.
Buyer's Guide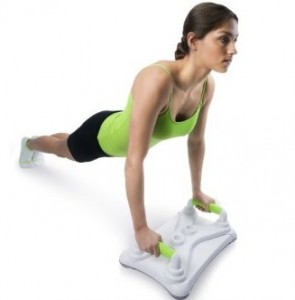 Some people find it hard to perform push up routines because while it is simple, you have to have a stronger upper body to perfectly do it. The exercise is easy but the body has its own limitations. If you are one of those who are looking to improve the number of pushups that you can perform to achieve the lean and powerful body that you want, the push up bars, also referred to as push up handles, might be the perfect fitness tool for you.
What can these push up handles do? Basically, they will allow you to bring your strides deeper and add more angles to your movements. There are bars and handles that can even be used for a lot of other purposes. When you go out to look for the perfect tools for you, ensure that they are comfortable on the hands, stable, and durable.
How are pushups done?
The typical push up movement involves the hands placed firmly on the ground while the feet ensure that you do not fall flat as you make striding movements. The bars offer a lot of benefits, though. For one, if you are suffering from wrist discomfort, these tools allow you to do pushups without further hurting your wrists.
The handles also allow you to stride closer to the floor, thus increasing muscle workout.
Bars or Handles?
There are several types of equipment that are designed to make pushups more comfortable and effective. The push up bar is designed to be positioned on the floor. The bar runs perpendicular to the body so that when you grip on it, the palms of your hands face your feet.
The pushup tools are usually two separate pieces that you can hold with each hand. This style allows you to re-position your wrists so that your palms face each other or your feet as you perform the routine.
Facts to Consider
Decreases Tension on the Wrists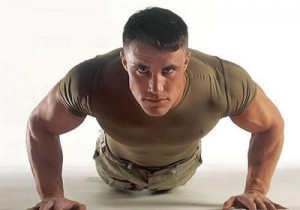 When you do the pushups minus this tool, your palms have to be positioned flat on the floor; this creates extreme risks to your wrists. The pressure on the wrists forces extreme tension which can result to pain and strain on the nerves. When you use either the bars or handles, you can place your wrists in a neutral position. While the muscles on the forearms will have to work harder to prevent your wrists from collapsing, they are in still in a safer position and less stress is put on the wrists.
Increases Number of Pushups
When there is less tension on the wrists, the use of this tool allows you to improve on the number of push up repetitions you can perform.
Builds Stronger Muscles
It also helps you build your muscles because you don't have to favor your wrists anymore. Your upper body works harder thus ensuring that you get the leaner, more muscular body you aim for.
You can easily switch the position of the bars and this will help build stronger muscles. It allows you to increase chest workout because it allows you to drop your body closer to the floor compared to using your hands alone, since your torso tends to fall to the floor sooner than your body does. The bars elevate the body thus your shoulder joints also perform at a greater degree.
Versatile
They are versatile since you can position them any way you want and feel more comfortable: you can use them angled, horizontal, vertical, wide open, closed, or the knuckles facing to the front or towards you. The different positions allow you to work on the different parts of the body and not just upper body strength.
Cheaper
These bars are cheaper compared to other exercise equipment and work better than the dumbbells. If you are on a tight budget and you don't have extra money to buy a pair, you can make a do-it-yourself project using PVC pipe which is way cheaper than buying a pair of brand new bars.
The routines you can do with the bars
The push up handles continue to become a favorite among fitness enthusiasts. As mentioned earlier, this is one of the most versatile exercise tools to ever become available for home use. There are a host of workout routines that you can perform with them.
Here are five of the exercise routines that you can do at home:
Standard pushups
With the use of the bars, you increase the difficulty level at least two notches higher since you can easily lower your body to 2 inches lower compared to just using your hands as support. This is good for your back, arms, shoulders, and chest.
Wide-arm pushups
This will benefit your triceps and back muscles. You simply position the push up handles horizontally and shoulder length apart. Hold the handles as your firsts face forward while the bars are aligned with your shoulders. Lower your head until it levels with the bars, hold for a second, and then rise the body back up.
Simple shoulder press
The difficulty level is raised. You will still be in the standard push up position but the bars will be right under your shoulders and your feet are positioned on a chair. Keeping the feet steadily in place on the chair, perform the pushups with several repetitions. You may also put your feet against the wall if you want to further increase the routine's difficulty.
The leg trucks
You begin by sitting on the floor with your arms positioned on both sides with your palms facing in while holding the push up bars. Slowly raise your body off the floor, maintaining the support from your arms, while your feet stay at rest. Then tuck both your feet followed by bending the knees into your chest. Hold that position for a few seconds, then extend your right leg but keep the left leg tucked in. Repeat with the right leg. Keep your legs and back straight most of the time for better results.
These exercise tools are perfect for those who cannot afford to purchase the more expensive equipment but would still want to keep fit.