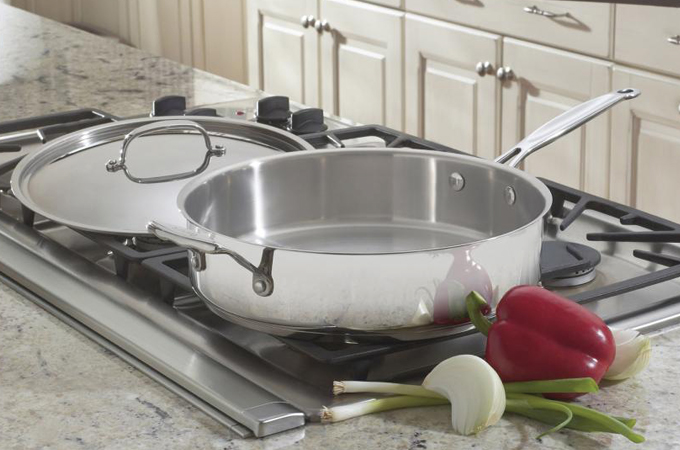 A sauté pan is very different than a skillet, mainly in the respect of having higher sides that will allow liquid to remain in the pan. They are good for braising and shallow frying as well. Sauté pans tend to be a bit heavier than skillets. Sauté pans have straight sides compared to the slanted shallow sides of the skillet. The larger surface area of the sauté pan makes it great for searing meat. The higher straight sides mean that you are less likely to accidentally stir things right out of the pan and onto the stovetop.
Having a skillet and a sauté pan would be the ideal situation for anyone who does a lot of cooking because then all of your cooking, braising, sautéing needs are covered. These sauté pans are all great quality and any one of them would be a great addition to your cookware.
| Top Pick | Photo | Saute Pan | Material | Size (Quarts) |
| --- | --- | --- | --- | --- |
| 1 | | All-Clad | Stainless Steel | 3.00 |
| 2 | | Cuisinart | Aluminum, Stainless Steel | 5.50 |
| 3 | | T-fal | Aluminum, Titanium | 0.20 |
#1 – All-Clad Stainless Steel Tri-Ply Bonded Saute Pan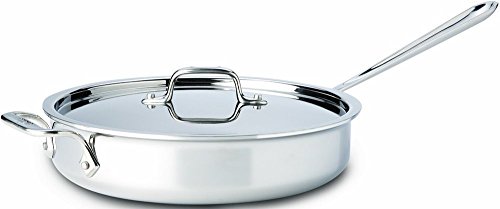 All-Clad Stainless Steel Tri-Ply Bonded Saute Pan Overview
Featuring a large surface area and tall straight sides, this pan is the perfect sauté pan for any cook. Reduced splattering and easy turning are two of the many benefits of the high sided All-Clad pan. The inside of this pan is stick resistant and made with high quality stainless steel. It also has a bonded three layer construction with aluminum core that provides even heating for better results. The long handle is reinforced for durability and ease of use. The lid controls heat and reduces evaporation. This is the perfect pan to take care of your sautéing, searing and browning jobs.
#2 – Cuisinart Chef's Classic Saute Pan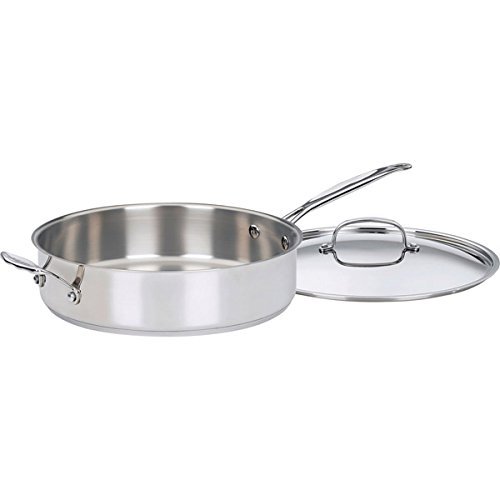 Cuisinart Chef's Classic Saute Pan Overview
When a pan is endorsed by a legendary chef you know it has to be good! Paul Bocuse verifies the quality and usefulness of this great sauté pan. Why not get something great for your own kitchen? This 5.5 quart sauté pan has a "helper handle" and cover. The helper handle is great for lifting the pan off the stove to pour things out and for stabilizing while cooking. Dishwasher safe for easy clean up. The sleek mirror like exterior and matte interior add elegance to your kitchen and the tight fitting lid keeps moisture in. Oven safe to 550 degrees.
#3 – T-fal Ultimate Hard Anodized Deep Saute Pan

T-fal Ultimate Hard Anodized Deep Saute Pan Overview
T-Fal is a well known and trusted name in cookware. This sauté pan fits right in with T-Fal's attention to quality and function. The Thermo-spot heat indicator tells you when your pan is ready to start cooking,and it seals in the flavor of the foods you cook. Scratch resistant non stick interior makes food release easy and clean up is a breeze. No need to worry about warping with this pan; the Anti-Warp Techno Resist base prevents that and also gives excellent heat distribution. This ensures the best results for your meals. Moving this pan is easy with the silicone handles that have an ergonomic design. Includes a tempered glass lid that lets you see how the cooking process is coming along without releasing the heat.
Sauté Pan Buyers' Guide
Congratulations on your decision to purchase a sauté pan for your kitchen. A well-stocked kitchen provides the cook with everything necessary for producing great meals. This guide will help you in your quest for the best pan you can afford – one that will do the job and last a long time in the process.
Features of a Sauté Pan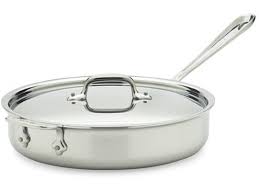 A sauté pan is a straight-sided pan with a large, flat bottom. Sauté pans come in various diameters – 7", 10", or 12". The pans differ from skillets in the shape of the sides; skillets are either flared or rounded, whereas sauté pan sides are straight. Sauté pans are sometimes confused with frying pans; the pans are similar in design, but frying requires a half-inch to an inch of oil as a minimum, and sautés are made with as little as a tablespoon of cooking fat.
Sautéing is a quick-cooking method; foods are prepared for fast cooking by thin-slicing, and the sauté process takes between five and ten minutes on average to cook the food through. Frying can also cook food quickly, but the prep methods are different. Look for a pan made out of strong metal – the pan must be sturdy, or it will bend as the cook jerks it backwards to toss the food while cooking. The metal must also conduct heat well; an uneven cooking surface in a sauté pan renders it useless.
Comparing Sauté Pans
When purchasing a sauté pan, compare pans from different manufacturers. It's not necessary to pay for someone's name to get a quality piece of cookware, so don't confine yourself to pans endorsed by a celebrity chef. These pans are well-made and durable, but you are paying extra for the name; look at pans made by cookware manufacturers, and even store-brand pans. You may find everything you need in a sauté pan under the store-brand label.
Look for heavy-duty metal in your sauté pan, with a sturdy handle. If you can find one that is oven-proof, so much the better – you can start a dish on the stove top and finish it in the oven without changing the pan. Non-stick sauté pans are nice while they last, but once the non-stick surface begins to abrade, you will need to replace the pan; a better choice would be a ceramic model.
Caring for Your Sauté Pan
Care of your sauté pan is vital for a long life. Wash the pan after use in mild detergent, with a non-abrasive cloth or sponge, to deter scratches. Using wooden or plastic utensils will help lengthen the usable life of the pan. Metal utensils will leave scratches on the pan's cooking surface, so invest in some silicon or plastic utensils if you will be using them to prepare sautés.
Frequently Asked Questions about Sauté Pans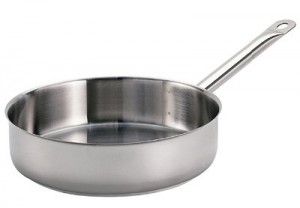 Is a Sauté Pan Necessary?
A sauté pan is not absolutely necessary to make sautés; a skillet will do the job. However, since skillets have flared or rounded sides, it is more difficult to toss the food during the sauté process. A sauté pan is not a uni-tacker – sauté pans can be used for pan frying meats, poultry or fish, as well as for sautéing vegetables – so investing in one is a good idea.
What Size Sauté Pan Should I Get?
The size you get is dependent on how large a sauté you plan on preparing. That said, a large sauté pan is a more versatile utensil in your cooking arsenal – a large sauté pan can be used for pan frying as well as sautés, so keep this in mind.
Can I Make Sauces in a Sauté Pan?
Certainly, you can make sauces in your sauté pan; in fact, most recipes calling for a sauté also instruct you to deglaze the pan and make a sauce with the food. You can also make roux sauces in your sauté pan, and add the sauce to pastas, or to stews and stove-top casseroles, such as Jambalaya.
Will it hurt My Sauté Pan If I Use it as a Fry Pan?
No; a large sauté pan is excellent for pan-frying pork chops, chicken, and steak. You will need half an inch to an inch of frying oil to use the sauté pan as a fryer, but it works very well.
Investing in a sauté pan is a good idea, whether you are an experienced cook or just beginning. As a newbie, using a sauté pan will help you build your cooking skills while expanding your repertoire of dishes. Experienced cooks already understand the sauté pan's versatility and rely on its capabilities.