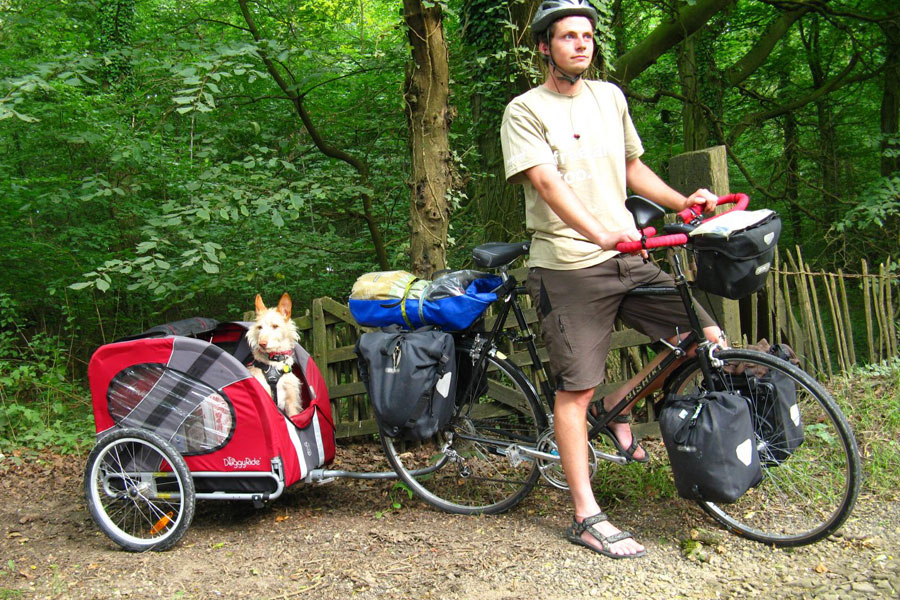 A bike dog trailer is a great accessory for whatever business you and your furry buddy have planned for your biking session. This can be an essential piece of equipment for your pet since sometimes your dog may lack the physical ability to keep up with your level of activity.
You should always consider buying the best quality trailer such as the Schwinn pet trailer, lest you expose your dog to the risk of injury. Choosing the best equipment is vital for operational functionality. It will also show your dog how much you love them. Consider these factors when buying a Dog Trailer:
Size and Capacity
Be sure to know the size and weight of your dog when buying a dog trailer. See to it that your pet is comfortable when inside and has enough space to move freely. There are certain sizes suitable for a small dog and others for a large dog.
Bear in mind that a cramped dog trailer will just make your dog uncomfortable and may easily tear apart if it cannot hold your dog's weight.
Affordability
This is an important factor. It is better to set a budget before starting to shop for a dog trailer. Search for the average price in the market and set your budget near that figure.
Accessories
Consider the accessories that come with the dog trailer. You may be able to find a cheap style, but most of the time, they are not equipped with accessories that are convenient for you and your dog.
As such, you will find yourself spending more for the add-ons you will need for the comfort of your pet.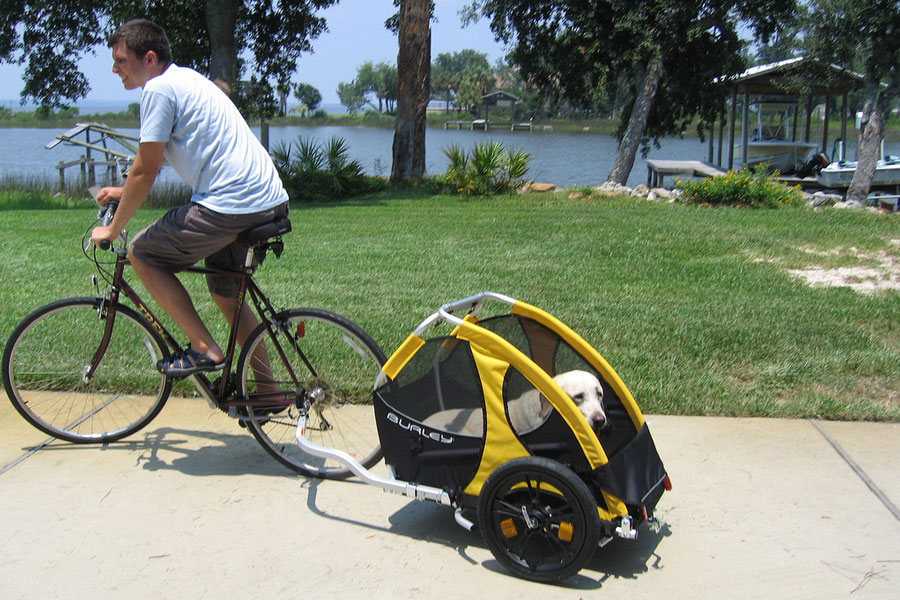 Safety
Every dog owner's priority is the safety of their pet. Choose trailers that have firm hitches, installed brake systems and shock absorbers.
Check if the dog trailer of your choice comes with an interior leash to ensure the safety of your pet. The interior leash or straps should hold your dog and minimize any impact from the inside when you pass by slopes or ride over bumps and hills.
Comfort
Worried that the trailer's floor is hard and flat? Look for one with a padded surface that can be easily detached for cleaning. It is important that the floor mat stays in place so your dog would stay calm and enjoy the ride.
How about when the sun is too hot or if there's a sudden downpour? There are dog trailers with mesh panels that are UV resistant and waterproof to protect your dog from any unexpected change in weather.
Also, it is recommended that you choose those with a back pocket, so you can store some items your dog will need like his favorite treat, water bottles, or even food.
Hitch
The hitch is used to connect the trailer with your bike. It is very essential that the hitch is of durable quality to keep them connected. You don't want to lose your dog while biking because of a bad or loose hitch.
Roads
Be aware of the terrain you might encounter while biking with your dog. It will aid you in looking for the right wheel of your trailer and for the floor mat. This may also be a factor when choosing the accessories of your dog trailer to provide comfort and safety for your dog.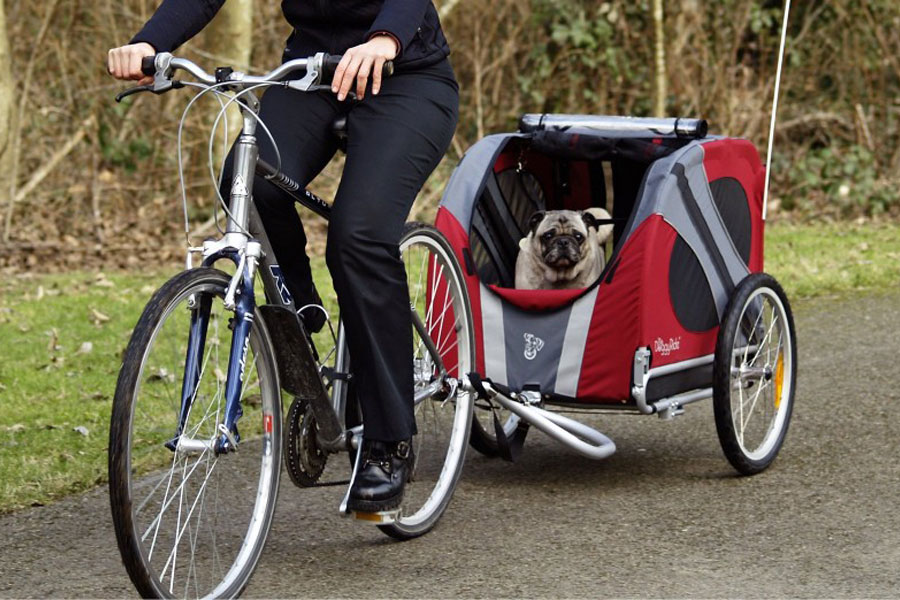 Storage
Some dog trailers can be hard to load and unload for transportation or simply keeping them at home. There are others that can be folded easily for packing while there are some that would need a large space for stowing away when not in use.
A dog trailer for a large dog can also be used as an outdoor dog house by simply taking off the wheels.
Conclusion
People nowadays find pet trailers convenient and sometimes a necessity. It is a convenient shelter for dogs while outdoors and is one of the safest ways to transport whether it is for bonding or for an appointment to the vet.
Dog trailers are not exclusive for dogs as they can be used for other pets as well. You should note, however, that your dog may need some time to get used to the trailer, so it is best that you start trailer training your dog before your first trip.