10 Great Spots to Camp in Indiana
Indiana is home to many campgrounds that each have their own unique features for visitors to enjoy. Whether you are camping in southern Indiana or northern Indiana, there are plenty of great places to choose from.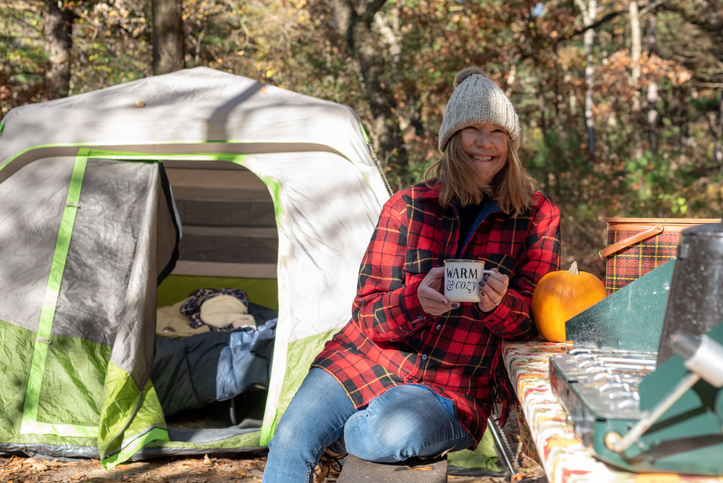 Check out these 10 best places to camp in Indiana:
1. Brown County State Park – Nashville, Indiana
Nestled in the scenic hills of southern Indiana, Brown County is home to several campgrounds that offer local residents and visitors alike opportunities for camping getaways year-round. The rugged landscape of this area provides an ideal backdrop for the outdoor enthusiast; the area offers numerous ways to explore nature through camping, hiking, biking, and backpacking. In terms of amenities, the park is equipped with anything a camper could need including showers as well as sites that can accommodate tents as well as RVs.
2. Hardin Ridge Recreation Area – Heltonville, Indiana
Located on the banks of Lake Monroe, Hardin Ridge is a vast park with several camping options. While most of the sites are open to both tent and RV camping, hikers will appreciate that there are 25 miles of trails as well as 10 shelters located throughout the area for those who want to rough it. In addition to these amenities, visitors can also enjoy fishing as well as swimming in the lake. In terms of camping, there are both backcountry and group sites available for those wanting to stay close to nature.
3. Robinson's Whitewater River – Connersville, Indiana
Located right on the banks of the Whitewater River, this campground is a great way for campers to enjoy the natural beauty that this area of Indiana has to offer. In addition to outdoor activities such as swimming and boating, visitors can also enjoy the amenities such as a designated beach on the lake. Visitors will need to pack out their own trash, so those looking for more modern amenities might want to check out one of the many other campgrounds in the area.
4. Yogi Bear's Jellystone Park – Knightstown, Indiana
Located just outside of the quaint town of Knightstown, campers will get a chance to experience one of the most popular family attractions in the state while enjoying their stay at this park. The amenities here include an arcade and mini-golf course for campers to enjoy while the kids are entertained. For those who want to stay close to nature, there are also plenty of sites available for tent and RV camping.
5. Grandpa's Farm Campground – Richmond, Indiana
A great way to spend some time with the family in rural eastern Indiana, Grandpa's Farm is conveniently located about 20 minutes from Richmond, Indiana. There are many amenities available at this park including a swimming pool and playground for the kids. Visitors can also enjoy fishing in the pond or playing on either one of two sand volleyball courts. For those wishing to get away from civilization altogether, there are secluded areas available throughout the campground for tent camping.
6. Dunewood Campground – Beverly Shores, Indiana
Visitors to the Dunewood Campgrounds in Beverly Shores will find a quiet and serene location away from all of the hustle and bustle of city life. Located right on the shores of Lake Michigan at the southern end of the state park, this campground offers visitors beautiful beach views and is a great place for those who love to fish, paddle, and boat. For those who want to stay close to nature without having to worry about storing their own food or water, the park also provides an onsite store as well as rental cabins with canoes.
7. Turkey Run State Park Campground – Marshall, Indiana
While Turkey Run State Park is well known for its hiking, the campgrounds also offer visitors the chance to enjoy a little bit of nature right in their backyard. The amenities here include showers as well as sites that can accommodate tents and RVs alike. There are several miles of trails that pass through the surrounding forest and offer plenty of opportunities for hiking, biking, and even horseback riding.
8. Maple Ridge Campground – Lakeville, Indiana
One of the larger campsites in the area, Maple Ridge Campground is located just south of South Bend, Indiana. Located right near Moon Lake, visitors will also get access to other outdoor activities that are common here such as boating and hiking. For those who would rather relax indoors, there are plenty of amenities for those who love to shop and dine including a nearby state park.
9. Eby's Pines RV Park & Campground – Bristol, Indiana
Located right on the Little Elkhart River and just across the street from Eby's Family Fun, amusement center, visitors to this campground will enjoy all of the amenities that you would expect to find in a full service resort. Amenities include water hookups, sewer connections, and bathrooms with hot showers. Visitors can also stay in one of several rental cabins if they don't want to make their own camping arrangements.
10. Timber Ridge Camp – Spencer, Indiana
Located on the south side of beautiful Lake Monroe, visitors to the Timber Ridge Camping Resort will enjoy both water and land activities. A wide range of amenities are available for those looking to camp or stay in a cabin, including one and two bedroom cabins with full baths and kitchens. The resort also has a general store as well as boat rentals. For those who like to hunt or fish, there are also areas available for both.