10 Camping Spots in Alabama
Alabama is home to over 600 registered campgrounds, not including unregistered locations. Of those 600+ locations, this article will focus on the ten best places to camp in Alabama.
With so many options for campsites, cabins and lodges, there should be no trouble finding a location that meets your needs. From relaxing lakeside camping to exploring mountains and caves, Alabama is packed with options for campers of all types.
The facilities these sites offer vary greatly in amenities and activities so be sure to check out each location's website in detail before planning your trip.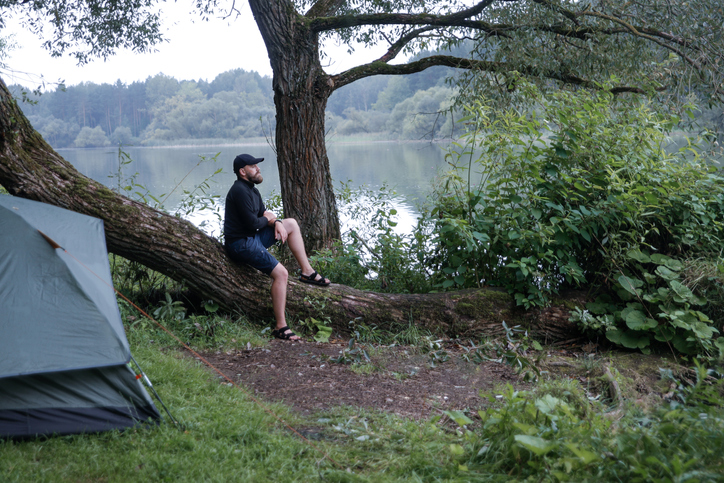 The 10 Best Places to Camp in Alabama are:
1. Blue Spring State Park
This park offers a number of sites and cabins perfect for family camping. The park features 47 contemporary campsites including 7 with sewage hookups. The improved sites include water and electric hookups as well as picnic tables. If you plan on camping with your RV, be sure to call ahead because the park's spots are often full by Friday. The park has a 0.75 mile lighted fishing trail and offers access to the river for kayaking.
The park also features a pool with a diving board, bathhouse and concession stand as well as several family picnic areas throughout the park.
2. Oak Mountain State Park
Located in Pelham, Oak Mountain is perfect for outdoor enthusiasts with over 25 miles of hiking trails. There are also two lakes available for fishing year-round as well as a stocked fishing program in the spring.
This park features 30 improved campsites with water and electric hookups along with a dump station for RVs. While the majority of the sites are great for any size camper, one or two can only be accessed by hiking in from a trail. Oak Mountain also has four lodges available for rent.
3. Horseshoe Bend Recreation Area
One of the most well-known spots for camping in Alabama, Horseshoe Bend is a National Historic Landmark. Located on the banks of Lake McClure, this recreation area features 30 improved campsites with water and electric hookups along with a dump station for RVs. If you plan to stay for several days, be sure to call ahead as the park often books up on weekends.
Horseshoe Bend is home to a camp store complete with firewood and ice.
4. Lake Lurleen State Park
Located just outside of Northport, Lake Lurleen is an excellent choice for those who love the water. The park has 30 improved campsites with water and electric hookups along with access to the lake for swimming, fishing, kayaking and canoeing. There are also showers available for campers.
The park hosts several special events throughout the summer including a car show in June.
5. Lakepoint Resort State Park
This park is located along the Walter F George Reservoir along the southern border of Alabama where it meets Georgia. It is a very popular place for boaters. The park contains over 100 improved campsites complete with water and electric hookups as well as showers.
The resort offers several cabins, lodges and rental houses which make it an excellent location if you plan on staying for several days or more.
6. Joe Wheeler State Park
Located in Rogersville near the Tennessee River, Joe Wheeler features over 350 campsites with water and electric hookups. Each site also comes equipped with a picnic table and grill. The park has three shower houses with facilities for restrooms, sinks and hot showers.
The recreation center at this location is excellent if you are looking to stay active during your visit. The center contains a fitness room, sauna and indoor swimming pool.
7. Rickwood Caverns State Park
Established in 1940, Rickwood Caverns State Park is located in Warrior which is north of Birmingham. The park has over 60 improved campsites with water and electric hookups as well as a dump station for RVs. There are also several shower houses throughout the park.
The caverns inside the park contain outstanding stalagmite and stalactite formations. If you are planning to visit the caverns, make sure you visit at least once during the evening as they are even more beautiful when illuminated by lights.
8. Turnipseed Campground
The Turnipseed Campground is a very popular camp located in the Talladega National Forest. The campsites are well maintained but primitive and have designated campsites and vault toilets are working when the campground is open.
The Turnipseed Campground does not offer electrical hookups or showers. There are eight designated campsites at this campground.
9. Jordan Lake RV Resort
Campground in Jordan Lake is a great place for RV-ing. The facility has many amenities, such as wireless Internet (WiFi), showers, laundry facility, propane sales, and more. It also offers cabin rentals which are available with or without linens supplied.
The campgrounds at this resort are offered with full hookups; some are pull-thru sites. The full hookup sites provide water, sewer, and electric access to each RV site.
There are three bathhouses at this park; they offer hot showers & bathrooms with flush toilets & sinks in them. There is also a laundry room for campers' use (some require tokens).
10. Sleepy Holler Campgrounds
Located in Cordova, Sleepy Holler offers two campgrounds with amenities such as restrooms and showers. This is a no frills, simple campground which is better for an overnight versus a long-term stay. Very simple sites, water spigots and pit toilets available.