Florida's 10 Best Camping Spots
Listed here, in no particular order, are the ten best places to camp in Florida. They are campgrounds that give campers the best experience for their money, and they vary in size, location, activity options, facilities, and amenities.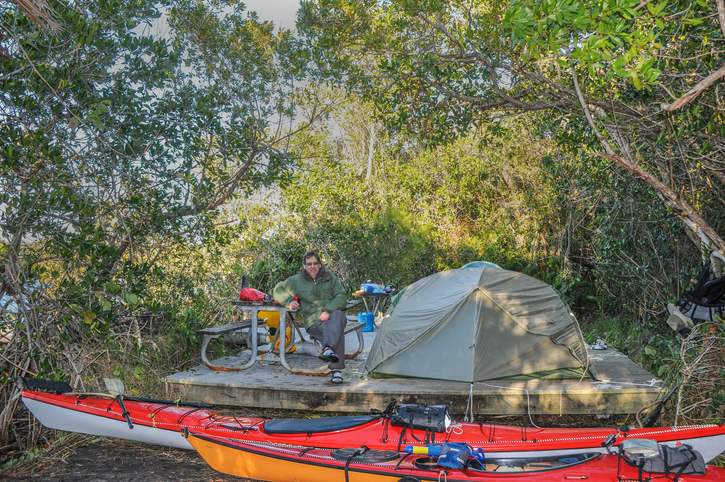 1. Withlacoochee State Forest
A pristine forest, located in central Florida, where you can take a walk on the trails and see gopher tortoises, wildflowers and many species of birds. You can also enjoy canoeing or kayaking at Cypress Lake. This park is quite popular among hikers as well as bikers so you will never be short for company if you want to explore this forest together with a group of your friends.
Price: $25-30 per night
Brooksville, FL 34601
Contact: (352) 797-4140
2. Delnor Wiggins Pass State Park
The best times to visit are fall and spring because of the mild weather and less chances to get caught in a storm. The park has an excellent fishing spot and you can go canoeing, kayaking and even tubing! There is also a brightly painted playground for parents to watch their kids while they play around on equipment made from recycled materials such as tires, rope and old cable spools.
Price: $18-22 per night
Naples, FL 34108
Contact: (239) 597-6196
3. Paynes Prairie Preserve State Park
This 1,958 acres state park includes several trails that range from easy ones for hikers with disabilities to difficult ones where experienced hikers will tested. Enjoy looking at birds and other wildlife while walking along the trails. There is also an observation deck which you can hike to where you will be treated to a nice view of Florida's natural beauty.
Price: $10 per vehicle (up to 8 people)
Micanopy, FL 32667
Contact: (352) 466-3397
4. Hillsborough River State Park
You can spot species like bald eagles and osprey here thanks to the 7 miles of river this park has access to. Some unusual animals such as gopher tortoise and Sherman's fox squirrel also live in this beautiful forest. The campground is great for both family and group camping. There are several trails that you can go on while exploring the park, including Cedar Point Trail which features a viewing tower near the river.
Price: $15-20 per night
Thonotosassa, FL 33592
Contact: (813) 987-6771
5. Gulf Islands National Seashore
Enjoy spending time under the sun at this national seashore which includes several barrier islands in Florida's panhandle. You can also visit Fort Pickens to enjoy its beaches or go scuba diving in Pensacola Bay! This place is especially popular among birdchers because it has four different types of ecosystems such as beach dunes, salt marshes and fresh water swamps.
Price: $10-20 per night (most RV sites are around $36 per night)
Gulf Breeze, FL 32563
Contact: (850) 934-2600
6. Lower Wekiva River Preserve State Park
A lush forest where you can enjoy hiking all day on over 40 miles of trails. The park is good for canoeing and kayaking because it has the longest blackwater river in Florida which flows into Lake Norris that is found within the park's borders. Be sure to visit this place during summer time (June through September) to swim or canoe in the park's springs or Lake Norris.
Price: $20 per vehicle (up to 8 people)
Sanford, FL 32771
Contact: (407)-553-4383
7. Alexander Springs Recreation Area
Visit this recreation area during summer time to hike along trails through sand hills and swamps where you will be able to spot several species of birds, turtles and frogs! Bonnet Spring is located on the campground side of the park which has crystal clear water that flows down off a spring headwall about 20 feet high into a large pool called Devil's Eye. Its tannic acid gives it its tea color while tannins from decomposing plants give the water a brownish-yellow color.
Price: $16 per night (can reach up to $18 during high season)
Altoona, FL 32702
Contact: (352) 669-3522
8. Devil's Millhopper Geological State Park
Explore this park's 120-foot deep cylindrical sinkhole filled with amazing plant and animal life. The park has several trails that range from 0.7 miles to 2.8 miles so you can pick which one you want to go on depending on your energy level. If you want to camp here, it'll cost $20 per night for up to 8 people but if there are less than 4 people in your party, the price will be $25 regardless of age! There is also a bathroom but no water available so remember to bring some with you just in case!
Price: $15-25 per night (for up to 8 people)
Gainesville, FL 32653
Contact: (352) 955-2008
9. Ocala National Forest
This place has the largest area of the four forests in Florida and is home to several endangered species such as Schaus swallowtail butterfly, eastern indigo snake and red-cockaded woodpecker. During summer time, it's popular among plant enthusiasts who come here for its wildflowers but if you visit during the colder months, you'll be able to see and hear alligators bellowing and see brown bears foraging for food before hibernating! Just remember to bring a lot of bug spray because there are mosquitoes everywhere!
Price: $20 per night (up to 8 people)
Address: Silver Springs, Florida 34488
Contact: (352) 695-2520
10. Myakka River State Park
This place is beautiful during winter time because it has over 20 miles of trails that take you through the park's prairie and hammocks where black bears are known to forage around in search of food! Be sure to visit the park during summertime so you can tour its museum or canoe around in its rivers which are perfect for beginners.
Price: $20 per night (up to 8 people)
Sarasota, FL 34241
Contact: (941)-361-6511