Camping in Maryland
Here is a list of the 12 best places to camp in Maryland. Camping is an opportunity for people of all ages and backgrounds to enjoy the outdoors. It can provide countless learning opportunities, not only about nature but also about oneself. It serves as a great way to spend time with family or friends, sharing laughs and creating memories that last a lifetime. Here are some of the best places to camp in Maryland.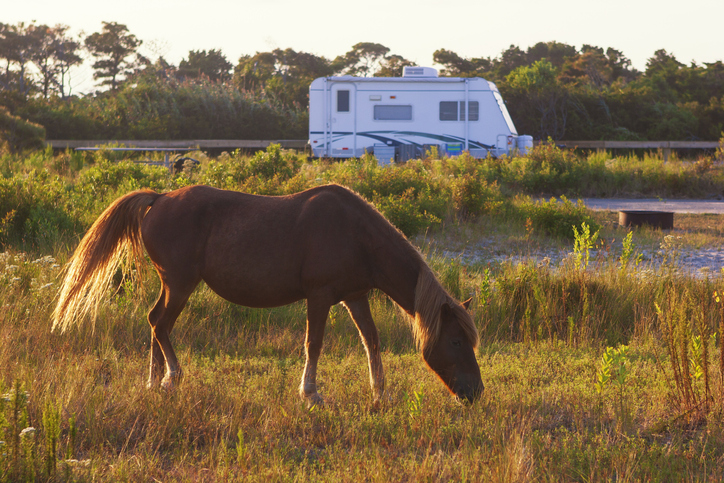 1. Assateague State Park
Assateague State Park is located on both Maryland and Virginia, with about half of the land lying in each state. It is home to wide beaches that are perfect for camping, fishing, kayaking, boat launching and swimming. The park has two options for camping: a traditional campground that provides access to hot showers and flush toilets or "backcountry" campsites that provide one tent pad, a picnic table and fire ring. Pets are allowed but must be leashed at all times.
2. Blackwater National Wildlife Refuge
Blackwater National Wildlife Refuge offers over 20,000 acres of some of the best wildlife viewing opportunities on the East Coast. It was originally established in 1933 as a waterfowl sanctuary. This refuge is a great place to hike, bike and observe nature from your car. The only camping option available is "walk-in" or backpacking camping which allows visitors to backpack or hike in and camp at one of three designated areas for up to two nights with a permit.
3. Deep Creek Lake State Park
Located in Western Maryland, Deep Creek Lake State Park is home to the state's largest inland lake. It offers 69 miles of shoreline and covers 3,900 acres. This park offers several forms of camping including drive-up RV sites, tent areas, cabins and lodge rooms. Visitors can enjoy swimming in the lake or sunbathing on one of the white sandy beaches. Pets are allowed throughout most parts of this park, however they must remain on leashes.
4. Elk Neck State Park
Elk Neck State Park is located along the banks of the Chesapeake Bay and offers camping for those interested in an outdoor adventure. There are several options available including backcountry campsites, RV sites that provide access to electricity or water hookups and tent sites that are close to bathrooms with hot showers. Each campsite includes a picnic table, fire ring, grill and lantern post. Elk Neck offers 5 camping loops to choose from and each loop has a central bathhouse with hot showers and hot running water.
5. Greenbrier State Park
Greenbrier State Park is located on the Chesapeake Bay and provides several camping opportunities for visitors. There are both RV sites with hookups, tent areas or screened cabins available for rent. Visitors interested in spending time on the bay will enjoy the many opportunities for boating, fishing and crabbing.
6. Gunpowder Falls State Park
Gunpowder River State Park is located along the banks of the Gunpowder River in Northern Maryland. This park offers traditional RV campsites that are all serviced with electricity or water hookups, cabins to rent and tent camping areas. There are several hiking trails throughout the park and the river is a popular spot for kayaking, canoeing and tubing.
7. Hart-Miller Island State Park
Hart-Miller Island State Park is located on its own island accessible by boat only. This land consists of over 1000 acres that visitors can explore to their hearts' content. Campers will enjoy boating, fishing and hiking through this unique state park. There are no facilities available; however there are four cabins available to rent which come equipped with beds, kitchenettes and bathhouses. Pets are not allowed in this park because it is an island.
8. North Point State Park
North Point State Park offers camping for all types of campers: tent sites or rental cabins are available for all visitors. This park is located in Dundalk, Maryland, which means that guests have easy access to nearby shopping and attractions including Baltimore Inner Harbor. There are also several trails where visitors can hike or bike through this flat land filled with trees and water views.
9. Patapsco Valley State Park
Patapsco Valley State Park serves as home to the longest single river system in Maryland, making it an ideal location for camping adventures. Visitors to this park will enjoy backcountry camping along the banks of the Patapsco River among towering oaks and hickories or fully serviced RV campsites complete with electricity, water hookups and sewer connections. Backpacking sites allow up to two shelters while car camping areas can accommodate RVs, trailers and tents.
10. Point Lookout State Park
Point Lookout State Park is located along the southeastern tip of Maryland on the Chesapeake Bay. Situated within this park are three historic lighthouses, many trails for biking or hiking and miles of pristine beaches for swimming and sunbathing. There are also two campgrounds available at Point Lookout: River Bend with fully serviced RV sites complete with sewer connections, water hookups and 30/50 amp electric service; or Cypress Point Campground which offers tent camping areas near restrooms that have hot showers. Both campsites offer access to playgrounds, river beach access, boat rentals and other amenities including a store for supplies etc. .
11. Rocky Gap State Park
Rocky Gap State Park is a serene camping location just outside of Flintstone, Maryland that provides quality time with nature. Visitors can enjoy biking or hiking over the many trails that wind through the park and exploring the unique geological features of this land from one of four overlooks. There are both fully serviced RV sites complete with sewage disposal and electric hookups as well as primitive tent areas for those looking to rough it a little bit. Pets are permitted throughout most parts of the park except near certain water sources where they must remain on a leash.
12. Susquehanna State Park
Sitting along the banks of the beautiful Susquehanna River, visitors will find historical Chesapeake landmarks like Havre de Grace and Perryman. There are several ways to enjoy the camping facilities at Susquehanna State Park: visitors can choose from RV-only campgrounds with full hookups, tent sites near bathhouses complete with heated showers or primitive 'roughing it' sites for those who want to take advantage of nature without all the amenities. Pets are allowed throughout most parts of this park, however they must remain on leashes.