Camping is one of the best ways to experience the California outdoors. The state has an overwhelming number of national and state parks, forests, and wilderness areas where you can pitch a tent, but there are plenty of other campgrounds to choose from as well. Some spots offer little more than a clearing in the woods while others have amenities like hot showers, WiFi access and RV hookups. To help you find the perfect spot for your next camping trip, we've rounded up 30 great campgrounds across California: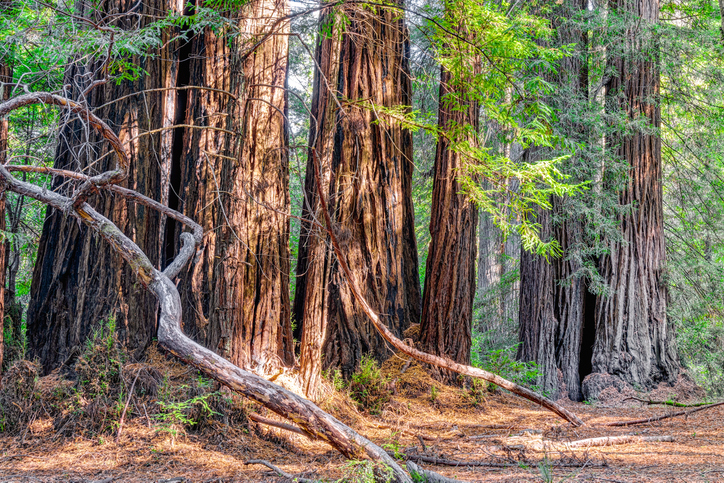 30 Places to Camp in the Great State of California
1. Big Basin Redwoods State Park
This park near Santa Cruz has two campgrounds with 132 sites total. You'll be sharing this place with lots of furry woodland creatures — among them coastal black-tailed deer, raccoons and even the occasional bobcat. There are also some epic hiking trails here that'll lead you right to Big Basin's most famous residents: a stand of massive coast redwoods. For a dry camping experience, reserve one of the walk-in campsites at either Ryan or Little Creek campgrounds — both sites have picnic tables and fire rings.
2. Silverwood Lake State Recreation Area
This lake near San Bernardino is surrounded by pine forests, making it an ideal spot for those who love fishing as well as camping. In addition to lakeside RV spots, there are two beachfront tent camping areas where you can pitch a tent right along the sand. Pets are welcome here too!
3. Big Bear Lake
One of California's most popular camping spots is actually just outside Los Angeles, but it feels worlds away thanks to its mountain setting on the shore of Big Bear Lake. You'll find plenty of tree-covered campgrounds with easy access to hiking trails and fishing spots for those who want to try their luck at reeling in some big fish or spotting forest creatures like deer, foxes and even bears! There are several RV parks around town as well, so there are plenty of options for you caravaners out there too.
4. Portola Redwoods
This is a cool and less-traveled campground that's just a short distance from Big Basin State Park. It has only 20 sites, but you'll find redwood forests surrounding this place instead of the more typical pine forests in other parts of California. We should also mention there's an extra perk for those who love to swim — you can take a dip in San Lorenzo River here! You'll have to bring your camping shower.
5. French Meadows
If you're looking for something even more remote than Portola, this is your spot! You'll need 4-wheel drive to get to this off-the-grid campground near the border of Yosemite National Park, but this is one of the best places in California to spot wildlife like deer and bears. There's no running water either, so this is a dry camping experience — pack up your water and leave your gray (not black!) water at home.
6. Silverado
This lush campground was once THE place for glamping — glamorous camping, that is! If you want to stay somewhere with all the bells and whistles but still feel like you're roughing it just a bit, this is your spot. You'll find hot showers, flush toilets and even an on-site convenience store for last minute needs before bedtime. Plus, this is one of the closest campgrounds to the city (it's only about an hour from downtown LA!) so you can make a weekend out of it.
7. Forks of Salmon
If you're looking for something on the water that also has tent camping options, this place is for you! Located right outside the town of Willow Creek in Northern California, this creek-side campground actually has two different areas — one with RV spots and hookups and another with just tent sites. You'll find vault toilets here as well as a handy supply store where you can grab last-minute supplies before heading into your abode.
8. Big Lagoon
Another great place for fishing is this Northern California campground located right on the water. There are plenty of campsites with some offering views of the ocean, while others are sheltered in forests nearby. If you're looking to get off the grid completely, there's even a boat-in area where you can kayak or canoe into your spot. This is also one of the more affordable options on our list!
9. Salmon Creek Falls
Pack your hiking boots for this camping trip because you'll be surrounded by towering alpine trees and lush greenery when you arrive at this one. You'll get all the benefits of camping in Northern California without having to travel too far from civilization, since this is a pretty close drive from San Francisco and Sacramento. There's also a waterfall where you can take a dip if the mountain air starts to get chilly at night!
10. Mill Creek
This remote campground in Northern California has everything you could ask for when it comes to outdoor activities. You'll find miles of hiking trails with views of scenic waterways, so there are plenty of options here no matter what your speed! It's pretty popular among cyclists as well, so bring your bikes with you if you're looking for some good company on two wheels.
11. Silver Lake
If you're looking for a campground that truly feels remote, check out this spot in Yosemite National Park. You'll find vault toilets here but no showers so keep that in mind before you book your trip! It's also one of the best places to see iconic views of Half Dome and North Dome rising above Yosemite Valley, plus there are plenty of lakeside spots to fish or kayak if the mood strikes.
12. Laguna Seca Recreation Area
If you want to stay close to Monterey during your camping trip, this is where you should go! This is a great spot to spend the day exploring Cannery Row and then retire back to your campsite at night. It's also pretty affordable, which is an added bonus when you're shopping around for places in California.
13. Pinnacles Campground
f you like adventure, this will probably end up being one of your favorite camping spots! Located right outside of Salinas in Central California, this campground is inside Pinnacles National Park near the Pinnacles Desert Climbing area (hence the name.) You can drive in or hike your way into this remote camping spot deep within the gorge where you find vault toilets and fire rings.
14. Black Butte Lake
This is one of the most popular California State Parks, so prepare for it to be busy if you plan to make a weekend trip here with your friends! The reason people love this place is because of the abundance of lake activities — you can go fishing or rafting but also take a long hike around the area and enjoy some amazing scenery along the way. There's even a butterfly sanctuary nearby in case you want an excuse for a photo-op!
15. New Brighton State Beach
If you're looking for more of a party scene when you're camping in California, check out this spot near Santa Cruz! There's a recreation center up the hill from your campsite where you can play tennis or volleyball, plus you'll find hot showers and flush toilets nearby. The beach is only a 5 minute walk from the campgrounds, so you've got all your bases covered here.
16. Big Basin Redwoods State Park
California has plenty of national parks to choose from when you want to get yourself into nature for a few days, but if it's state parks that you prefer you have even more options! You'll have to ignore the historic cabins on site because they're closed right now while renovations are being done, but there are plenty of great camping spots to take advantage of here!
17. Black Mountain Road Camping Area
If you're an avid biker or camper, you might want to plan a weekend trip around this road in Central California. It's not for the faint of heart since it climbs up over 5500 feet in elevation while passing through several different types of landscapes, so make sure you warm up before hand if necessary! You can also look forward to good company because this place is popular with people who like biking and hiking in the surrounding areas.
18. Quincy
This is another one of those state parks that isn't the easiest to get to, but it's definitely worth your time if you're not scared of a little adventure! You'll find this spot deep in the heart of Sierra Nevada Mountains where there are mountain caves, hot springs, and some pretty amazing views of snow-covered peaks. The campgrounds are even open during winter at times because the weather can be so unpredictable here! Be aware that they have very few spots available so it can be hard to book a trip short notice at this location.
19. Coleman Valley
If you looking for some peace and quiet from the bustling city life, you'll definitely find satisfaction at this campground in Northern California! It's located just a few miles from some great hiking trails that take you up into the hills where you can get away from everyone and everything for a little while… it does cost more to get here during weekends though because of the popularity.
20. China Camp State Park
When it comes to camping in California, there are plenty of options when you want to go near the coast! This place in particular is one of my favorites because it has access to two different beaches, which means double the fun when I'm looking for an excuse to or fish or both. You'll also find plenty of different activities to take advantage of like biking around the area or exploring the tidal pools at low tide!
21. Henry Cowell Redwoods State Park
I've always had a thing for redwood trees ever since I was a little kid, so this is one California camping spot that's high up on my list! It's not just about admiring these massive giants either because there are some great trails in this park that will help you get up close and personal with them while still enjoying all your favorite outdoor campground activities along the way too. Only downside here is night time can be a little eerie from all the howling animals in the surrounding forests…
22. Big Basin Redwoods State Park
If you're a little more interested in learning about the wonderful world of trees, I'd recommend taking a trip to this California state park that's one of my personal favorites! You'll have plenty of space for two tents at most campsites down here, which makes it very family friendly, and you'll be surrounded by some pretty amazing redwood trees wherever you turn your head.
23. Casini Ranch Family Campground
If you're looking for an affordable camping spot that's located right near the coast in Northern California, this is definitely worth checking out! Yes, they do get packed during summer time weekends especially, but the location is so convenient to beaches and state parks, you should definitely make an exception if you can! The campground itself has some great amenities too like fishing ponds, a volleyball court, horseback riding facilities, even horse shoe pits 😁
24. Lake Oroville State Recreation Area
This place is one of my favorite California camping spots because it has something for everyone here! If you're looking for hiking trails that take you down into the mountains or perhaps just want to enjoy boating around this beautiful lake , there are lots of different things to do here. You'll also find plenty of fresh water fish nearby if fishing is your thing too! And oh, if you like to relax outside, there's even a resort with a mineral hot springs on-site you can enjoy for just $4.00 entry fee!
25. Red Bluff State Park
Last but not least on the list of 25 best California camping spots is this park over in Northern California . I had some great memories here growing up because my dad used to bring me and my friends here all the time when we would go fishing together. There are actually two separate beaches down here where you can swim or fish off one of the many piers built along this shore line.
26. Sonoma Coast State Beach
One of my personal favorite California camping spots is located in the town of Jenner . This state park features a pretty interesting tidal pool that's always filled with children looking to take advantage of the safe environment here. The beach itself isn't too shabby either, although you'll definitely want to bring your bug spray during summer time because there are tons of flies buzzing around this area!
27. Pfeiffer Beach
You can bet I'm going to recommend at least one Big Sur destination for any list I create about California camping spots! Since it gets so crowded down there , I figured why not include another spot nearby instead. Also, I'm sure you've heard of this place, but it's really one of the most beautiful beaches I've ever seen in California. You'll probably have to hike down into the beach since there's no parking for vehicles near this spot, but hey, that might even be a nice little adventure to take on! 😄
28. Hunter-Fryingpan Wilderness
Here's another one of my favorite places to visit while camping in California because it's just so different from all the others! This location is home to several lakes full of fresh water fish and even features some great picnic areas nearby where you can catch some rays on the beautiful sunny days CA is known for!
29. California State Route 299
If you want to go camping in California and explore a variety of different terrains, I'd suggest coming out this way! Although passable during winter time, make sure to bring your 4-wheel drive vehicle if you plan on going any further up into the mountains as there's no service available up here at all! You'll also find lots of water falls about an hour from this area along route 198 if that interests you too 😊
30. White Mountain Wilderness
Last but not least is another one of my personal favorite camping spots in California! As you can tell by the name, this location is filled with snow most of the year round so be ready for anything if you plan on coming out here during winter time. However, there's still lots to do and see around these parts even if it does get covered up with snow! You'll find plenty of trails to explore that run through alpine forest environments along snowy mountain tops which I think sounds pretty cool 😎