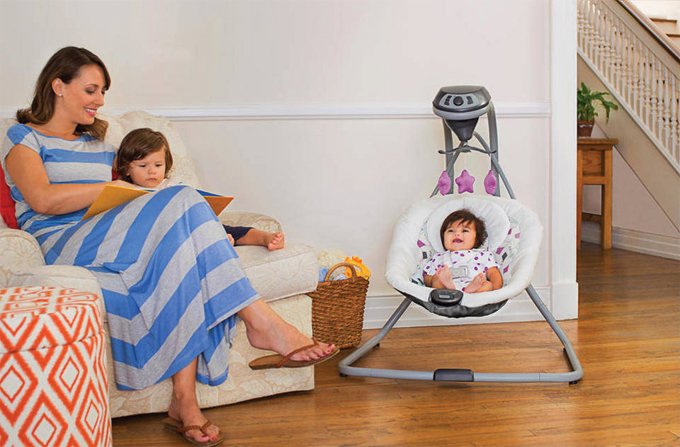 Another option would be to buy one that converts from a reclined cradle type swing, where the baby is swung side to side, to a regular baby seat that swings front and back like a traditional swing. There are some that only swing up and back but the seat can adjust. If the baby is young or you want them to fall asleep, the seat is tilted back whereas the older baby may like to be sitting up more. The better swings can have a 5 point harness while most just have a 3 point restraint. The frame should have a sturdy wide stance with gripping feet.
You have choices of colors and patterns from Disney, butterflies, and anything from pink to blue. It's nice if the cloth swing cover is removable and washable or if the swing detaches, so you can more easily sponge the seat. Some models are space savers and others are easier to fold down for travel than others. Most of the swings have up to six speeds as well as a selection of music or sounds from nature. You can program your baby's favorites. There are usually also plush toys hung above the swing on a mobile or cross bar to entertain the baby. Some toys even light up.

#1 – Fisher-Price My Little Snugabunny Cradle 'n Swing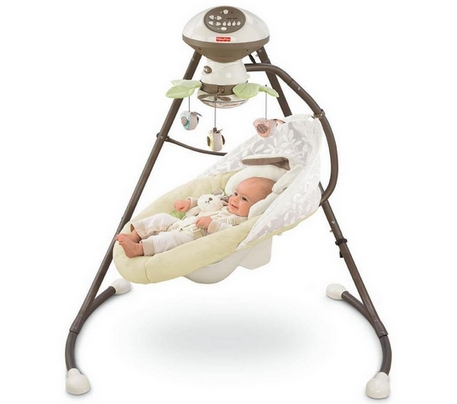 Fisher-Price My Little Snugabunny Cradle 'n Swing Overview
The Cradle 'n Swing is a soft place for babies to sit and swing. The swing features a soft bunny cushion seat with removable soft bunny rattle and safety harness. Your baby can look up and see themselves in the mirror and watch the birds fly around the mobile. The swing can rotate side to side or front to back.
Parents can adjust the seat to two different positions, upright or recline. There are six speed swings as well as four sounds options. When not in use, the Cradle 'n Swing's legs can be folded up for storage. The portable design makes storage and travel free of trouble and it won't take much room either. This considerable design offers either parent many more conveniences.
The Cradle 'N Swing can help your baby to calm down very easily and sleep so that you can have much time to do house work. You don't need to worry about your baby's loud crying, because Cradle 'N Swing can entertain and soothe your baby. The Cradle 'N Swing can satisfy all your baby's needs, making it fun and entertaining while you are doing your home work.
#2 – Fisher Price Starlight Papasan Cradle Swing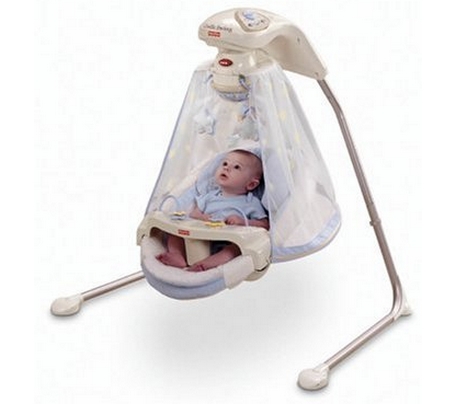 Fisher Price Starlight Papasan Cradle Swing Overview
The Fisher-Price Papasan Cradle Swing is the perfect answer to calm an agitated or crying baby, or indeed help them get off to sleep so that parents can have some time to themselves. The cradle swing can be either plugged into the wall or easily be operated by batteries, which is a huge advantage over the solely battery operated cradle swing models on the market.
The cozy head support and comfortable seat puts your baby in cushy comfort as they can swing around front to back or side to side. A sweet little canopy surrounds your baby and entertains with delightful songs.
When it is time for a nap, parents can play a different lullaby that will soothe and calm your baby. You can also project starry night lights onto the canopy, so that your baby can enjoy seeing them. The Fisher-Price Papasan Cradle Swing is attractively priced and will appeal to a lot of families wishing to enhance play time and relaxation.
#3 – Fisher-Price Zen Collection Cradle Swing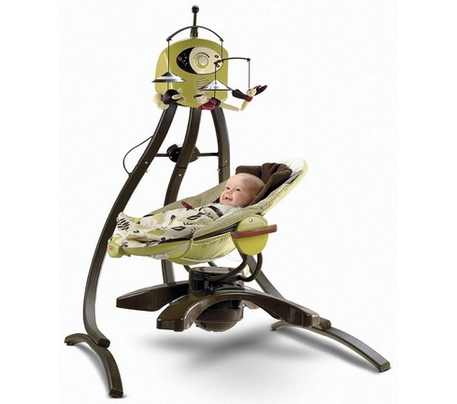 Fisher-Price Zen Collection Cradle Swing Overview
The Fisher Price Zen Collection Cradle Swing is uniquely designed to match your home rather than the nursery. The aesthetic design and the many musical and swing features soothe your baby and make this swing a top choice for many parents.
The swiveling seat rotates, so your baby can enjoy a gentle side to side rocking motion or front to back motion swing in different speed ranges. This cradle swing comes with amazing sound tracks and sound effects, as well as songs. The songs are entertaining musical tracks designed specially to provide your child with a combination of lullabies to lull your baby to sleep.
These amazing toys move freely and gently without human aid to pamper and fascinate the baby. This cradle swing has simply beautiful fabric design. The assembly is quite easy and construction is very sturdy. The Fisher Price Zen Collection Cradle Swing is unique swing that not only looks great but is versatile as well. Fisher-Price has incorporated a number of features that make this cradle swing a must-have on any new parents' wish list.
Baby Swing Buying Guide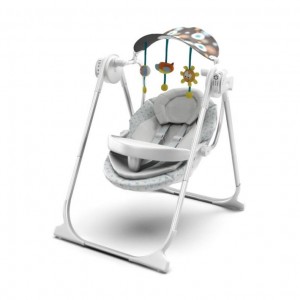 baby swings and the things that you need to consider when buying one. This guide will provide information about the main components of a baby swing, types of swings you can decide on, and the main features to look for in buying a baby swing.
Baby Swing Features
Although various baby swings are available on the market these days, there are components that are generally present in all of them. First, a swing is designed to secure the baby as a car seat belt harnesses the driver or the passenger. It has a cloth or padding where the baby can be laid. It also provides a swinging movement that can calm a fussy baby. A baby swing is designed for the baby to comfortably rest or even take a nap on.
Most modern swings today come with special features like different swinging directions, music options and hanging toys to entertain the baby.
Types of Baby Swings
Choosing which baby swing to buy can pose some difficulty especially to first-time parents. With the overwhelming variety of baby products on the market, buying one that suits your baby's needs can be sometimes hard. In addition to that, you need to consider the cost of the swing and the space that it occupies in your home.
If you do not have the slightest knowledge of what type of baby swing would be best for your baby and your home, then here is the list of different types of swings and the advantages of each.
Full-Size Baby Swings
This type of baby swing is typically large and can accommodate a weight of up to 25 pounds. Full-size swings are elevated off the ground, comfortable, offer multiple swinging directions, and provide different music options. Some swings of this type come with a canopy and some toys to entertain the baby.
It is best for parents who want to leave their children in one area while working or doing some chores. Furthermore, you can choose from battery operated full swings and electric swings. Although this full-size baby swing provides enough comfort and offers most features worth your money, this type can be costly and can take up space in your home.
Travel Baby Swings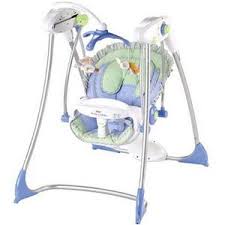 Portable, Foldable, and Convenient are the best features of this type of baby swing. A travel baby swing is a convenience that you can bring wherever you and your baby goes. It is lightweight, foldable, and obviously can be moved from one place to another.
Travel swings are also lower to the ground and are affordable. While a full-size swing offers a wide range of directions, music, and speed options, a travel swing can only offer front-back movement and no music at all. However, the best part about it is it does not require too much space in your house; plus you can soothe your baby in the most economical way.
Baby Swing Bouncers
Although bouncers do not really swing, it is still a type of baby swing. A bouncer is a simple but also effective option to soothe babies. The traditional bouncer swing has a vibration feature, music options and toys just like other swings have. It provides rocking movements that help babies to calm and sleep soundly. Bouncers can be economical or pricey depending on the features it offers.
Factors to Consider Before Buying a Baby Swing
After knowing the different types of swings you can choose from, it is finally time that you know what are the factors that you need to consider in buying. Regardless of the type of baby swing you opt to buy, these factors or features should be carefully assessed.
Baby Swing Safety
In looking for a perfect baby swing, safety should be on the top of your priority list. Choose a baby swing that provides a five-point harness instead of three-point harness. This safety feature will secure your baby especially when he/she becomes more mobile and active. Furthermore, it is also not safe to buy an upright baby swing for your newborn as it can cause head injuries. Reclining swings are applicable to older infants that can hold their heaps up without any assistance.
Baby Swing Comfort
Go for a swing that has ample padding on it. There are swings also that have pillows that can be taken out if there is a need for more space for the baby. There are swings that have multiple rocking motions in different speeds that can soothe your baby. Moreover, some swings also provide music to lull the baby to sleep and some toys to keep the baby entertained.
Baby Swing Power Source
Different swings that are battery-operated are available on the market today. These battery-operated swings can be rechargeable while others come with AC adapters for more convenient use. If you opt for a battery-operated swing, always make sure to buy a model that uses batteries that can be used for a longer time.
Baby Swing Durability
A wide range of beautifully designed baby swings are available today; each claims to provide comfort for your baby. However, you also need to consider the durability of the material you are about to buy. Swings made out of poor materials are not just going to waste your money but can also compromise the safety of your baby. Therefore, choose a swing that is sturdy and is made of good materials. Always search the internet for manufacturers that use high quality materials for their products.
Baby Swing Versatility
You may want to choose a baby swing that can be moved from one point in your house to another. There are swings that are portable and are easy to fold, so buying one is not difficult. In addition, a swing that has different seat adjustment options will allow you to position your baby in either upright or recline.
Best Place to Buy a Baby Swing?
Places where you can buy a baby swing are not that difficult to find nowadays. You can go to your nearest shopping mall to buy one or you can opt for online stores that offer different types of swings for your baby. Amazon is a great place and we link to the best products on Amazon directly.
Buying a baby swing is not as easy as it seems. Although you might be overwhelmed with the variety of products on the market, always consider the important factors when buying one. The durability of the materials, ease of use, and the comfort it can give to your baby are very important.
Moreover, the most important consideration is the safety that comes along with the product. It pays off to be cautious in buying a baby swing. After all, it is a real lifesaver whenever your little one gets fussy at times.