NAVIGATION
COFFEE MAKER REVIEWS OVERVIEW
In today's society, coffee is a very popular commodity. It is a crucial part of any morning routine from brewing at home to waiting in line at a coffee shop during a morning commute to work. Meeting over coffee in coffeehouses all over the country has become a popular social activity. The world revolves around coffee and relies on it to get it through the day.
Having a quality coffee maker in your kitchen is the most cost effective and convenient way to brew any time you want whether it be early in the morning before work or as a post dinner treat, in the comfort of your home without the hassle of waiting in a drive thru or a long line for a delicious cup of coffee.
Coffee makers come in a variety of designs. A French Press offers simplicity and the convenience of making coffee instantaneously and with minimal effort. There are coffee makers that come with convenient timers that, when set the night before, make your coffee and have it ready when you wake up. Others, have the additional benefit of a grinder for a more fresh tasting brew.
Additionally, some coffee makers provide coffee by the cup without making a full pot by simply placing a K-cup inside, pressing a button and enjoying a hot, steaming beverage of choice in a matter of seconds. Increasing in popularity are coffee makers that also provide the option of a tamped pull of espresso and a steaming wand for a wider variety coffee beverage options.
By owning a quality coffee maker, you will always have the convenience of having a fresh, and delicious cup of coffee at your fingertips any time you want. Entertaining guests will be as easy as pushing a button and providing a quality beverage. Below are a few excellent choices in quality coffee makers at an affordable and worthwhile price.
#1 – Cuisinart DCC-1200 Coffee Maker
Cuisinart DCC-1200 Coffee Maker Overview
The Cuisinart coffee maker is really easy to fill and distributes water evenly over the coffee to prevent temperature loss. We loved the fact that it has a refined charcoal so that every cup is being brewed with filtered water. It has a programmable feature that will auto shut off. Customers liked the built-in timer because it alerts them when it is time to clean the coffee maker. The coffee maker has a rotary control knob that allows you to change the warming plate temperature. The Cuisinart eliminates the danger of spilling coffee, due to the location of its controls which is above the carafe. The carafe has a well designed pour spout which makes it difficult to spill. We recommend the Cuisinart coffee maker as it is smartly built and makes a great pot of coffee.
Get the Best Price on Amazon
Cuisinart DCC-1200 Coffee Maker Rating
---
#2 – Melitta 46894 Coffee Maker
Melitta 46894 Coffee Maker Overview
The Melitta coffee maker's controls allow you to control the brewing strength of each pot of coffee. The coffee maker is well-designed with an pause and serve feature which lets you pour a coffee cup before it has finished brewing. Customers loved its programmable feature which allow them to automatically brew their coffee so coffee is ready in the morning. The coffee maker has a robust dip free glass carafe which allows you to easily handle and pour out the coffee. The Melitta coffee maker is quite economically priced and produces an excellent pot of coffee quickly. If you are looking for an all-around quality coffee maker that has that sleek Euorpean design then the Melitta fits the bill.
Get the Best Price on Amazon
Melitta 46894 Coffee Maker Rating
---
#3 – Hamilton Beach 47950 Coffee Maker
Hamilton Beach 47950 Coffee Maker Overview
Hamilton Beach Coffee Maker performs very well for the price and looks great on your counter top. The Hamilton Beach coffee maker brews 12 cups of coffee at a time. There is no carafe, simply place your coffee mug in the brew station and fill your cup no matter the size. Customers liked the fact that you can self-dispense the coffee. The Hamilton Beach has a built-in removable side lift reservoir for easy water filling. In normal brewing mode, the Hamilton Beach machine makes coffee reasonably fast and provides customers with a quality brew. The Hamilton Beach coffee maker is top rated for its excellent quality and affordability.
Get the Best Price on Amazon
Hamilton Beach 47950 Coffee Maker Rating
Coffee Maker Buying Guide
Coffee makers are one of the best God-given gifts to mankind. A lot of people start their days by drinking a fresh cup of Joe. Some like their coffee freshly grounded, while some prefer just the instant ones. For heavy coffee drinkers, acquiring the best coffee maker is definitely on their bucket list. There are so many choices of coffee makers to choose from in today's time, but it is best to research first before purchasing one, since there are different kinds that cater to particular preferences of coffee drinkers.
Types of Coffee Maker
When choosing a coffee machine, one has to first know their personal preference when it comes to coffee. There are a lot of types of coffee machines, and here are some of them.
Automatic Drip makers are one of the most commonly acquired coffee machines out there. They make full pots of coffee in instant using ground coffee beans. Automatic Drip makers are in demand today since a lot of people go for convenience and usability. Drip makers have good water distribution when it comes mixing it with the ground beans, which makes the coffee more flavorful and rich.
Pod makers are one of the most convenient types of coffee machines. Pod makers require a high pressure with every use, which makes coffee go out in an instant. Pod makers usually just produce one cup of coffee per load cycle, which makes the coffee it produces beam with quality. Some coffee drinkers don't really Pod makers since buying pods could be a bit expensive since one pod is needed for every cup of coffee. Some prefer to make coffee as a whole pot.
Vacuum coffee machines are very old school compared to the other types coffee machines. The vacuum kind was one of the first types of coffee machines ever invented, although at the present time, there are versions of Vacuum machines that were developed to fit the modern times, which is the inclusion of a timer. Vacuum machines are usually for used with a stove-top, although there are still some Vacuum machines that are electric and more modern. Although Vacuum machines take a bit more time to operate and get a cup of coffee from, this maker produces superior tasting cups of coffee, which is best for those who favor quality over convenience.
French Press coffee machines give the user a quick process when it comes to making about two cups of coffee. This certain type of maker enables water and coffee to mix together in one container. This machine also gives the user to control the temperature of the water and also the time to produce the coffee.
Percolators are unconventional machines when it comes to coffee brewing. Making coffee from a Percolator is deemed to be old-fashioned.
Factors to Be Considered to Choose the Best Coffee Maker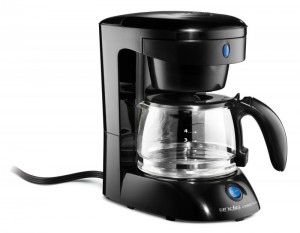 When choosing the perfect machine for making your coffee, there are some factors to be considered to guarantee the best utilization for the coffee machine. Capacity and cup size is one of the most important factors. When making coffee, it is normal for the user to prefer to make a larger quantity of coffee rather than just one cup. Purchasing a machine with smaller capacity and cup size could be okay for those people who live alone or just drink strictly one cup of coffee a day. But for those people who live with companions who are coffee drinkers as well and those who drink multiple cups of coffee a day, investing in a coffee machine that allows the user to make a more plenty cups of coffee.
Another factor to consider is the convenience of the product. No one wants to spend too much time on making coffee in the morning, since most of coffee drinkers have work and school to attend to. It is best to invest in a coffee machine that would make coffee at the best time yet not sacrificing the quality of the taste. The most convenient coffee machines out of all the types are the Pod and Automatic Drip. These two types of coffee machines are the ones commonly found in homes of coffee drinkers.
When buying coffee machines, accessories and add-ons can be made to fit the consumer's liking. A great piece of grinder will actually help in producing finer quality coffee. There are two types of coffee grinders; one is the burr grinder and another is the blade grinder. A burr grinder allows the user to choose the precise coarseness and fineness of the grind. But if one wants a cheaper option, investing in a blade grinder is recommendable.
Another coffee machine accessory is the coffee server. This is where your coffee will be placed once the maker is in use. Some opt for the carafe, some for the common pot, while others prefer the thermos. The coffee server basically depends on the preference of the customer.
Other coffee machine accessories are for maintenance purposes such as a frothing pitcher, thermometer, and a group brush.
Before acquiring coffee makers, keep in mind these four things to make the process of buying the coffee machine easier and less confusing. Brewing features of the maker is important since this will indicate how well the coffee is going to turn out once used. Select a maker that has great brewing features to ensure quality coffee. Second is usability. It is best to invest a coffee machine that isn't confusing to use and would be able to produce a cup of coffee within minutes. This will definitely save the user a lot of time especially if he or she is always on the go. Third is the filtration. This factor is also important since coffee machines that filter the ground more produces better tasting coffee. Last but not the least it design. People opt for pleasant looking coffee machines since it is usually seen in the kitchen.
Coffee machines are easily accessible to those who want to invest in one. They are available in department stores, supermarkets, or even on the Internet where they offer a wider variety of coffee machines. It is advisable to research first on the certain type of machine that one wants to acquire before actually buying it.