NAVIGATION
WINE COOLER REVIEWS OVERVIEW
Wine is a beverage which when not well maintained, it turns into vinegar. Wine coolers support the preservation of wine. Made of different materials, wine coolers can have a front door that is made of glass for easy viewing, a thermostat and security locks. The guide below explains the various features that are available with most wine coolers and what you should look for when buying them.
While wine coolers are made to be stand alone or built in, most of them are stand alone units which can be converted to be built in when needed. Most big coolers have front exhaust capabilities but those which do not have a compressor must have air flow around the unit in order for it to function properly and not overheat.
As it is with most refrigerates that have interior lighting, choose coolers that have this feature too. Larger units will benefit from having this light as it helps consumers to see the labels easily. There are some units which even light up when the door is closed. This allows one to display their wine and it also calls attention to the vintages and reserves.
Safety locks that are installed in the factory do not come standard on all wine coolers, only on some types. If you are worried about thieves, children or teenagers getting access to your collection, you should choose a cooler that comes with a safety lock that is already part of the design.
Most wine fridges have a tempered glass since it is much stronger compared to standard glass. When you place a wine cooler in the kitchen, restaurant or any other place with high traffic, it is essential for the glass not be susceptible to breaking when you accidently bump or hit it. Also remember that strong ultra violet rays are harmful to wine.
#1 – NewAir AW-281E Wine Cooler
| | |
| --- | --- |
| | |
NewAir AW-281E Wine Cooler Overview
We liked the NewAir Wine Cooler's high quality stainless steel, which prevents rust, and the blue LED lighting which looks great in any home. The wine cooler runs almost completely silent, and is very well styled which is very important as you really don't want a noisy motor running in your home. The shelf is chrome plated which will last for a long time and has a sleek look. The unit is capable of storing up to 28 bottles and has push button temperature control which makes setting the temp extremely easy. We found the door of the wine cooler to be very insulated which effectively kept the temperature consistent inside. It is very eco-friendly as there are no CFC's or HCFC's omitted. We highly recommend this wine cooler as it is the perfect home accessory for the wine collector or even the casual drinker. When you combine this with its low price it's easy to see why this model has become a best seller.
Get the Best Price on Amazon
NewAir AW-281E Wine Cooler Rating
---
#2 – Whynter 18 Bottle Wine Cooler
| | |
| --- | --- |
| | |
Whynter 18 Bottle Wine Cooler Overview
Designed with the parent in mind, the VTech Communications Monitor acts like an extra set of ears when you've stepped away from your baby, so that you can hear if they're crying, gurgling, or laughing. It eliminates white noise provides and crystal clear transmissions so that parents can clearly hear their baby sounds. It uses digital enhanced cordless secure transmission so that nothing between the parent and baby unit can be heard. It is easily portable and has a good extended range so it is great for those who need to work at home. This digital monitor provides you with easy listening and a no fuss system. It has a very nice budget friendly price so it would also be a great option for parents who are buying a baby monitor for the first time. We recommend this digital monitor as it provides good, reliable baby monitor and offers a sense of freedom for parents.
Get the Best Price on Amazon
Whynter 18 Bottle Wine Cooler Rating
---
#3 – Sunpentown WC-20TL Wine Cooler
| | |
| --- | --- |
| | |
Sunpentown WC-20TL Wine Cooler Overview
We found Sunpentown wine cooler a great value for a built-in wine storage unit that can hold up to 20 bottles. The temperature is controlled with a high-tech digital display and the interior LED light illuminates your collection which means no decrease in temperature that you might get with an incandescent bulb. The wine cooler will easily fit in under your kitchen counter tops and is ideal for the occasional or daily wine drinker. The wine cooler comes in both stainless steel and black and has become increasingly popular for its economical price tag. Whether you have a family that enjoys having an occasional glass of wine with dinner or a dazzling urbanite that holds social gatherings in your home, the Sunpentown wine cooler is an excellent choice.
Get the Best Price on Amazon
Sunpentown WC-20TL Wine Cooler Rating
Buying Guide for Wine Coolers
When it comes to proper preservation of wine, buying wine coolers are your best option. But how can you be sure that you have bought the right product?
In order for you to make sure that you get to buy the product that's best for you, depending on your needs and preferences, and make sure that you know what to expect not only when it comes to how a product was made, or what it offers, but also when it comes to its price, you have to first get to know what you need to know about a certain product.
Facts to Consider
Read this product guide and find out what are the things that you have to keep in mind when buying wine coolers.
Construction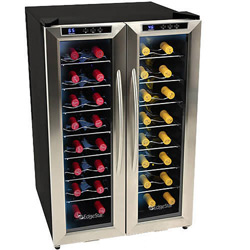 You have to decide whether you want to go for built-in or standalone types of coolers. If you are not sure that you are going to stay in your house forever, or if you are going to move sometime soon then it would be best to go for standalone units. Also, you could go and check if the cooler has some front-exhaust capabilities or compressors. These are very useful when it comes to proper preservation and storage of wine.
If you're going for a cooler without a compressor, then you have to keep in mind that airflow around the unit is needed in order for the cooler not to overheat and for it to continually operate efficiently even after sometime. If your unit overheats, it would not be good because you will have to buy another unit soon and of course, no one wants to waste money that way.
You can also go for small coolers that you can put up on counter tops or other types of sturdy tables, or you can simply go for standalone ones if bigger sizes are more your type. Also, think about how the cooler would fit in your home. Small coolers can carry 1 to 12 bottles, and the larger ones can carry more, of course. Small coolers are only recommended for those who live in apartments or small homes, or have minimalist themed homes.
Security Locks
It would also be best to go for those with security locks so that you can be sure that your wines will be kept safe at all times. This is also best for vintage wine collectors. Choose whether you want to go for security locks that are in keypad form or the original lock and key form.
Façade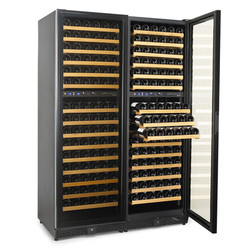 It would be best to go for products made out of Stainless Steel. Not only are they more durable than other kinds of materials, Stainless Steel also complements most appliances in the kitchen, whatever color they may come in, especially if they are in black and white.
Doors are usually the same color as the whole cooler but buyers can also look for coolers without doors if they plan to have theirs customized. Coolers without doors are usually those that are made out of UV-filtered double-paned glass, which is still able to keep the wine safe away from direct sunlight or from other harsh elements because when a wine is directly exposed to sunlight or extreme weather conditions, its natural biology would be disrupted.
You also have to keep in mind that even though most coolers have internal cooling options, you still should not place the cooler in a place where it can be directly affected by heat or cold because this is like you're asking the motor of the cooler to work harder—which would then end the life of the cooler easily.
Lighting
Coolers with lighting features are beneficial because they help the buyer see wine labels easily. It's also good for aesthetic purposes as there are some coolers that light up once you have closed the door—which allows other people to see the kind of wines that you have and admire them, too.
Being Eco-Friendly
If you're an environmentalist or an advocate for the environment, you would certainly appreciate Eco-Friendly Products. But even if you're not, you'd be glad to know that eco-friendly coolers are actually better because they do not use too much energy and so they will help you save some money.
Product Comparison
Some examples of the best coolers out there and what you can expect from them:
Whynter BWR-18 SD
18 bottle capacity
Price: $$
Glass door is stainless steel trimmed and has an L-Bar handle
Thermostat is adjustable depending on the kinds of wine you have
There are Fahrenheit and Celsius degree indicators
Compressor is fan-circulated and is best for cooling and temperature distribution
Six removable shelves
Has interior LED lighting
Whynter BWR 33-SD
33 bottle capacity
Price: $$$$
Has seven slide-out removable shelves
Thermostat is adjustable
Tempered Gray Smoke Glass is double tempered for protection against Ultra-Violet rays
Has Fahrenheit and Celsius degree indicators
Has fan-circulated compressor which is good for temperature distribution and cooling purposes
Has security lock and key
Has humidity control tray
Glass door has L-handle and is stainless steel trimmed
Has interior LED lighting with on and off switch
Wine Enthusiast 272-0328
28 bottle capacity
Price: $$$
Exterior has digital touch-screen capacities, complete with display
Thermoelectric cooling is super quiet
Thermopane Glass door is reflective
Six pull-out shelves
Has interior LED lighting
Is eco-friendly and releases no Chlorofluorocarbons (CFCs) that damage the environment
Has temperature range of 54-66 degrees Fahrenheit
Wine Enthusiast Silent 6 Touchscreen Wine Refrigerator
6 bottle capacity
Price: $$
Temperature Range is adjustable from 46-66 degrees Fahrenheit
This is a mini-type of cooler so you can place it on a counter top
Glass door is thermopane and smoke-reflective
Has digital touch-screen display on the outside
Has recessed trim and stainless steel display
Has interior LED lighting
Has three pull-out chrome shelves
Before buying wine coolers, it is important that you keep the guidelines stated above in mind. After all, as a consumer, it's your right to get only the best kinds of products and the best quality of service, too.