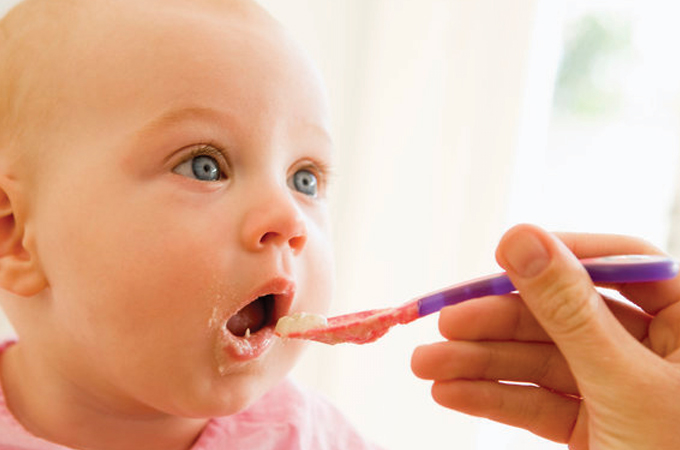 Before you bring your new baby home you are figuring out all of the types of things they may need. While new babies will mainly drink milk, it is important to think about what they will be eating and how your baby will eat within the next few months of their lives. Utensils for adults can be difficult to handle and can be made of material that is not comfortable for a new baby. Having the proper utensils, your baby will have the opportunity to learn how to eat on their own, while enjoying a positive experience. The following baby spoons will allow your baby to begin eating solid food more efficiently and comfortably than if you were to try and use full sized utensils.
#1 – Gerber Graduates Kiddy Cutlery Spoon Set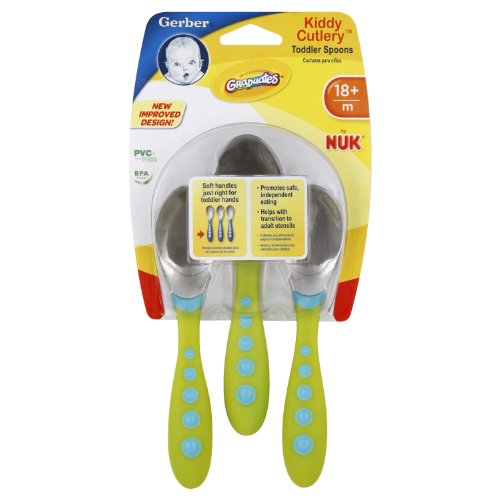 Gerber Graduates Kiddy Cutlery Spoon Set Overview
The Gerber Graduates Kiddy Cutlery 3 Piece Spoon Set is ideal for toddlers that are eighteen months and older. As your baby grows, their needs and wants will change. When your baby begins to understand the concept of eating, they will want to begin eating on their own. They will also want to eat more, getting bigger bites than an infant baby spoon will allow them to do.
This set of baby spoons will be able to successfully help your toddler learn how to feed themselves while being able to get the amount of food they want to eat. The Gerber Graduates Kiddy Cutlery 3 Piece Spoon Set is offered in several different colors. As your baby grows they will no longer need a soft tender tip. This spoon set is constructed of steel tips giving the spoon more stability, allowing the spoons to be child user friendly. For easier cleanup, you can place the baby spoons in the dishwasher to be cleaned after each use. The Gerber Graduates Kiddy Cutlery 3 Piece Spoon Set is BPA free.
#2 – Dr. Brown's Long Spatula Spoon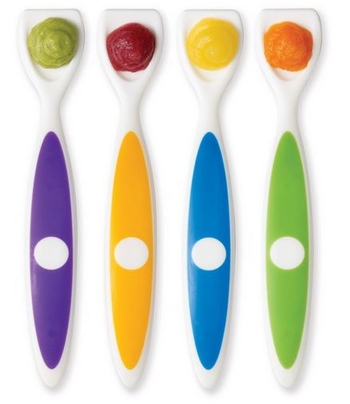 Dr. Brown's Long Spatula Spoon Overview
The Dr. Brown's Designed to Nourish 4 Pack Long Spatula Spoon comes in a variety of colors. This is a great set of baby spoons to help your baby get comfortable with eating solid foods. Baby food, whether homemade or bought from a store, can be placed in different sized containers. In order to get all of the food out of the containers, you need a long handled spoon.
By purchasing the Dr. Brown's Designed to Nourish 4 Pack Long Spatula Spoon you will be able to get all of the food out of each sized container with ease. The edge of the spoon has a smooth curved edge that will help you wipe food off of your baby's face without wasting food. This set of baby spoons can also be washed within the dishwasher making cleanup even easier. It is recommended that you wash the baby spoons on the top rack of the dishwasher for a gentler wash. The baby spoons are also BPA free.
#3 – Munchkin White Hot Infant Safety Spoons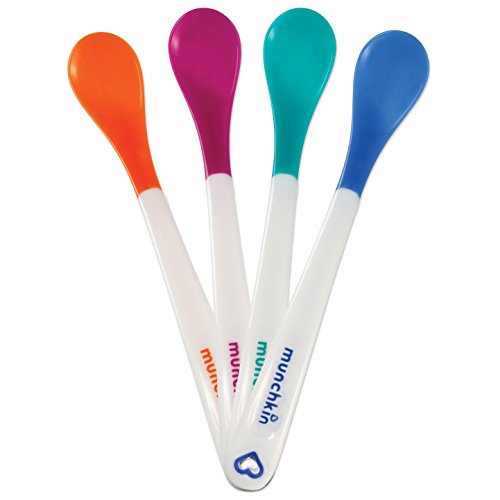 Munchkin White Hot Infant Safety Spoons Overview
The Muchkin White Hot Infant Safety Spoons, 4 Count are the ideal baby spoons for your new baby because of the many features they have to offer. How many times have you prepared food for you baby without truly knowing the appropriate temperature? Adult mouths are developed and can handle heat better than an infant. Babies are just learning about solid foods and by serving them food that is too hot, you can create a negative experience for your baby delaying the eating process.
By purchasing these baby spoons you have the ability to know if the food is too hot because the tip of the spoon will turn white if the baby's food is 110 degrees Fahrenheit (43.3 degrees Celcius) or hotter. The spoon is comfortable and smooth giving your baby an enjoyable meal. The long handles will allow you to get all of the food out of different sized containers as well as making feeding your baby in a highchair easier. These spoons are meant for babies that are three months and older. For easier cleanup these baby spoons can be washed in the dishwasher on the top rack. The Muchnkin White Hot Infant Spoons come in a pack of 4 and are free of BPA and phthalate.
Buyer's Guide
When your baby transitions from breast or bottled milk, it is time to introduce feeding tools. Between 9 and 12 months old, a baby may be ready for solid foods and begin eating some of the same foods that mom and dad eat. The feeding cutlery tools that baby is introduced to are cups and spoons. Parents will enjoy starting with soft handled spoons or the latest innovation – the heat sensing baby spoons.
Signs That Baby Is Ready For A Spoon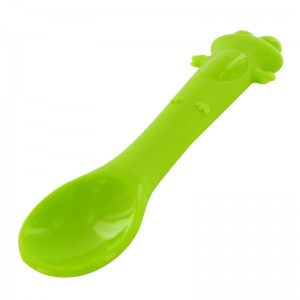 Parents can watch for signs that baby is ready for eating regular food by using a spoon. Some signs include:
they can sit up when supported
they show an interest in what you are eating by reaching for your food or making aggressive gestures for your food
they begin waking up in the night to eat
they show signs that milk is not enough and become agitated.
if you give them some soft foods to eat, like mashed potatoes, and they make every attempt to shove it into their mouth – messy but excited (for babies 7 to 10 months old).
Having your baby moving to solid food will provide your baby with greater nutrients, their mouth and jaw muscles will develop quickly for chewing and eventually aid in their ability to talk.
Baby Spoon Comparisons
Using a baby spoon with a shallow dip for placing food in the mouth helps you to bring food to their mouths, or for older babies, helps them bring food to their mouths. The important thing is that the spoons are in good shape with no missing pieces from the material. However, that special engraved silver spoon is not good for the baby's gums, plus they do not hold food temperatures well; silver can get too hot or too cold depending on the temperature of the food.
Other unique baby spoons include a 45 degree spoon for 9 to 12 month old babies, which is designed to keep food off of the floor or wall. Its dual sides can be used by the baby when they put it down and either end is ready to pickup again when they want to continue to eat. There is a model training spoon that features a very thick handled spoon with round, soft edges that invites your baby to pick it up and eat. A trainer spoon helps to encourage self-feeding at any angle that the baby plays around with, including a mouth guard. The handles are raised with deep grooves with a wide, flat spoon base.
Heat Sensing Spoons
The innovative heat sensing spoons are used to let parents know how hot the food is on your baby's spoon, especially if parents have used a microwave to heat food. These spoons have an easy grip handle and its tip changes colors when the food is too hot (110°F/43°C or above). The soft gripping handle is not only easy for parents to hold during feeding, but the soft tip of the spoon is gentle on baby's tender gums. The spoons are very flashy with brilliant rainbow colors. The heat sensing spoons are non-toxic, phthalate (BPA and BPS) and PVC free, as well as dishwasher and microwave safe.
Unique Spoons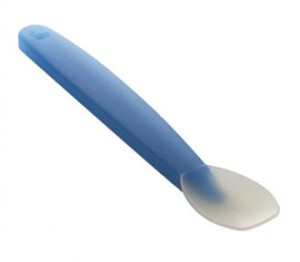 Sesame Street Spoon – the Sesame Street spoons contain a 3D character from Sesame Street as its handle.
Easy Squeezy Spoon – the Easy Squeezy spoons are amazing, with their squeezable handle, which is actually a container. The handle holds up to 4 ounces of food, where parents can squeeze the spoon for the baby food inside to squirt out into the baby's bowl. These spoons are odor-resistant, very colorful, and are enjoyed by your young baby.
Silicone Spoons – silicone spoons are very gentle on baby's gums and if they want to keep it in their mouth and play with it, they are entirely safe. Also, each spoon has a loving design and wording on it, like the words LOVE on the handles.
Summary
Before introducing your baby to a spoon, place some soft food on the baby's tray and let them squish it, rub it and eventually eat it. This way, when you approach them with a strange eating tool called a spoon, what you are giving them to eat will not be so unfamiliar and they will accept it on a spoon more readily. New parents should use baby spoons because regular tablespoons are entirely too hard on a baby's gums. Baby spoons have a protective covering and they are sanitized against the baby throwing or dropping them on the floor or waving them all around. There are various sized spoons and types to grow as the baby grows, from babies being fed by parents or older babies who can feed themselves.