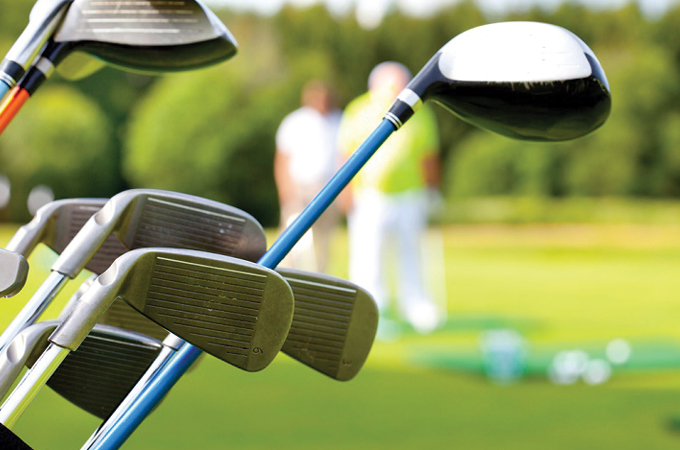 Golf clubs for beginner golfers come in a wide variety of models, styles and price ranges with a long list of various features available depending on the needs of the individual golfer. If you plan on playing golf regularly and you want to develop into an average or above average golfer, then purchasing a set of beginner golf clubs is almost a necessity. Having your own set of clubs will allow you to get comfortable by using the same clubs repeatedly, which often helps new golfers improve their game.
Like many products, and athletic products in particular, it is important to understand all of the options available, decide what is most important to you and determine a budget you are comfortable spending on golf clubs.

| Top Pick | Photo | Golf Club | Pieces | Dimensions (Inches) |
| --- | --- | --- | --- | --- |
| 1 | | Callaway | 18 | 50.00 x 14.00 x 12.00  |
| 2 | | Pinemeadow | 16 | 48.50 x 10.25 x 15.00  |
| 3 | | Wilson | 12 | 39.75 x 36.00 x 15.00 |
#1 – Complete (18-piece) Golf Club Set
Complete (18-piece) Golf Club Set Overview
Callaway is a brand recognized around the world and is one of the leading providers of golf equipment and golf related products. This particular set of beginner clubs is a right-hand oriented set and offers players a complete set of golf clubs with 18 total pieces including 12 clubs, 5 club covers, and 1 bag.
The durable bag comes in a sharp black and white design with a built-in stand and is light-weight. If you are not accustom to walking a full 18-hole course, then you need to be aware that the weight of your bag becomes an increasingly important issue as the day goes on. While a few pounds may not sound like it would make much difference, over the course of 18 holes the difference can be dramatic. Additionally, the built-in stand offers convenience and important functionality.
This complete set of clubs provides beginners with all the necessary clubs for playing a complete round of golf and having clubs available that are designed for each type of shot you may need to attempt out on the course. All of the required drivers, woods and irons needed are included in the set. While there are other more specialized clubs available for advanced players, this set offers beginners everything needed for efficient play without feeling like you are missing any vital clubs.
Online reviews of this product are at almost 200 in number and give this product an excellent 4.5 of 5 star rating. The available online reviews mention a long list of positive features offered with this set of clubs including the product's durability, "forgiveness-factor" enhancements, consistency and solidity, the overall weight, and overall balance of economy and quality.
Buyer's Guide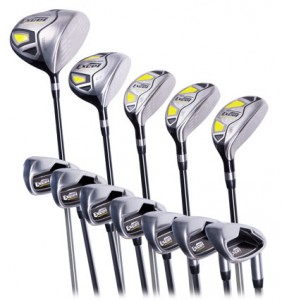 Purchasing a beginner set of golf clubs can sometimes be a daunting task as there are many options available and many small factors can make a big difference in how comfortable you are with a particular set of clubs. Additionally, golf equipment tends to be very individual specific, meaning the best product for one person may not be a good fit at all for another person.
Primary Considerations
When setting out to purchase a first set of golf clubs, perhaps the first consideration to be looked at lies within your level of interest in golf. You might ask yourself a few questions such as: How often will I be playing? What kind of time will I dedicate to the game? Do I anticipate a long-term interest in the game of golf? Will I be playing by myself more often than with others?
Some beginners might anticipate an infrequent or unpredictable golfing routine and may opt to only purchase a partial set of clubs rather than a full set. Partial sets of clubs are scaled back in the number of clubs included and are typically much more economical. While this does limit your options in what types of clubs you can use for particular shots, the one advantage is your bag will be much lighter to carry throughout a full 18-hole round.
Yet another primary consideration concerns age and gender. On both counts, it should be kept in mind that beginner golf-club sets are typically designed for best-use by persons several inches below six feet in height, the standard male height. For those beginners who are significantly taller or smaller, alternative options are available. For instance, female beginners may wish to focus on golf club sets made specifically for their gender, as they are much more likely to be comfortable with a women's full-set product or other sets of clubs that are made specifically for ladies.
Other Important Considerations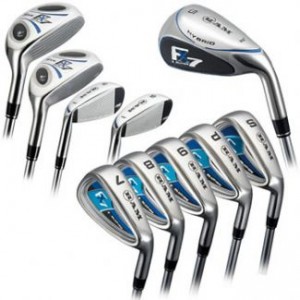 One of the most common and wisest bits of advice for golfing beginners is that buying an expensive set of clubs is unnecessary. Most of the time, beginners cannot appreciate or make use of many of the finer features of pro or veteran quality clubs. Therefore, a mid-range or low-range set typically makes more sense when just starting out and you are still learning the game. With this fact in mind, used club sets are sometimes able to provide a more economical price point for first-time golfers and can serve many beginners well for a long time.
Golf clubs are fundamentally distinguished by composition and flexibility features and qualities. At the same time, they also come with different hitting surface sizes and grip designs. Buyers can purchase an enhanced-slot senior set and many other enhanced variations that may provide a good individual fit. Some of these compensate for typical beginner mistakes while others make use of advanced or experimental technologies and designs in order to enhance strengths or provide a forgiveness-factor to common weaknesses of players at different levels.
Buyers should not overlook the "look" and "feel" factors involved either. Clubs that appeal to the eye and that fit right can have a profoundly positive impact on a beginner's play. Confidence is an important aspect when participating in any athletic activity and feeling good about your clubs will transfer some level of support to your overall level of play.
References