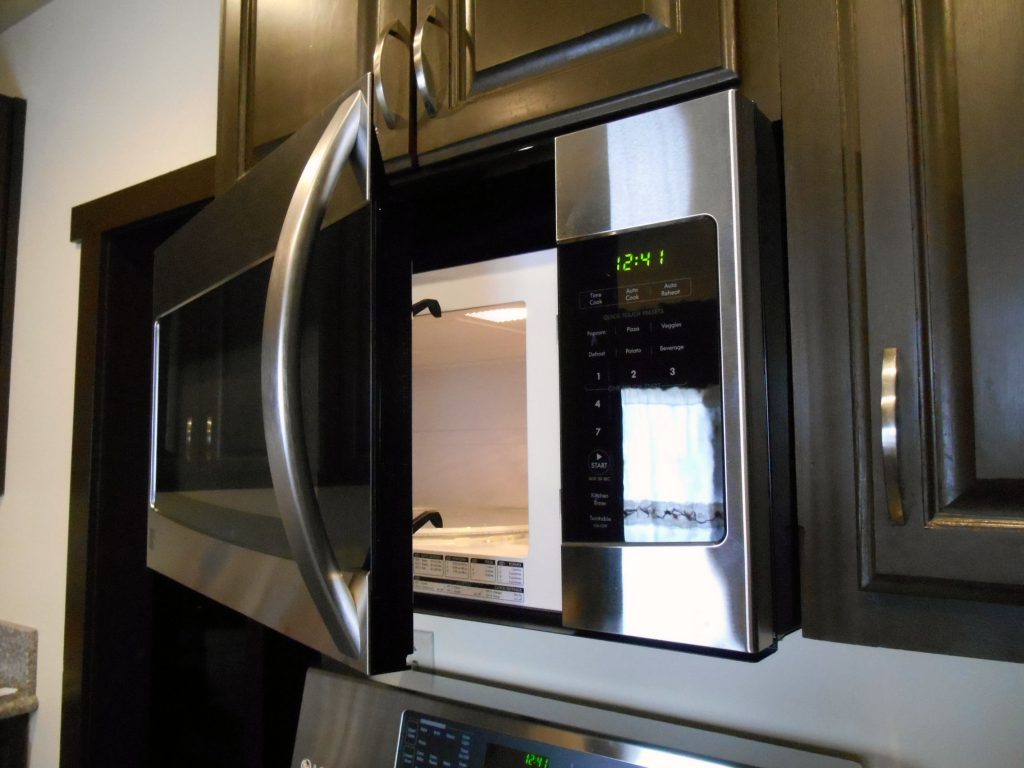 you'll definitely fall in love with over the range microwaves
. These kinds of appliances depict the latest technology and innovation. Nowadays, they have become among the most contemporary appliances in any kitchen.
Being user friendly is what has made them popular. They are equipped with a digital cooking display with 24 touch pads for controlling. When in the house, you don't have to worry about your child opening it even when it's on. Two cooking stages take place within this microwave and there is effective and convenient ventilation within the cooking surface.
Over the range microwave ovens are designed with conserving space. An Over the Range Microwave takes the place of two appliances; a microwave and a ventilation hood, combining them into one efficient appliance. This is the reason they may also be referred to as a microwave hood.
Over the Range Microwaves are designed to be installed above a gas or electric cooking appliance – stoves, ranges, cook tops and many others. They function as a normal microwave does, but also have a built in exhaust fan to expel smoke and odors while you are cooking.
These kinds of microwaves can vent exhaust directly outside or filter and re-circulate the air, so be sure to check the model you are buying and what venting capabilities you have in your home. Over the Range microwaves come in all appliance colors, and can be found with different features including convection, sensor cooking, and even halogen light assisted cooking models like GE Advantium microwaves.
Generally, over the range microwaves are great for apartments, smaller kitchens, and many other situations. These appliances are a great way to conserve counter space and get necessary ventilation all in one appliance.

| Top Pick | Photo | Range Microwaves | Capacity (Cu Ft) | Wattage | Warranty (Years) |
| --- | --- | --- | --- | --- | --- |
| 1 | | Sharp | 1.10 | 850 | 10 |
| 2 | | GE | 1.90 | 1,100 | 10 |
| 3 | | Frigidaire | 1.50 | 900 | 1 |
#1 – Sharp R-1874 Over the Range Microwave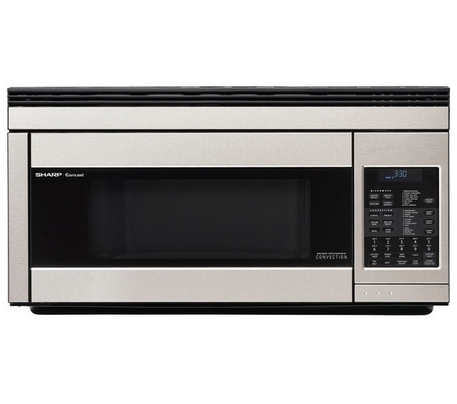 Sharp R-1874 Over the Range Microwave Overview
This over the range microwave is ideal for consumers who want to save kitchen counter space, and is reasonably priced to suit their budget. Customers found it very easy to install and use. The Sharp over the range microwave has a large cooking capacity and is well ventilated. Its lighted display is easy to read and its controls are simple to use.
Sharp customers love to quickly prepare food using the microwave's automatic settings. You can easily adjust the cooking power for any type of food. We recommend this microwave as it is very easy to use, sleek, compact and powerful. It is an excellent over the range microwave that will be a welcome fit in your kitchen.
#2 – GE JVM1950DRWW Over-The-Range Microwave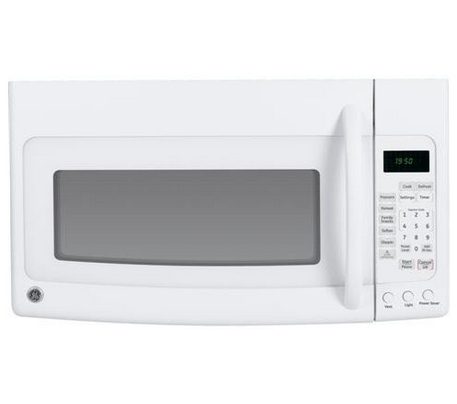 GE JVM1950DRWW Over-The-Range Microwave Overview
Customers liked this microwave for its solid build. We liked this microwave as it excelled at reheating leftovers, and its turntable can be deactivated for large platters. Its muted gray interior tends to get less messy and it has plenty of cooking power and capacity.
Its one touch quickly removes steam from the cook top area and its full width racks allow you to cook larger quantities of food. This over the range microwave is backed by GE's excellent warranty that even covers damages related to power surges. We highly recommend this microwave as it delivers exceptional quality for a great price. This over the range microwave is for consumers who are looking for a good quality product with long term performance.
#3 – Frigidaire MWV150KB Over the Range Microwave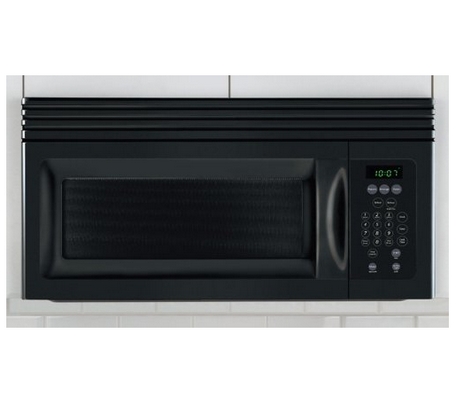 Frigidaire MWV150KB Over the Range Microwave Overview
A lot of customers recommended the Frigidaire over the range microwave due to its attractive design and affordable price. The microwave has a modern look with a gleaming stainless steel body. The microwave has spacious interiors that allow you to place big casseroles and large dishes in inside, making it a very useful appliance for those who love to cook.
Its turn table can accommodate larger items which can be easily rotated while cooking, and it has plenty of capacity for almost any need. You can cook food faster using its multi-stage and auto-reheat features. Its controls and programs are simple to use and you will love how quickly it bakes popcorn or potatoes. We recommend this microwave as it has all the basic cooking features, excellent heating power, even cooking method, and a large turn table.
Over the Range Microwaves Buying Guide
There are several types of microwaves that are generally used in today's age. One of the most common microwave types that are used today is over the range microwaves. This particular type of microwave can also be called a microhood. It is a merge between a microwave and a vent hood for a range and usually has charcoal filters in order to discharge any kind of cooking odor from the air.
Unlike countertop microwaves that can just easily be placed anywhere, Over The Range Microwaves need to be installed properly so that there is at least a 2 foot distance between the topmost part of the range and the lowest part of the microwave. This particular type of microwave is considered to be the most stylish out of all the types out there. It is also deemed ideal for people who want to save some space on their kitchen counter.
Types of Over the Range Microwaves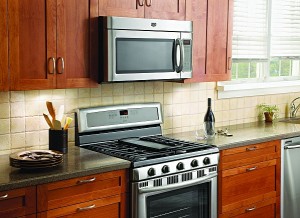 Before acquiring an over the range oven, potential buyers should keep in mind that this type of microwave is quite hard to fit in a kitchen's design. Measurements should be accurately taken so that the microwave will perfectly fit in the area on top of the range. Also, one cannot simply buy a countertop microwave and place it on top of the range. Only microwaves that are specifically designed for over the range use can be successfully placed and used on top of the range.
Over the range ovens usually have two purposes;it is what sets them apart from the conventional microwave. Aside from the common warming and cooking of food, this type of microwave also serves as a range exhaust fan to get rid of any nasty and unpleasant cooking odors.
Dimension, proportion, and exhaust features should be taken into consideration before purchasing this particular type of microwave. Stove ranges vary from each other, but the common ones are sized from 30 to 36 inches. It is important to get the measurements of the range at home first before picking out an over the range oven.
It is best to pick an over the range oven with exhaust features if one does a lot of stove top cooking. This is one of the best features of over the range ovens; they offer dual choices to users such as interior and external fan exhaust abilities. It is best to choose a microwave that offers multiple fan speeds, a grease filter, and a charcoal filter. With these, it will be a lot easier to clean and maintain the microwave.
Important Facts to Consider
Other factors to consider when buying over the range ovens are affordability, performance, ease of use, and durability.
Affordability
Affordability is very important and is usually the first thing that consumers look at when purchasing an appliance. No one wants a microwave that is too expensive, which is why over the range ovens come in different price ranges to cater to customers' specific budgets.
There are a lot of over the stove microwaves that are reasonably priced and budget friendly, but if one is willing to shell out a bit more money for a higher-end microwave, then there are different brands that offer higher quality. Over the stove microwaves can range from $200 to $1000, depending on the features and design of it.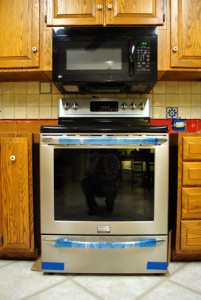 Performance
Performance and cooking functionality are also very important because these will determine how well the over the stove microwave is doing. It is best to invest in a microwave that has a lot of purposes rather than just one. It is advisable to look for over the stove microwaves that have special features such as defrosting meats or melting butter.
Microwaves usually differ from each other in terms of these special features. Look for an over the stove microwave that will best suit one's needs and preferences. It is also good to look for an over the stove microwave that has a generous capacity for reheating multiple plates at the same time. This will save you space and energy.
Ease of Use
Ease of use should be considered when buying over the stove microwaves because not everyone is of the same height to be able to reach the microwave itself. Children will not be able to use this kind of microwave freely since it could be dangerous if parents let them use it on their own. Also, purchase an over the stove microwave that is easy to control and manipulate. Pick a microwave that has easily understandable setting and buttons,so it's not confusing to anyone who might use it.
Design
Another factor to consider when buying over the range microwaves is the design. It is best to purchase a microwave that goes well with the stove top itself. There is a lot of variety when it comes to choosing over the stove microwaves. Consumers can either pick from the conventional look of the microwave, or could go for those that have attractive designs and multi-colored displays. It is said that having multi-colored displays on the microwave increases its functionality.
Durability
Last but not the least, another important factor that needs to be considered before purchasing an over the stove microwave is durability. It is best to look for one that is sturdy and has good longevity. Keep in mind that replacing an over the stove microwave could be labor intensive and tedious, which is why it is best to look for one that is durable and will last a very long time.
All in all, over the stove microwaves are a great investment if one is looking to save time, counter space, and the hassle of having to use two appliances at the same time. Over the stove microwaves do two jobs at the same time, plus it looks really stylish in a kitchen setting. Over the stove microwaves are easily accessible anywhere. Potential buyers can purchase this type of microwave from the department store, appliance store, hardware store, or even online where there is a wider variety of options to choose from. It is best to research first and look around for options before making a final acquisition.