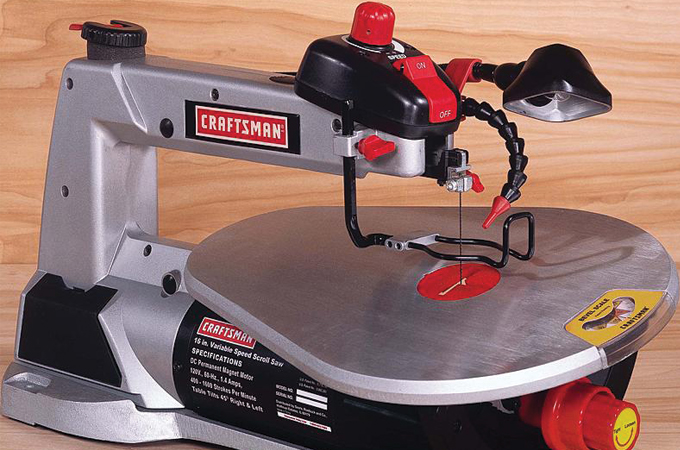 Top 3 List
| Top Pick | Photo | Scroll Saw | Cutting Width (Inches) | SMP |
| --- | --- | --- | --- | --- |
| 1 | | Shop Fox | 16 | 1,700 |
| 2 | | Dewalt | 20 | 1,750 |
| 3 | | Rikon | 16 | 1,650 |
Our Top Pick is the Shop Fox W1713 16-Inch Variable Speed Scroll Saw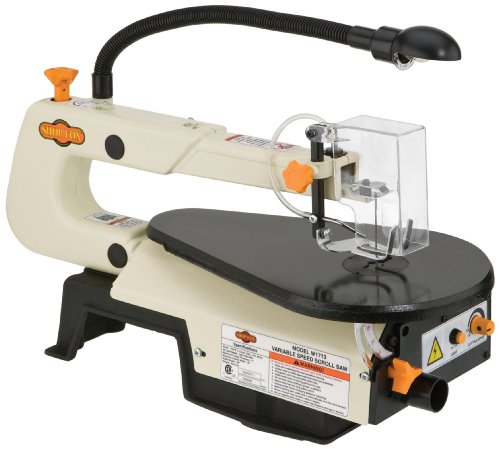 View On Amazon
A scroll saw is specialty type of saw that is used for finishing work. It creates intricate cuts, cuts angles and other very specific work.
They are popular tools to have if you like doing woodworking of any kind.  There are several things that are important about a high quality scroll saw; variable speed control, extra cutting capacity and a sturdy durable construction out of cast iron.
The Shop Fox W1713 scroll saw has a ton of features in addition to those three that make it a top pick.  The gooseneck work light helps to see what you are working on even in low light conditions.  The dust blower and dust port help reduce the dust that is around from working on wood.
You can use plan or pin type saw blades with this scroll saw and it is CSA certified and meets all of the standards from CSA C22.2 #71.2-M89 and UL 987-6th standards.
Users can cut angles with this scroll saw, and offers the ability of 0-45 degree cuts with the table tilt capability. The table is tilted by using the lock know and tilt scale. It makes certain cuts much easier to make due to this tilting capability.
This popular saw takes standard plain or pin-end saw blades and makes any blade changes easy and efficient with the adapters that are included.  A hold down shoe, that is also adjustable, prevents what you are working on from rising up with the force of the scroll saw's blade. Debris and sawdust will be blown away from the cut line so you csn see what you're doing.
Who Should Buy This
Scroll saws are used by woodworkers, carpenters, DIY-ers, furniture makers, carpenters, cabinet makers and others that make smaller, intricate designs in the wood, such as those who make jewelry boxes.
Scroll saws are used to make intricate cuts in wood and plastic or possibly super thin metal with a special blade used for working with metals. These designs are the kind you would see on furniture such as tables, shelves, bookcases, and more.
What Makes a Good Scroll Saw?
There are many features that you want to look for when you are looking for a certain level of scroll saw. Some of the things that stand out when it comes to the Shop Fox W1713 include the cast iron construction, the extra cutting capacity it has, variable speed control that allows for a variety of materials to be folded.  These features alone are fantastic; add in the dust port, dust blower, gooseneck work light and tilt table that tilts up to 45 degrees and you have an excellent scroll saw that is a great addition to any workshop or garage.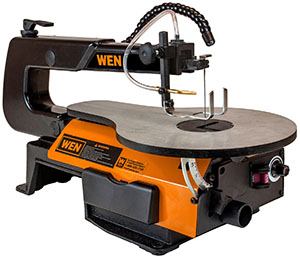 Blade changes are easy and safe. The extra cutting capacity outdoes many of its competitors making it a lot better than your average scroll saw. It is compatible with two types of blades; plain and pin-end. It is designed to accept any type of blade which means it is capable of cutting through any material.
When using the tilting feature, the whole table tilts including the work piece, so the cuts are done better and more precisely.  The dust port ensures the smooth operation of your scroll saw and with no dust flying in your face or building up on your machines or work pieces; things are much simpler and easier.
How We Tested
Research was done by our team to find the best scroll saw on the market.  We started with a general search to learn of the features that come with a scroll saw. We then went through tool magazines, websites and blogs to learn more about the different models that are on the market today.  We also spent time talking to experts in the woodworking field to learn about the benefits and dangers and to learn how they go about researching and deciding which ones are better than others. Last, but certainly still just as important as the rest of the factors, we looked at what customers said about their purchases.
Our Pick
Specifications
| | |
| --- | --- |
| Motor | 1/8 HP, 120V, single-phase, 1.2 Amp, 60 Hz |
| Speed | Variable speed motor |
| No load speed | 550-1650 SPM |
| Maximum cutting thickness | 2″ |
| Maximum cutting width | 16″ |
| Blade stroke | 3/4″ |
| Blade Types | Takes both plain and pin blades |
| Shipping weight | 40 lbs. |
Who Else Likes It?
Airtoolguy.com writes "This is probably one of the cleanest and most work-efficient scroll saws around thanks to its 1¼ dust port that vacuums all the dirt and debris that could obscure your vision on the results of every cut. Thanks to its smoothness of operation, I was able to make by workers work more efficiently with a highly recommended saw that's a quarter of the price of the leading brands out there."
Scrollsawreviews.com writes "To put it simply, the Shop Fox W1713 is awesome. Considering how most of them are in the premium bracket, this particular model is value for money. It comes with an impressive cast iron table and base. It works with both pinned and plain blades, a feature we don't normally see in saws in this price bracket.
Amazon gives the Shop Fox W1713 gives 4.1 out of 5 from 93 reviews.   One customer writes "Great for a woodworking novice like myself; easy to use. The light is very helpful since my eye site isn't what it use to be. This scroll saw is very high quality for the money. I was extremely impressed. I look forward to many hours of wood crafting with this baby. Super happy with this purchase. Probably one of the best items I have ever purchased from Amazon."
The Step Up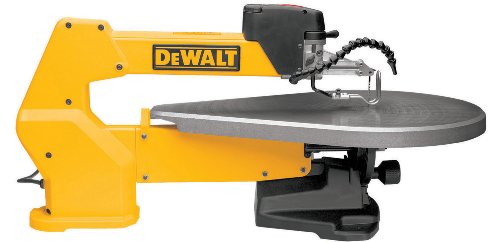 View On Amazon
If you're looking for a professional grade scroll saw, this DEWALT variable speeds scroll saw helps users create intricate, impressive piece of work that you can be proud of.
The design is very user-friendly with controls that are easily accessible, a reduced vibration feature and variable speed choices as well.
The two parallel link arms make accurate cuts and with the pivoting ability the arm has to go from back to front, the operation is quieter too. The variable speed controls allow the user to choose the speed that is appropriate for the type of job being done.
Features such as the conveniently located on/off switch, the variable control, blade-tensioning lever and dust blower are all within reach of the front arm for the user's convenience.
The 1.3 amp motor is reliable and portable, able to provide 400-1750 rpm which gives the user plenty of power. But yet it is still small enough that it is easy to carry from one job site to another. The cast iron table bevels to 45 degrees to both the left and right for maximum versatility and support.
The tool-free blade clamps allow the user to change the blades easily and you will find that you can change them in minutes with little trouble or effort at all.  The design of the arm keeps the blade perpendicular to the work and reduces fatigue and either over or under cutting of the piece being cut.
With a 90 day guarantee, 1 year free service contract and 3 year limited warranty; your equipment is covered in the event something is wrong.
The Competition
We have considered the following alternatives but cannot recommend them.
Care Use & Maintenance
Taking care of your power tools is important to keeping them working well and lasting a long time.  There are certain maintenance tasks that need to be performed on a regular basis with certain tools to ensure that they stay running well and that they don't break down due to non-care.
The same is true with safety. You can never be too careful working around power tools.  Some safety precautions are common sense and others are more specific to the type of tool that it is and what you do with it.
Below we have provided both safety tips and maintenance tips that you can follow to ensure a good experience with your scroll saw.  Following these will ensure that you have a reduced chance of any accidents or injuries and will also insure that your scroll saw will last as long as possible.
Safety Tips
Read entire manual before using scroll saw
Always use approved safety glasses when operating the saw
Always wear a respirator when operating a power tool that generates dust
Always wear hearing protection when operating a power tool for any length of time
Wear appropriate apparel, nothing with loose, flowing clothing
Never operate scroll saw when tired or under the influence of alcohol or drugs
Only allow trained and properly supervised people to operate the scroll saw
Keep children away from the saw at all times
Keep workshop childproof
Never leave running scroll saw unattended
Do not use scroll saw in damp, rainy locations or where noxious fumes or flammable liquids are stored
Keep work area well lit and clean
Use a grounded extension cord if one is necessary
Always unplug the power source before performing any diagnostic or maintenance information
Maintain scroll saw performing needed maintenance tasks
Always keep hands and fingers in the path of the cut and never clear cut off pieces before the blade comes to a full stop.
Keep bystanders clear of your work area
Maintenance Tips
Inspect scroll saw prior to  each use
Check mounting bolts for looseness
Never use the scroll saws if it sounds funny or has an unidentified vibration or problem.
Check switch
Check cords and plugs for worn spots or damage of any kind
Regularly remove the sawdust that gets on the scroll saw from use.  It is better to clean it off after you are done using it for the day, but do it each day when you are done. This will prevent build up of dust around the unit which can shorten the life span.
Keep the table of the scroll saw rust free by using applications designed to protect it from rust.
Always unplug the machine before doing any routine cleaning, maintenance or repairs.
Make a habit of wiping down the scroll saw when you are done using it for the day.  The more care you take to keep your power tools clean and free of dust and other problems, the longer they will last and the better they will run.
Wrapping It Up
A scroll saw may be more of a specialty store, but if you do any type of woodworking at all, you will want to get one.  Finding the right scroll saw with the right features isn't as hard as it may seem when you put things into perspective and have the proper information.  Finding a scroll saw with all of the features you want, that is within your budget just takes some time to look around and match what you want with the offerings out there.  The Shop Fox W1713 is a great scroll saw with lots of feature including a dust collection system, easy to maintain and easy to use as well.
Sources